Visit to Tenerife with our 3 month old baby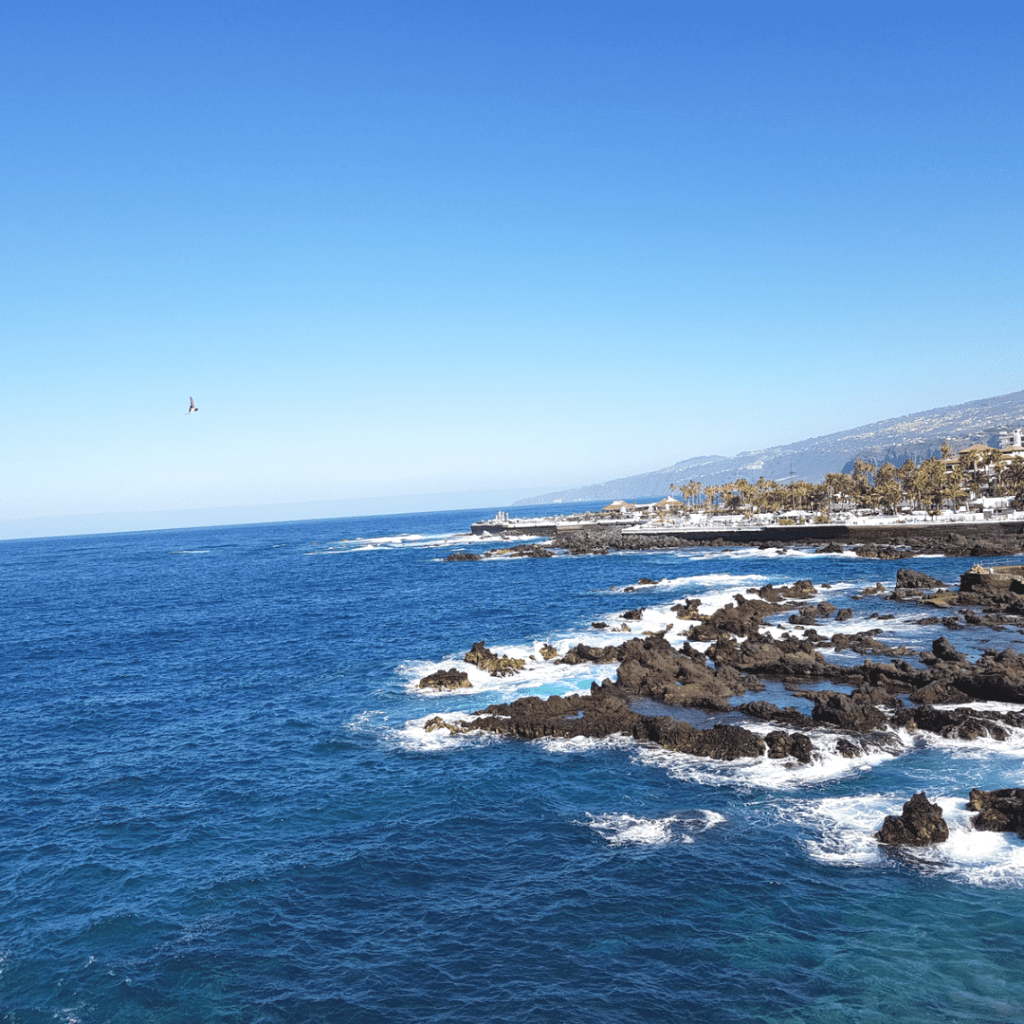 Canary Islands in Spain are the best places to visit between October and March if you don't want too much crowd and if you are looking for pleasant temperatures between 20 and 25 deg C. We have already been to Mallorca and Gran Canaria, so this time we decided to visit Tenerife for a week. Tenerife, also known as the Volcanic island is the largest and the most populous of Canary Islands.
The 4 hour flight to Tenerife was uneventful. Neel slept off during the flight. Everyone suggested I feed him or give him a pacifier during take off and landing but he seemed to be fine without them. We found out that we were allowed to carry a stroller and car seat for Neel, so we did not have to book another one while renting a car. It is highly recommended to rent a strong motorized vehicle as the island is very hilly. Our Rental car was a BMW 116d rented from Hertz.
Day 1
Ride through El Teide to Puerto de la Cruz
El Teide (Pico del Teide) is not just the highest mountain in Canary Islands but, at a height of 3718 m, the highest in all of Spain. It is an active volcano. The drive from our AirBnB in Las Galettas to the mountains was breathtaking and picturesque. We drove up to the car park in El Teide which is almost at 2200 m height. We made sure to drive slowly and carefully, as it is not recommended to take the baby to such heights. We made stops in between to check on Neel. From the car park, tourists can take a 10 minute cable lift to the top (27€ per person/return). From the top there is an amazing view of the island. (We did not make this trip because of Neel). A lot of hiking paths are also indicated.
From there we drove on towards Puerto de la Cruz. After lunch we walked around the city and the sea promenade while enjoying ice cream.
Day 2
Drive through West coast of Tenerife
The next day we drove around Santiago del Teide, Parque del Drago, Los Silos, Masca, Garachico, the lighthouse at the Punta de Teno and back to las Gallettas to our apartment. It was one of the best drives we took on this island. We passed many tiny beautiful towns and villages. One of them was Masca. We had to drive through many winding roads and hairpin bends to get there. Unfortunately, the village was crowded with tourists and no parking was available and so we could not stop and walk around the village.
Day 3
Adeje
We met our friends from Switzerland who were staying in one of the hotels in Adeje. Located in the South-western part of the island, Adeje is a famous tourist spot with beaches, hotels and malls. We ate amazing lunch at a restaurant called Limoncello by the beach.
Day 4
Loro Parque (Spanish for "Parrot Park")
Loro Parque is a zoo in Puerto de la Cruz. Since its inception in 1972, Loro Parque has created the most diverse genetic reserve of parrots that exists in the world, attaining more than 4,000 specimens of 350 different species and subspecies. Along with these parrots, Loro Parque is home to many other birds and animals including Penguins, flamingos, swans, cranes, chimpanzees, gorillas, lions, tigers, killer whales, dolphins, to name a few. There are some interesting shows like dolphin shows, parrot shows, orca show. We spent one whole day at the zoo. Neel enjoyed watching the animals and the birds. Entry fee costs 35 Euro for adults and 24 Euro for children between 6 and 11. Free entry for children under 6 years old.
For an additional 11 Euros per person, we enjoyed Discovery tour where a tour guide took us around the zoo explaining about the animals and their habitats and also took us inside some of the animal enclosures to show how they are fed and taken care of. If you are in Tenerife, do visit this zoo. It is totally worth it!
Day 5
Playa de las Americas
It is a popular holiday spot in the Southwestern part of Tenerife and features bars, nightclubs, restaurants and beaches. We took a walk along the coast enjoying lovely warm weather. We ended up eating burgers at Hard rock café.
Day 6
Los Gigantes
Los Gigantes is a resort town in the Santiago del Teide municipality on the west coast of the island. It is one of the most attractive natural wonders on Tenerife. The town is protected by impressive rock cliffs up to 800 m high. Taking a walk around is the best way to explore this beautiful town.
Day 7
El Medano / Flight Home
On our last day in Tenerife, we drove to El Médano, on the south east coast of Tenerife very close to the south airport. The town is very popular with windsurfers.
Accommodation
As we had heard a lot of good reviews about Airbnb, we decided to give it a try. This was our apartment in Tenerife.
Located in a small village called Las Galletas, our apartment had 2 bedrooms, a living room, a kitchen and a bathroom. All the amenities like TV, fridge, washing machine and air conditioning were available. They even had a crib for the baby. In the vicinity of the apartment there were cafes, supermarkets, pharmacy and various other shops. The owners Luca and Alina made sure that we were comfortable and happy with the place.
Right next to our apartment we found a small bakery called Café Del Pan that offered nice varieties of croissant, coffee and freshly pressed orange juice for very reasonable prices. This was our daily breakfast joint. Also, just few minutes' walk from our apartment, we found one of the best Indian restaurants called Bobby's 2 Indian Tandoori Restaurant.
Las Galletas has a small beach of black volcanic sand and rocks. The sea front promenade is lined with restaurants and cafe bars where you can relax in the sun overlooking the Atlantic Ocean.
Things we carried for our baby
As it was our first trip with the little one, we made sure to carry everything that Neel liked and felt comfortable with. From the soft toys, the mobile he loves, we even took the swing he likes to sleep on (though we did not use it as he slept in the crib). Extra diapers, clothes, thermometer, oils and all his medicines. It is better to be safe than sorry. Make sure to take sun screen and some shawls or swaddling cloths to cover the stroller from the sun.
-Madhurya