Village – The soul of India – A family restaurant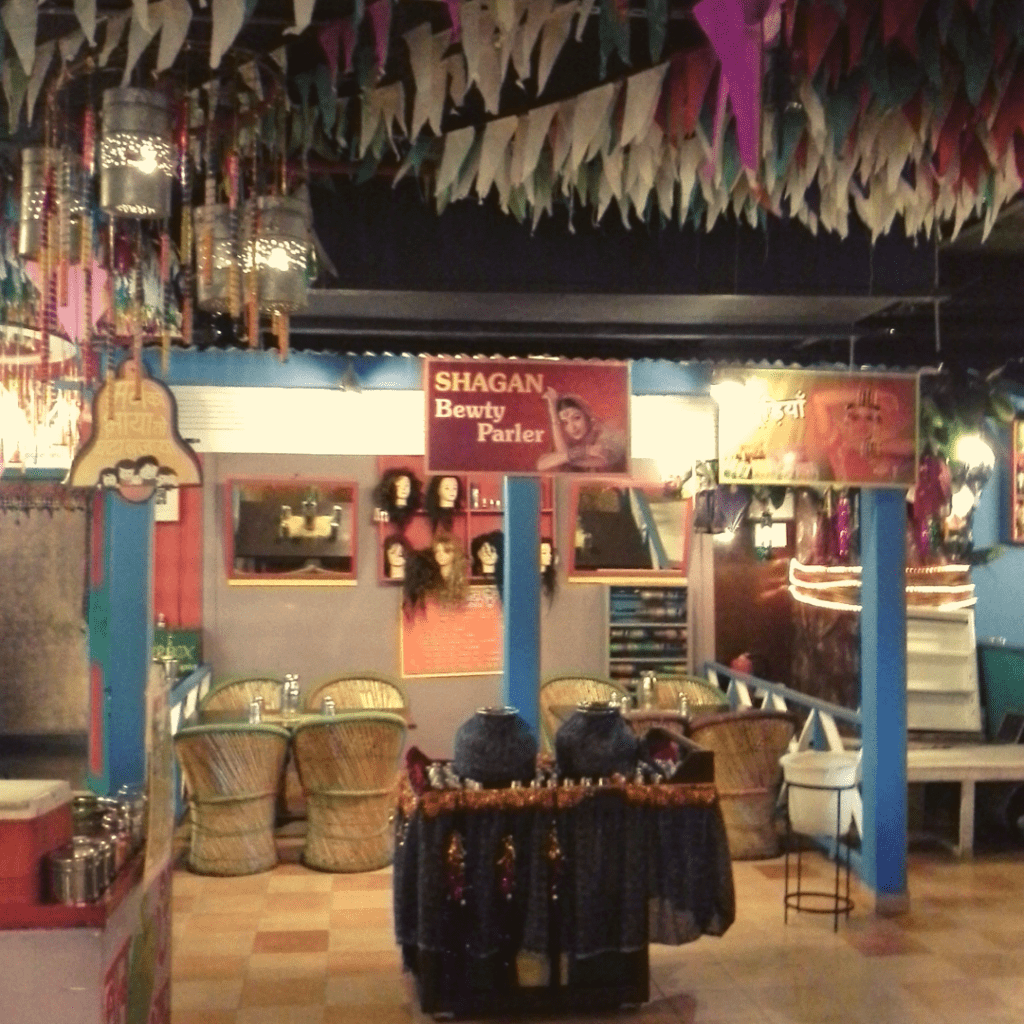 Trying new restaurants is one of my family's favorite pastimes. That's how we spend most, no, every Sunday. When the festival of Sankranthi presented us with a holiday, that's what we decided to do.
Our plan was to eat at Jalpaan, a favorite dining place, but on a whim we entered the adjacent restaurant, Village – The soul of India, found the ambiance inviting and the pricing right. There wasn't another soul inside apart from the staff (even at around 1pm), but our adventurous spirit pulled us to give the restaurant a try.
From the moment I walked inside, I began snapping pictures. The restaurant looked so festive, like I had come to a village fair, that I couldn't help myself.
The dining area was divided into sections, each section representing a business (tailor, parlor) or a store (arrack, sweets) one can find in a village square. There was even a police station with pictures of "fugitives" (probably the staff) pasted on the wall.
While the others indulged in the starters brought right to the table by the staff dressed in traditional dhothi-kurtha and turban, and the kids munched on fresh fruit as they climbed up and down a deck, I walked around, mesmerized, clicking pictures, a silly smile plastered across my face. I was having a jolly good time just exploring the restaurant that I forgot why I was there in the first place, until one of the employees reminded me that the food would get cold if I didn't eat right away!
The food, yes the food, there was such variety, that I felt full even before I finished gorging on the starters. It wasn't specific to any region and had something to suit every palate, from Dhoklas to Hakka noodles, but only vegetarian, mind you.
I loved the taste of Gobhi Manchurian and Pudina Paratha with Sarson da Saag. The buttery texture of a rice flour concoction (i forgot what it is called), that resembled the ubiquitous Khichdi, sprinkled with a dash of red chilli powder, was so delicious, the thought of it still makes me drool!
Since we were still the only customers, we worried about what might happen to all that yummy food. But we didn't have to brood any longer as other people began trickling in.
Now, I'm more into starters and desserts, so I skipped most of the main course to try the Gulab Jamun. It was so good, and so were the freshly prepared Jalebis.
Old, folksy, upbeat Hindi songs playing in the background made me feel like we were in a Bollywood set. We couldn't resist swaying to some of the dance numbers.
A puppet show kept the kids enthralled.
And then it was time for a game of "musical chairs" and you know who won? Yup, yours truly….
There was to be a dance program as well, but we had errands to run, so I had to be dragged out!
We had a nice family outing and not just good food this afternoon for about 350 rupees (incl. Of taxes) per person at the "Village". I will be going back again, soon. And not just because I won a voucher for free buffet for 2! 🙂