Vacation in Nainital, Uttarakhand with kids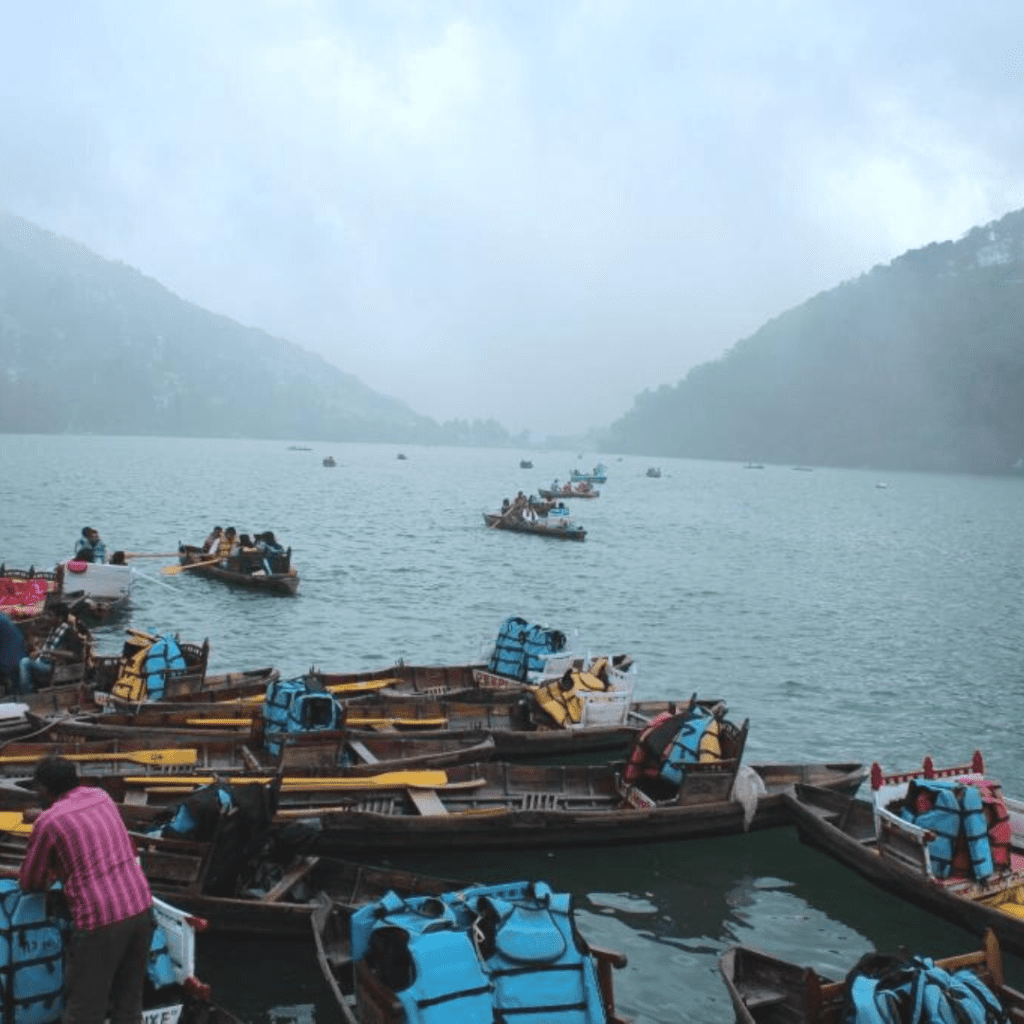 We booked a day trip to Nainital from our resort- Club Mahindra Corbett National Park.  I remember walking along Mall road with the Naini lake (lake shaped like an eye) on one side and the Kumaon hills on the other. It was vibrant; The streets were buzzing with people. Hawkers were selling colorful knitted shoes, scarves and hats at exorbitant rates.
We took the aerial ropeway to get us to the Snow View Observation Point. The cable car seemed rickety. With hearts in our mouths we made our way, trying to enjoy the magnificent vistas of Nainital and its vicinity.
 There was quite a bit of walking involved and that too at high altitudes. We felt heavy and out-of-breath. There was an amusement park and a lot of eateries. We hired traditional costumes for the kids and had their pictures taken. Then we spent some time at the observation point trying to catch a glimpse of the Himalayas.  
We went boat-riding on Nainital. It was magical! The unspoiled natural beauty on one side, the hills stacked with multi-colored buildings among towering trees on the other side, the emerald lake beneath our boats, all put us in a blissful mood, except when the boatman made us move here and there to get some good (& some weird) family pictures. The boat seemed to be losing its balance at such times. I don't remember how much we paid for the boats, but I remember it being quite expensive.
We ladies were on a mission! Tibetan Market- that was our target. It was densely packed with tiny stores and gullible tourists willing to shell out high prices for beautiful clothes, jewelry and handicrafts. We loaded our bags with quite a few things, much to our husbands' dismay, while they prayed to Maa Naina Devi at the alluring temple beside the market.
We visited the famous G B Pant High Altitude Zoo, where we had to do quite a bit of walking on uneven paths as the animal enclosures were scattered on a vast area.
Manasa.