Trip to Mürren and Allmendhubel with kids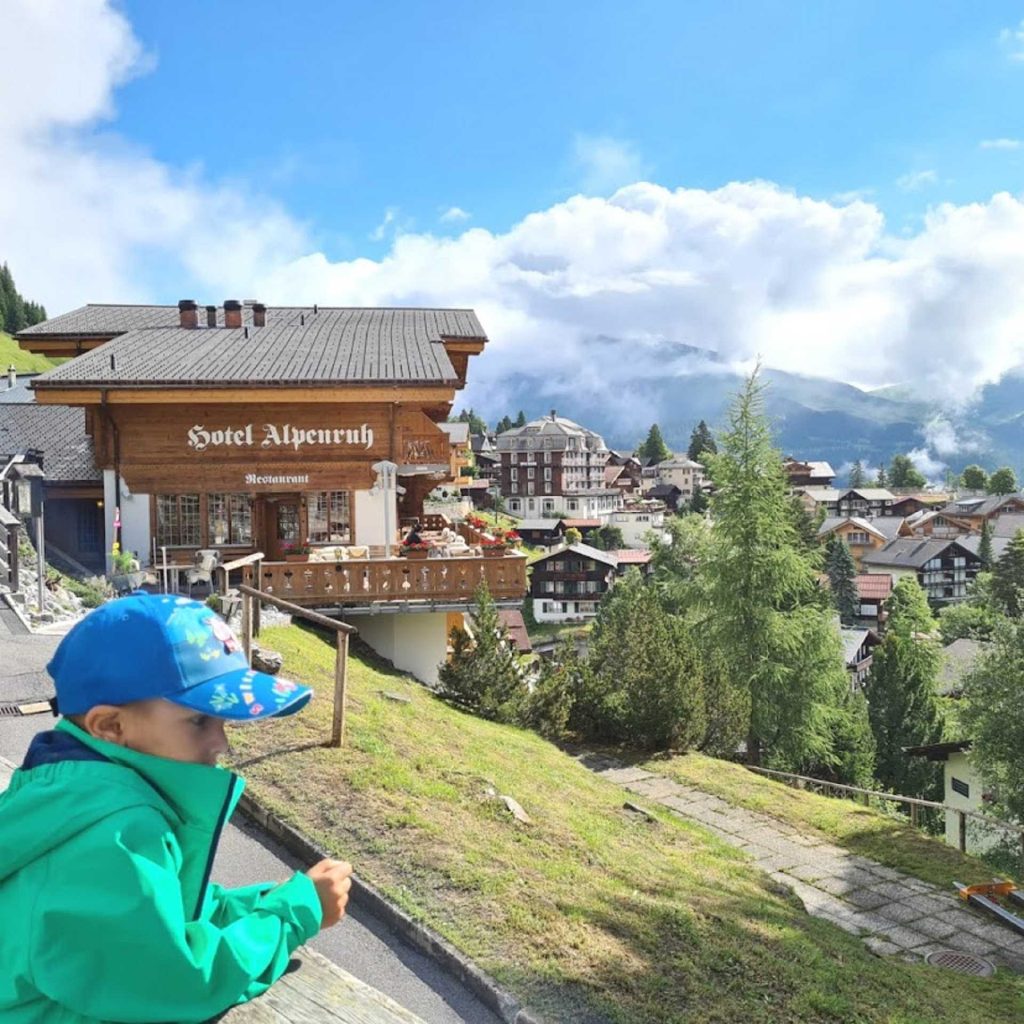 Located in the Bernese highlands, 1650 metres above the Lauterbrunnen valley, is the most beautiful alpine village, Mürren.
With only around 450 inhabitants, it is a car-free village, accessible only by cable cars either from Lauterbrunnen or from Stechelberg.
One morning we drove from our Airbnb in Lauterbrunnen to Stechelberg and took the cable car up to Mürren. Relishing a hot cup of coffee and a croissant, we took a walk around the village while enjoying the unique view of the famous Eiger, Mönch and Jungfrau mountains.
From there, we took the funicular up to Allmendhubel.  At 1907 metres above the sea level, Allmendhubel has the best view of the alpine peaks. There is a restaurant called The Panorama, offering the most delicious Swiss delicacies, an adventure playground called the "Flower park" for kids, a "Flower Trail" consisting of almost 150 different alpine flowers (including Edelweiss and alpine roses), that bloom in summer. After having our lunch at the restaurant and exploring the flower trail, we spent the rest of the afternoon at the playground before we took the funicular back to Mürren.
How long did we stay: We spent one whole day in Mürren / Allmendhubel.
Accessible by a cable car from Mürren is another famous Swiss summit Schilthorn. The Schilthorn – Piz Gloria is world-famous for its 360 ° restaurant and also as the location for the Bond classic "On Her Majesty's Secret Service". 
The younger me would have craved to go up to Schilthorn-Piz Gloria. But the mother in me decided instead to stay longer in Allmendhubel where I was sure the playground was definitely going to keep my kids busy.
Where did we stay: At this Airbnb, 15min drive from Lauterbrunnen.
Where did we eat: For lunch we had rösti and carrot soup at Panorama restaurant Allmendhubel and for dinner pizza and pasta at Restaurant Luna piccante.
Things to be aware of:
– Mürren is a car-free village. If you have small kids with you, make sure to carry light. We chose to take stroller instead of carrying Nyra in a carrier and we were able to keep most of the unused jackets and other bags on the stroller.
– Be prepared for the unpredictable weather.
– Parking at Stechelberg can fill up as early as 8am in the morning especially during weekends and vacation time in Summer.
– Flower trail at Allmendhubel is not stroller- friendly. You can leave the stroller at the restaurant and take a walk around the trail.
With love from Switzerland 🇨🇭
Madhurya.