Trip to Lauterbrunnen with kids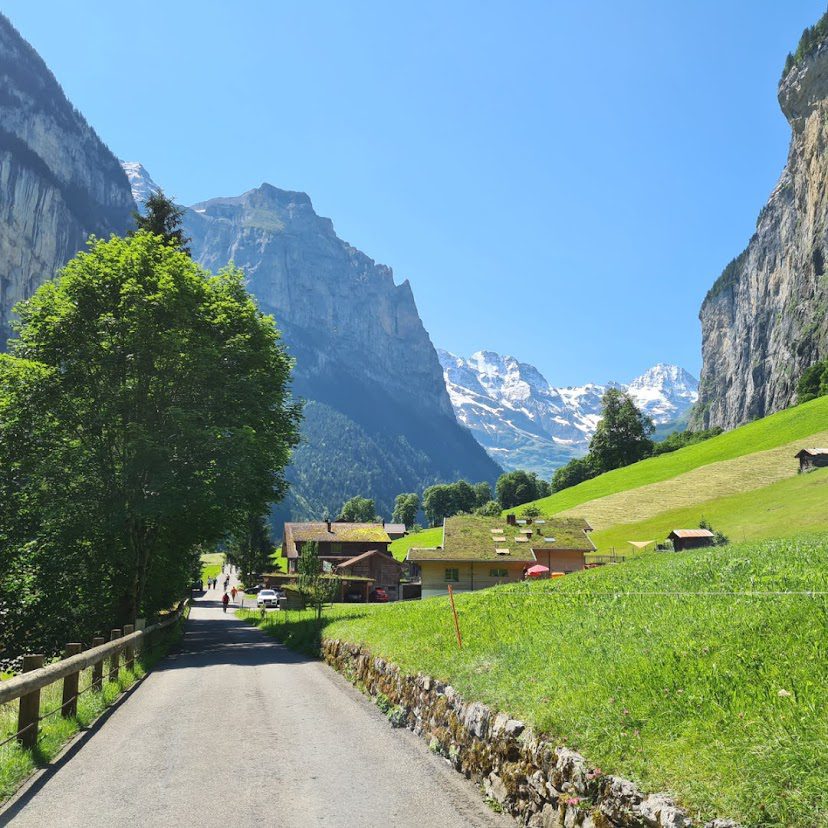 In 1911, the 19-year-old J.R.R. Tolkien hiked through the Swiss Alps – and of course through the Lauterbrunnen Valley with its steep rockfaces. Hardly anyone knew that he found his inspiration for the landscape in «Lord of the Rings» here. The Lauterbrunnen Valley was the inspiration behind Rivendell from the Lord of the Rings.
Right before I went back to work after my maternity leave, we decided to spend a week in the Bernese Oberland. It had been on my mind to visit this region for quite sometime, and with the pandemic situation, we decided to spend a short vacation inside Switzerland rather than flying somewhere else.
We took this trip mid-July expecting the weather to be nice and warm and boy were we wrong! It rained most of the time, but this time I was prepared. I had packed clothes suitable for both rain and sun for all of us. Along with Sweaters, jackets and raincoats, I carried swimwear, shorts and dresses for all of us to tackle the unpredictable weather.
We left around 7.30 in the morning in our car to reach our first destination, Lauterbrunnen. It was a 2.5h drive from our home. It was not such a long drive, but with little ones on board it is always better to be prepared. I had packed enough snacks, water and toys for both kids to survive the drive. Thankfully, they slept halfway and we were able to drive smoothly.
We stopped at Iseltwald at around 9.50am to have coffee and feed Nyra. After taking a stroll around, we got back on the road again. By the time we reached Lauterbrunnen, it was 11.00am.
The Lauterbrunnen valley is the world's most spectacular glacial valley, home to 72 waterfalls, including some of the highest in Europe. We took the famous Lauterbrunnen Valley hike which is an easy child-friendly hike starting from Lauterbrunnen to Stechelberg (almost 4km) where you can either take a bus back into town or walk back along the trail. Beautiful Swiss alpine homes, mountains, waterfalls, green pastures kept us in awe during the entire walk.
After lunch and taking a stroll in the village, we drove to our Airbnb apartment which was a 15min drive from Lauterbrunnen. In the evening, we drove to Interlaken, about 10 minutes drive, and enjoyed an evening walk in the city.
How long did we stay: We spent one whole day in Lauterbrunnen.
Where did we stay: At this Airbnb, 15min drive from Lauterbrunnen. We were lucky to find this place as apartments in this region are usually booked during summer.
Where did we eat: Local burger and Älpler Makkaroni for us (and Sweetpotato puree for Nyra) in Restaurant Weidstubli in Lauterbrunnen for lunch. Indian food for us (and Butternut squash puree for Nyra) at Indian Tandoori Restaurant in Interlaken for dinner.
Things to be aware while traveling with kids: I found below things quite helpful,
Make sure to take lots of snacks while you are walking / hiking with kids. We snacked on local icecream, carrots and fruits during this hike. There were vending machines selling local cheese and meat which Mike and Neel found very tasty!
I had packed some ziplock bags with us. We made a fun game of picking interesting things during the walk like colorful flowers, stones and wooden pieces.
More on our trip in the Bernese highlands in the coming posts….
-Madhurya