Trip to God`s own country, Kerala with family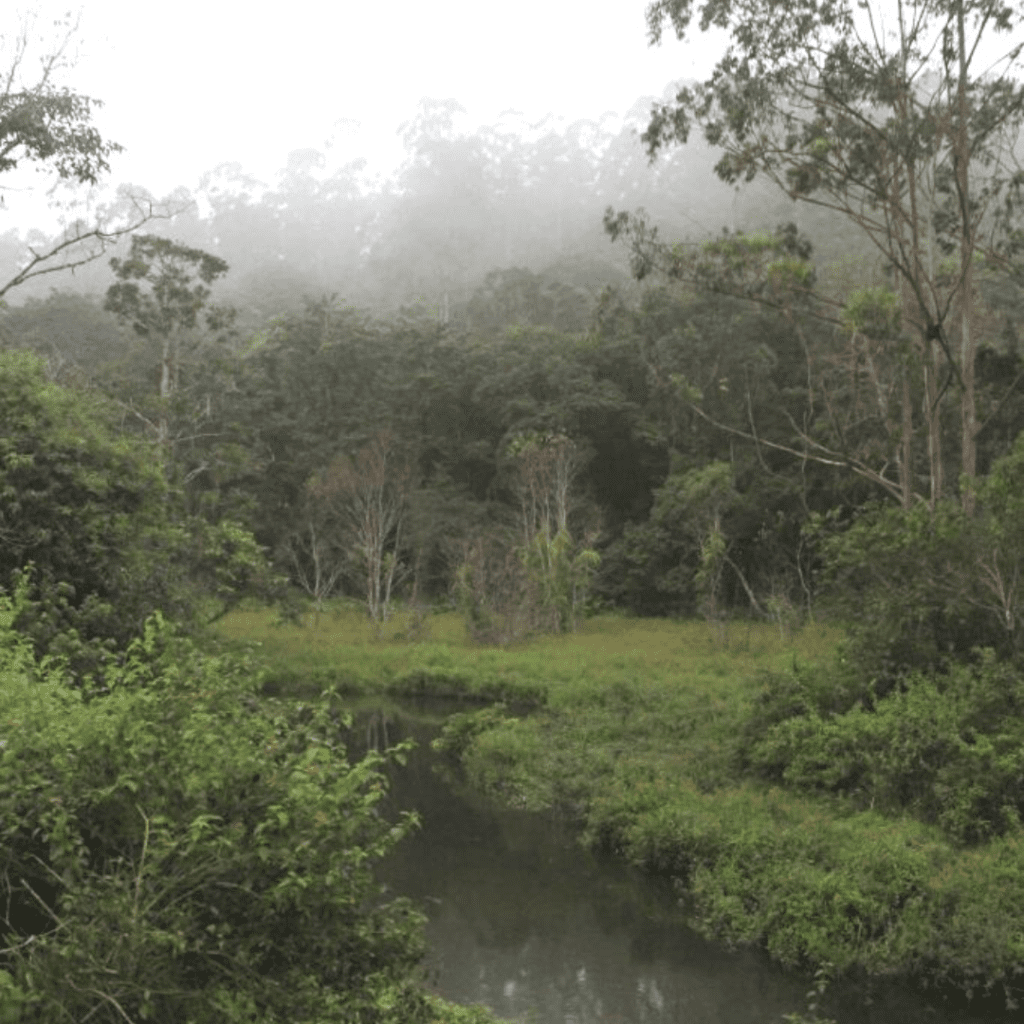 You can read my sister's detailed post from 4 years back when she took a trip to God's own country.
Our trip began with a visit to an aunt who lives in Cochin. After a hearty breakfast and family time we made our way to Thekkady. By the Pandikhuzi waterfalls we stretched our legs and enjoyed watching the mountains and the milky water snaking down. There were shops thronged by visitors eager to try fresh fruit salads and other local delicacies. We too tasted some and drove on.
Club Mahindra Tusker Trails at Thekkady is located close to the gates of Periyar Tiger Reserve. A trek was organized by the staff at Club Mahindra, who took us through the bustling streets of Thekkady and into the cool and calm interiors of the jungle. It wasn't such a wild experience; there were people and a Devi temple too. It was a pleasant walk though; we got to bond with the other guests of Club Mahindra.
Then we booked an Elephant ride at Tusker Trail Elephant Ride and Jeep Safari where we rode on elephants on a muddy path strewn with elephant dung between coconut trees, banana plants and fig trees. We didn't opt for the Elephant bathing experience. Maybe we should've tried that!
One chilly morning we went on a jeep safari into the Periyar tiger reserve. The jungle was too green and dense, unlike the dry grasslands we were accustomed to. A misty haze in the air, the tiny glistening ponds, all added to its ethereal beauty.
We stopped at Gavi, an Eco-tourism spot inside the jungle where we went boating on the emerald waters of kochupamba. We then climbed up a mountain, spotting a variety of birds all along, and reached the Sabarimala Viewpoint, where we enjoyed a panoramic view of the Sabarimala temple. At the Valley view, we were treated to breath-taking views of the misty mountains and the wooded valley below. This perfect location impelled the kids to perform some Yogasanas right there! We took a tour of Cardamom plantations where we had to be very careful as the area was thick with blood-sucking leeches! I remember watching many guests at the dining area, warding off these bloody buggers with heaps of salt.
Breakfast, lunch and snacks were served right there and so it was a full-day event.
For a bit of culture, we decided to watch a performance of the ancient martial arts form called the Kalaripayattu at the Mudra Theater for Kathakali and Kalaripayattu. Before the stunts began, the members performed a ritual of prayer. It was dark inside the arena, so a bunch of lights lit at strategic locations provided a suspenseful glow. We watched with bated breath as kids (the performers didn't look too old) performed acrobatics with swords and fire. They were swift and supple. We sincerely hoped they wouldn't break their backs or set the whole place on fire!
Our next stop was Munnar, a hillstation, a honeymooners' paradise. Well, we were in a big group with a bunch of kiddos, so it wasn't such a romantic experience for us. There was fog all around, which made it difficult for us to see the road ahead or the edges beside. The hills were so steep, it was exhausting to get to our rooms from the reception at the Club Mahindra. But the green tea plantations on mountain slopes, the clouds hanging low, all made for some mind-blowing views and awesome pictures. I would wake up refreshed and do yoga on my balcony, overlooking the hills.
There were roadside food stalls, serving steamed dosas and spicy maggi. Water gushed right beside the roads and underneath them which made me so uncomfortable whenever we got down from our vehicle. The poor visibility made me hold my kids closer to me. It worried me to find people posing for pictures on the middle of these roads, where the fog made it hard to tell whether there was a vehicle coming or not.
At the Sun Moon Valley Boating recreations by the Mattupetty dam kids had fun on the speed boats. We went to a beautiful spice garden for a tour. There was a stream running beside as we walked inside the garden packed with herbs and trees. We learnt a lot that day, about trees like cinnamon, (Did you know that bay leaves came from the same tree? I didn't!), about cocoa sheathed in thick green coats, about medicinal herbs like Adulsa (used for cough and cold). We shopped for some spices and ayurvedic medicines at the store.
We went to Eravikulam national park, native of the famous nilgiri tahr- mountain goats. After a long wait for tickets, and the bus that would carry us up a mountain, we were dropped at a point from where we had to cover the rest of the distance on foot. It was drizzling almost the entire time which made it difficult to spot any wildlife, but the rain-soaked trees on hills and water gushing down them made our walk worthwhile. We saw the Strobilanthes kunthiana, kurinji or neelakurinji, that blossoms every 12 years. Nilgiri Hills, which means the blue mountains, got their name from the purplish blue flowers of Neelakurinji.
Our guide from Club Mahindra took us to a Cardamom plantation called Gudumbara, where we learnt how the plant is cultivated, harvested and dried to be used as spice. At an ancient, dilapidated building there was a furnace maintained at 60 degree for drying the cardamom for 18 hours.
We explored the plantation which was almost like a jungle with its packed vegetation and an eerie quietness. It was damp everywhere and with leeches festering the place, it was quite an adventure! All memories of this trip fade behind the singular memory of seeing blood oozing from our legs and having to clean out wet clothes and drying them with hair dryers in various rooms we stayed at!
There was ziplining across a small lake, which everyone tried. Trudging our way through wet, muddy roads on a jeep, we went to a windy point. The views of the farms below and the hills around were stunning!
Driving down from Munnar to Guruvayur temple in Thrissur was a feat in itself. The roads were dense with vehicles and fog!
We visited the beautiful but overly crowded Guruvayur temple the next day early in the morning. After the chaos of the visit we strolled about in the temple complex, visiting hotels and shops and purchasing traditional clothes and ayurvedic books to study.
Manasa