Travelling with Kids? Here are 11 Essential Family Road Trip Hacks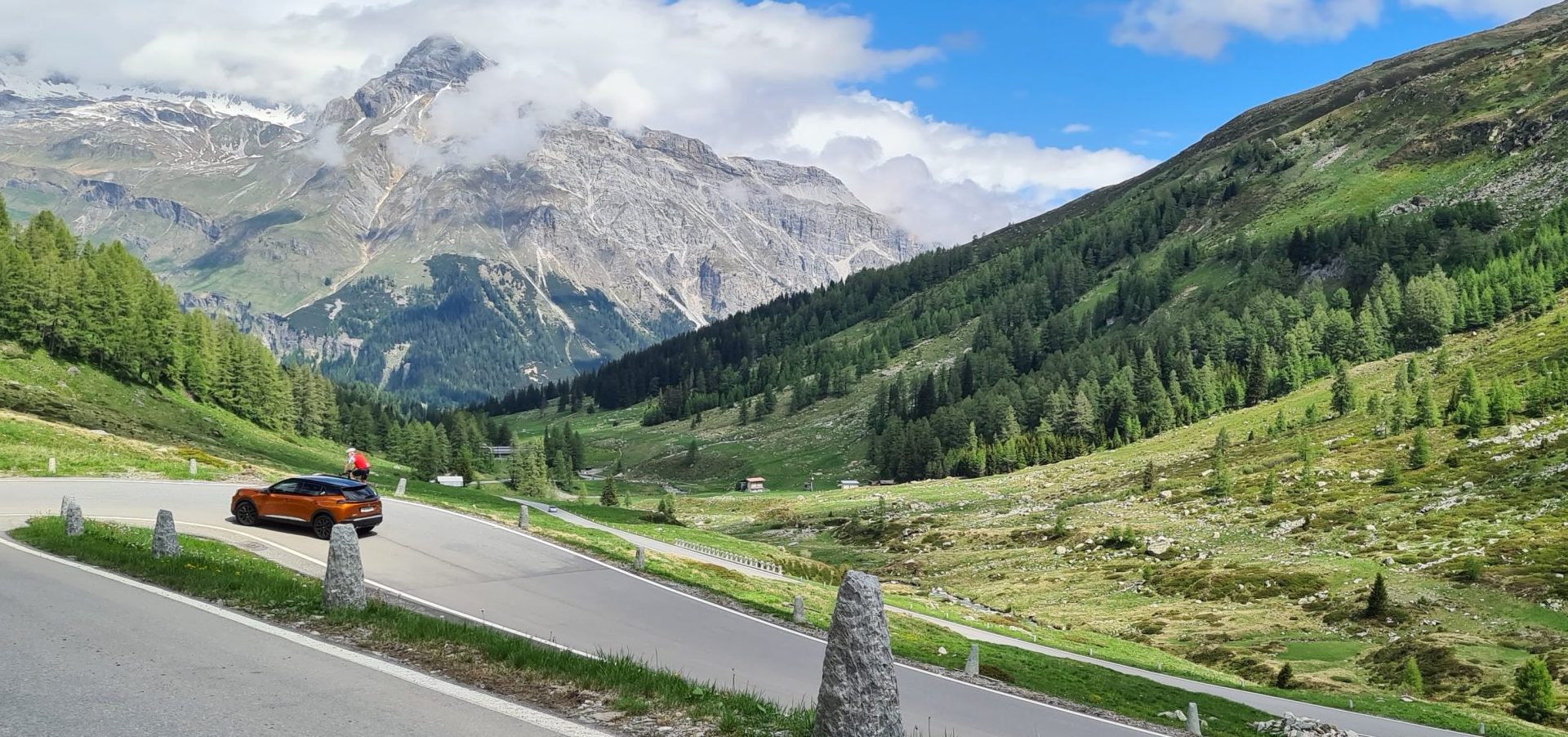 Are you planning a family road trip with kids in tow? Don't let the thought of kids making long trips unenjoyable put you off!
We love road trips! Read about our family road trips we made in the past.
Travelling with kids can be a daunting experience for any parent. Not only do you have to think about the safety of your kids during the drive, but also how to keep them entertained and stress-free throughout the journey.
We have two small kids and we KNOW how hard it can be sometimes to keep your little ones happy during a road trip.
To help make your family road trip as enjoyable and hassle-free as possible, we have put together some essential family road trip hacks that have helped us during our road trips which will take away your stress and ensure a great time for all!
Family Road Trip Hacks we Recommend
As an Amazon Associate, These Fleeting Days earns from qualifying purchases you make by clicking on some of the links below. All opinions stated are my own.
Packing Tips
Pack Smartly. Unless you are going to stay in a desert where you don`t find anything nearby, don`t go taking the whole house with you. What I mean is, instead of taking many boxes of diapers and wetwipes, take one or two packs of each. You can always buy more in the nearby supermarket or drugstore.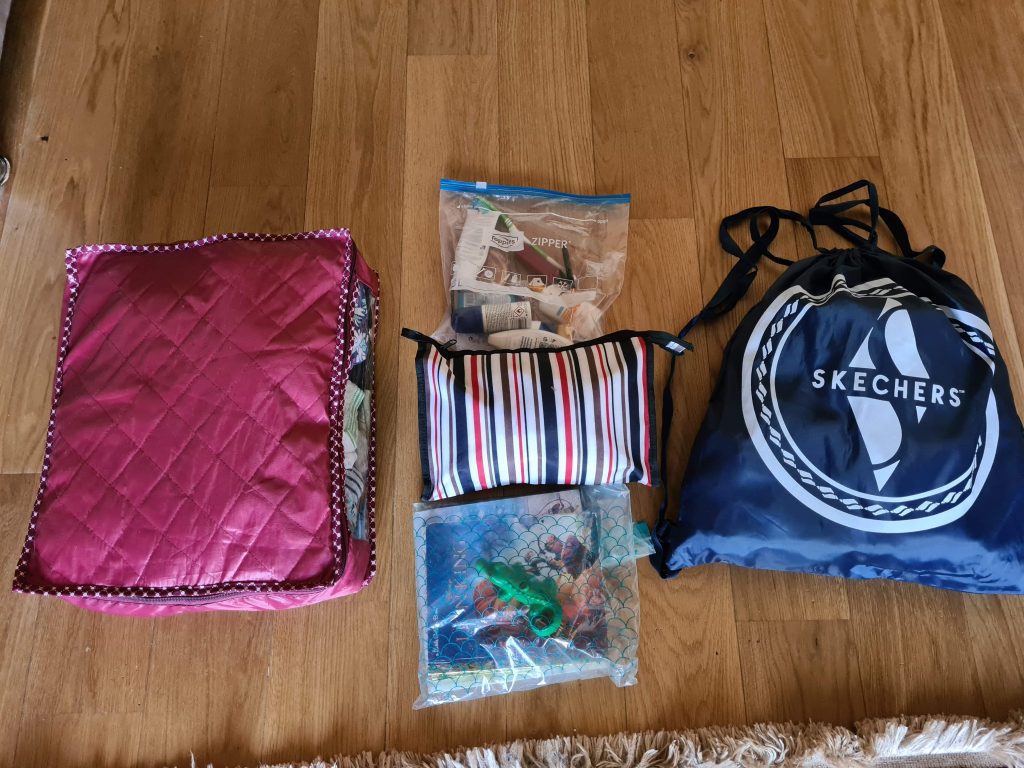 Whenever we stay at an Airbnb which has washing machine, we take few set of clothes. This way, we never overpack the car with bags full of clothes and leave room for things which are really necessary.
Snacks and Drinks
All kids need to keep their energy up, and one of the best ways to do this is by having snacks available for kids during the drive. Start with some healthy snacks like fruits, nuts or granola bars. And move to salty crackers or cookies when things get really hard and the crankiness level goes up.
Pack plenty of water along with some juice boxes or other drinks your kids enjoy. (we usually carry only water, but feel free to take what your kids love). Having drinks available will not only help them stay hydrated but also break up long stretches of highway boredom.
Make sure to keep the snack bag close to you where you can easily reach and hand them over to your kids when they need them without having to stop the car and opening your trunk.
Don`t forget to carry some snacks for yourselves too. A lot of times, we parents forget to bring things we love while we are busy packing for our kids. So make sure to take some snacks and drinks you love too on your road trip.
Toys for kids
When kids get bored, they tend to start fussing – but having the right toys can help keep kids entertained and prevent too many meltdowns.
Think of items that kids can use in the car. Coloring books or magnetic puzzles are good ideas.
We recommend Magneti'Book, Coloring Books, Wooden Puzzles
Carry books your kids love to read, things like stuffed animals or dolls that kids can cuddle with during long drives. When choosing toys, try to pick ones that won't take up too much space in the car so there's plenty of room for everyone. And avoid small pieces which are not easily findable if they fall.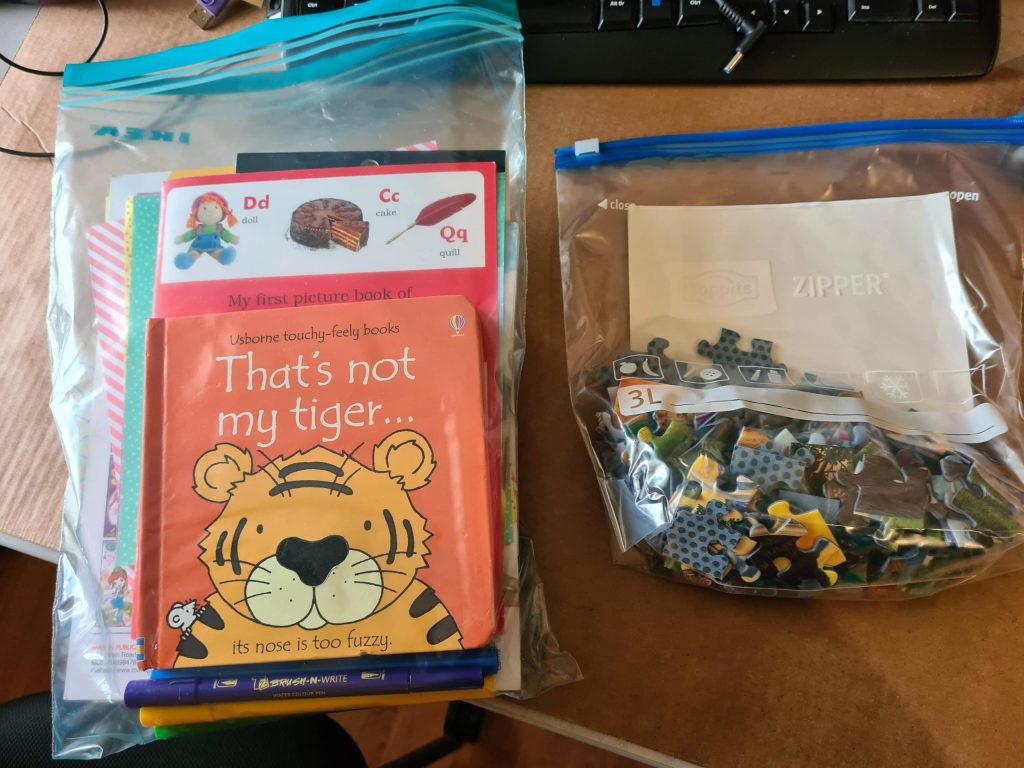 Make separate toy bag for each child according to their likes and wishes. We recommend zipper or mesh bags.
Check out the toys and the books we took for our kids during our last road trip in the video.
Games to Play
If your kids are bored of playing with their toys, make up some games to play with them. Our favorite is "What do you see" like the Cocomelon song. Each one of us take turn to come up with an item we see outside our car window. 
These Flash cards was the winner during our last road trip. Both my 5y old son and 2y old daughter loved identifying the things in the cards.
Music and Entertainment
Music is a great way to keep kids entertained during long drives. Create an upbeat playlist of kids' songs or stories so kids can sing along and enjoy the ride. I usually download theirs and my favorite songs in my mobile.
If your kids need something more immersive, look into downloading kid-friendly podcasts that offer a variety of topics to discuss – kids will love the interactive nature of these shows!
Pitstops
When your kids are getting restless after trying all the above, its time then to make a pitstop.
To break up the monotony, plan some stops along your route at the rest station or if you are lucky then, playgrounds or parks. These short pit-stops allow kids to stretch their legs, have a snack and get some fresh air.
Not only will kids enjoy these stops – parents can take a bit of time to relax too! Just remember to pack enough snacks for kids (and adults!) so there's no need to leave the playground in search of food.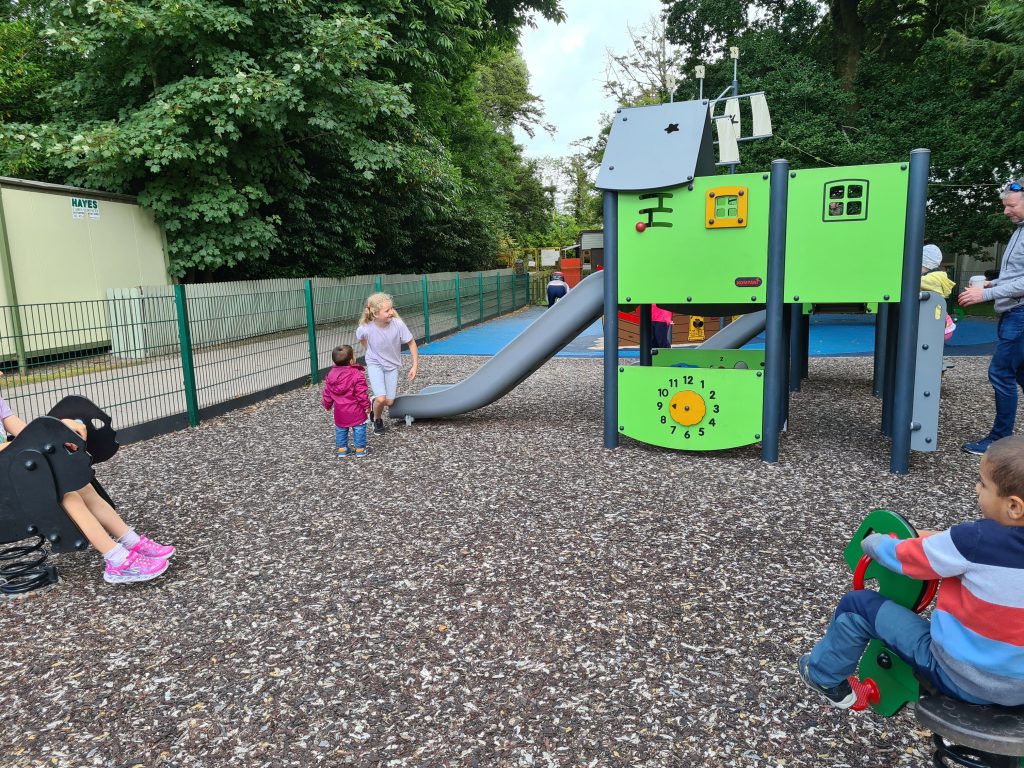 Nap Times
If you have smaller kids or babies, plan your trip considering the nap times. You don`t want your kids to be over tired or over excited. Make sure to keep them entertained until its time for them to take a nap. This way, you can still maintain their regular sleep schedule even on the road.
Car Organization
To avoid any chaos during your drive, it's important to keep kids and their belongings organized. Pack kids' bags with all the essentials for the trip including toys, coloring books, snacks, drinks and anything else kids might need.
Designate specific places in the car for kids to store items– this way everything stays in its place and kids or you can easily find what they need.
We usually keep the backpack with diaper bag, snack and water bag, activities / toys bag in the passenger seat behind. The rest of the things are organized in the trunk. This way we are usually able to find everything we need quite easily.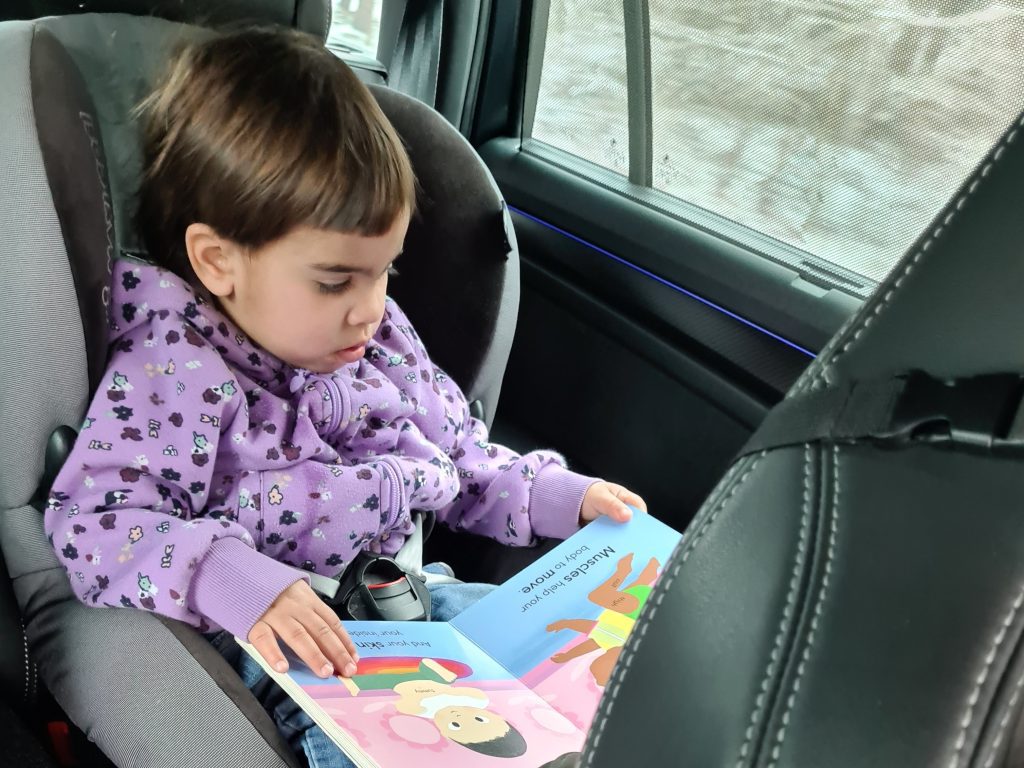 Google Maps for Unfamiliar Territory
When travelling to unfamiliar places, it's important to have a good navigation system to help you find your way. Google Maps can be a great resource when driving in unknown territory – use the app before and during your trip to get real-time traffic updates or alternate routes if needed. This is especially helpful if kids are getting antsy during long drives and need something new to look at! Make sure you have your phones charged and have enough data package.
If kids are old enough, give them an opportunity to help navigate as well. Not only will this encourage kids to pay more attention (which keeps them busy), but also gives kids a responsibility that they can take ownership of during the trip.
Adults-Only Time
Travelling can be exciting, but it's also important to take some time for yourself. While kids are busy playing or sleeping in the car, use this as an opportunity to relax. Put on your favorite podcast or playlist and enjoy some peaceful moments of quiet (even if it's just for 10 minutes!). Take this time to talk to your partner or read from your kindle.
For those with kids who need supervision at all times, try splitting the driving with someone else – this allows you to trade off so that each adult has a few hours of alone time during the trip.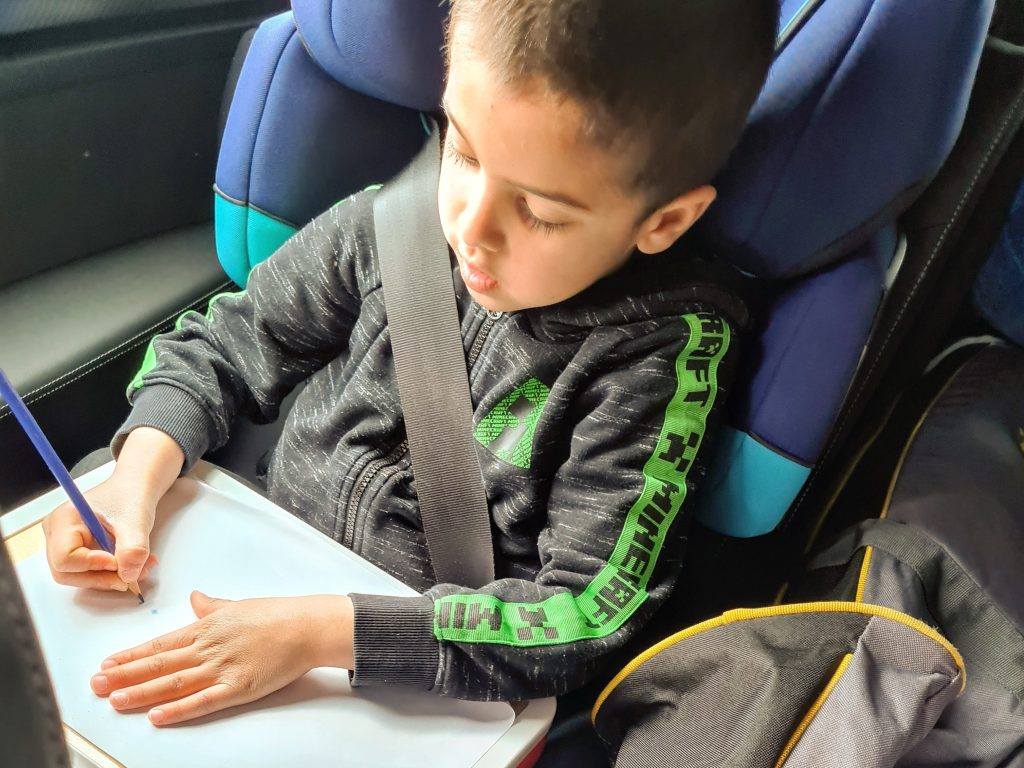 Be Flexible
Long road trips can be tiring. Plan your route ahead of time to include pitstops.
Don`t fret if you are not exactly following your schedule. The best thing you can do is stress-free and be flexible. This means making the necessary stops for kids to play or stretch, understanding that kids can take longer to get ready, and not being too hard on yourself.
It`s also essential to have a positive attitude – kids will pick up on your vibes and it will make a huge difference in everyone`s mood during the drive. Staying patient is key (even when kids are driving you crazy!