Travelling solo with small kids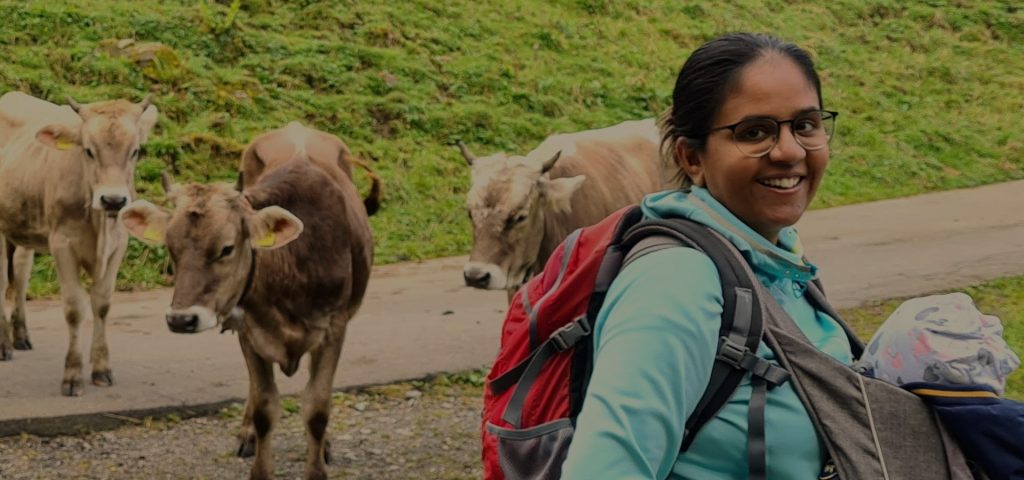 It can be quite daunting to travel with small kids. But when you are all alone with a baby and a toddler or a young child, things can get even more challenging. My first solo trip with Neel was to Dubai. Though I was quite nervous to travel alone with a 6month old, things went quite smoothly. The flight was on time, we got the best seats and the flight attendants were really helpful. Since then, I have been travelling with Neel alone on day trips, with a friend and her kids on weekend trips and more Internationally to India and Dubai.
With the birth of my daughter Nyra, my urge to travel alone has thankfully not dimmed, infact I have already made some weekend trips in Switzerland and have flown to India and Dubai. Based on my experience, I have highlighted some tips for travelling alone with small kids and I hope some of these tips really help you have a peaceful and yet a fun-filled vacation.
Start Small with day trips
If you are really nervous to travel alone with young kids, try taking day trips alone. Pack for the day and visit a city nearby or go for a hike. By the end of the day, you will be more comfortable travelling with kids and you can even estimate how many clothes or diapers, and milk you may need to carry (for babies) and snacks and food for the young kids.
Take weekend trips with friends
When you are comfortable travelling alone with kids on day trips, try going with a friend and their kids on weekend trips. The best part here is that you get to parent alongside someone else so you don't really feel alone and you get to have lots of fun too.
Prepare an itinerary
Whether you are going to stay in one place or planning to visit different places during your trip, prepare a detailed itinerary. I still remember the old times when Mike and I used to plan everything spontaneously on our vacation. Unfortunately, when you're alone with young children you have to have a plan. When the baby is crying and the toddler is whining, it's hard to think straight much less formulate a plan. As the kids get older or you get more confident, you can start doing things more spontaneously. There are several downloadable Family travel planner online you can use for all the planning.
Take it slow
Try to schedule all the activities during the day and take it easy in the evening. You will not get to enjoy anything if kids are overtired and cranky.
Book a Hotel Apartment or Airbnb
Look for accommodation like hotel apartment or an Airbnb which usually includes all the facilities required for a family including changing tables, highchair, kitchen to cook food and large space for the kids to play.
Pack smartly
When you are travelling alone with small children, you tend to forget many things while packing. I recommend using a Packing list for such cases. I have been using this Packing list from Flying Tigers for the past few years.
Carry a comfortable backpack with lots of compartments. You will most probably carry it for a long time during your trip and you don`t want to kill your back (especially if you have to carry your little one too).
Try not to overpack with things you can actually buy at your destination. I always pack diapers, wetwipes and things I need for the baby for the first few nights. I buy for the rest of the vacation at the place I am visiting. It saves a lot of space in your luggage and you can travel light.
Travel with a stroller where you can also hang your backpack (so you don`t have to carry it all the time).
Make sure that everything you need is at your reach. I organize all the things I need in separate ziplock bags. I pack toys, books, snacks and extra clothes for us in different bags. This way things are easily accessible when you really need them.
Use a small pouch as a diaper bag with very few diapers and wetwipes (And store the rest in your backpack). This way you don`t need to take out the whole backpack to change your little ones especially when you are in the flight.
Prepare for the travel
If you are flying, some of these tips may come in handy:
When you need to use the restroom, try using the Accessible toilets at the airport. These restrooms are usually really spacious and can fit your stroller, bags, and kids with ease. They also have changing tables.
Look for a children`s play area at the airport. Let your kids release all the energy before the flight so that they get to rest while flying.
Make sure to pack lots of snacks, milk and other foods which your kids love.
Try taking as many small toys as you can.
Download songs/ movies that your kids love and play them when things get really hard. (If there is no inflight entertainment).
Make sure that you have all the documents required for the travel and easily reachable (if you are carrying them in your backpack).
If available, try booking a night flight as the kids will be asleep for most of the flight.
Don`t hesitate to book a porter to carry your bags at the airport.
Ask for Help or Accept help!
Things went quite awry this time when I flew back from India. The flight was delayed, Nyra`s diaper exploded and everything including my pant was wet, Nyra was crying (screaming) constantly before the flight and nothing could soothe her. I was quite overwhelmed. But a really nice lady offered to help me carry my stuff while I tried to calm Nyra down. I was so grateful for this kind lady who stepped forward to help me.
Don`t forget about yourself
Make sure you have comfortable clothes that fit well so you're not worried about adjusting your clothes all day. Download your favorite books if you are carrying kindle.
It`s all worth it
Though we love travelling as a family, sometimes I have to travel alone especially if Mike is busy with his work. My zeal for travelling has also given me great strength in travelling solo with my kids. Even though it can be overwhelming and things are definitely going to go wrong, I am happy to know that I can travel anywhere with my two kids and I hope that some of my tips will also give you the confidence to travel alone with your little ones.