Tirupathi – a family trip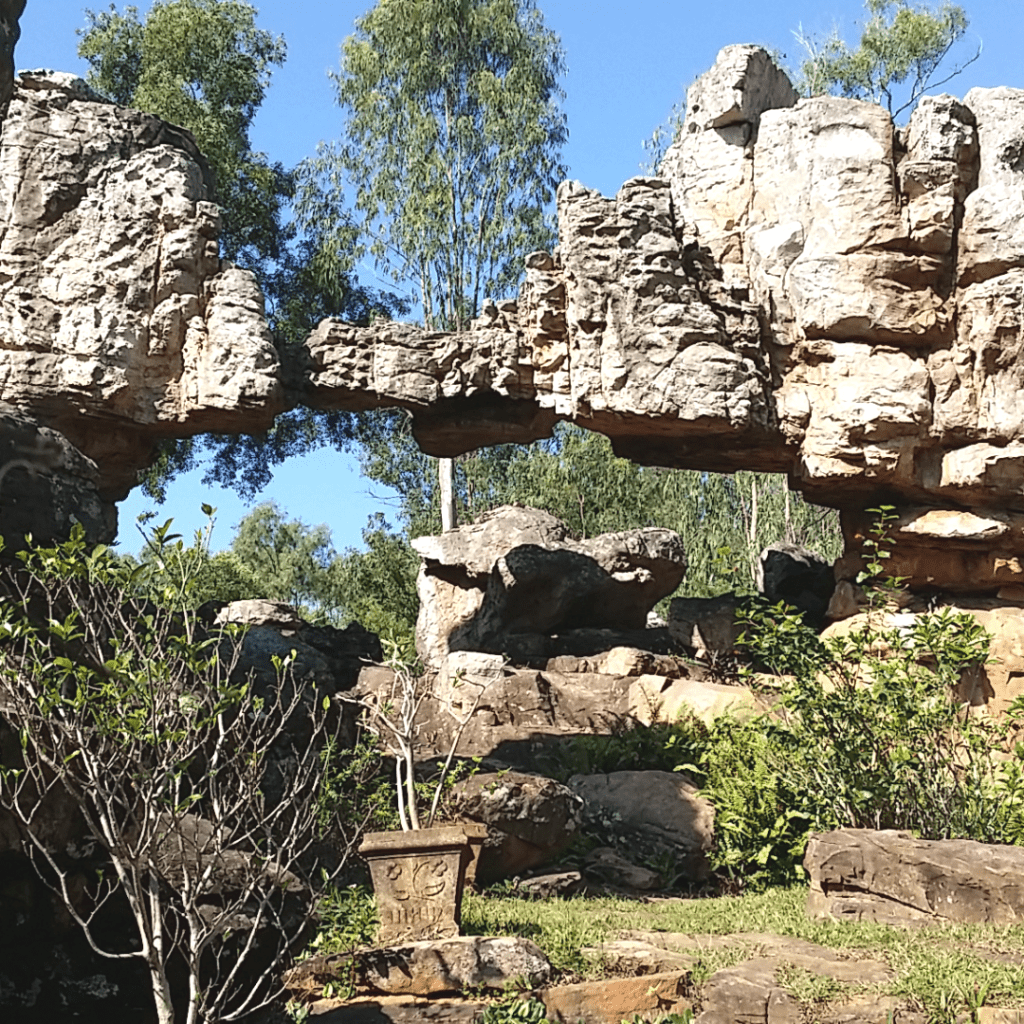 We had booked a couple of days at Tirumala, thinking we might be able to "see" the Lord Venkateshwara the next day, if we were turned away on the first, due to the presence of a large number of devotees. Fortunately, we had the Darshan right away, which opened up a lot of time for us to spend in and around Tirupathi.
We visited the Sri Vari Museum, which is at a walking distance from Sri Venkateshwara temple. I've visited Tirumala many times, but had never set foot in this museum or even heard of it before. We just happened to notice it as we walked out of the temple, and decided to take a look. There was no entrance fee. We walked through rooms lined with sculptures of Gods made centuries ago.I got an idea of how the art of sculpting has evolved over the ages from idols that look a bit knobbly to the latest, more shapelier ones.
There were paintings and pictures of temples hung on walls along with the other artifacts. Even though it was free, not many seemed to be visiting it, which, thankfully meant, we could walk around and gaze at the life-like idols for however long we wished to, and in peace.
We booked a cab for the next day, to cover as many places worth visiting as we could, before we had to board our train at night.
We went to see one of the very few Natural Arches in Asia, whose picture we had seen at the museum and decided we HAD to pay a visit. This Natural Arch (also called Silathoranam), caused by erosion, isn't as awe-inspiring as the ones we saw at the Arches National Park, Utah, but it is beautiful in its own right, especially because it is said to have been a doorway through which the Lord himself entered, to take his residence at the temple.
There was a mini zoo within the premises, which the kids enjoyed.
A small hike led us through a waterfall and a tiny temple.
We went down to Tirupathi to visit the beautiful Iskcon temple. The realistic idols clad in rich, colorful clothes inspired me. But the downer was the way in which the people who worked there were trying to get us to make donations or buy a product, like salesmen. That felt jarring within a temple.
Our next stop was Kapilatheertham, a temple dedicated to Lord Shiva, at the foothills of Tirumala. Right beside the temple is a waterfall that supposedly swells during the rainy season, but when we were there, it was nothing more than a trickle or two. We sprinkled a few droplets on our heads as it is said to wash away all our sins.
The temple looked very old and left me humbled to be walking on the very stones where the Kings and Queens once graced their feet upon.
Sadly, it didn't look well-maintained.
Our last stop was the SriKalahasthi temple, located in Chittoor district of Andhra Pradesh, which is a 40 min drive from Tirupathi. From the outside, the temple looked pretty small, and dirty too; The river, Swarna Mukhi, looked like she had been transformed into a sewer; The surrounding area was crowded with shops, speeding vehicles and people, making it hard to reach the entrance of the temple; A snake charmer scared the little ones with his poor snake, which itself looked really scared. It felt like a Circus and not a place of immense religious and historical value.
Sadly, I couldn't capture the grandeur I saw and experienced, once I set foot inside the temple premises. We had to leave our cameras/ cellphones behind in the car, as they were not allowed inside.
Built centuries ago, in an architectural style that kind of shows Man his place in the grand scheme of things, it truly made me feel small and of no consequence, whatsoever. The ceiling was high, the pillars supporting it, tall and imposing, the chambers dark and a bit claustrophobic. It stirred both, an eerie feeling and reverence, at the same time in me. The whole experience was other-worldly. And our walk within the temple felt never-ending, so huge is the temple.
But one thing I will always remember about this temple is our descent, 20 feet below, to see the Pathala Ganapathi. The entrance was small and we had to crawl through it to reach a narrow staircase, which plunged down into a dark chamber. There lay the Pathala Ganapathi, who seemed mysterious, due to the inconvenience he imposed on the devotees who longed to pay him a visit.
Descending seemed easier compared to climbing 20 huge steps up a staircase with no wiggle-room. It truly was an adventure, especially with a couple of kids. But the kids themselves seemed to be thrilled about the "adventure".
There's so much to see and do in India, I never thought visiting some of our historical and religious places could come so close to the adventure we experienced hiking through the National Parks in the US.