Teaching Colors using Foam sheets – Activity for kids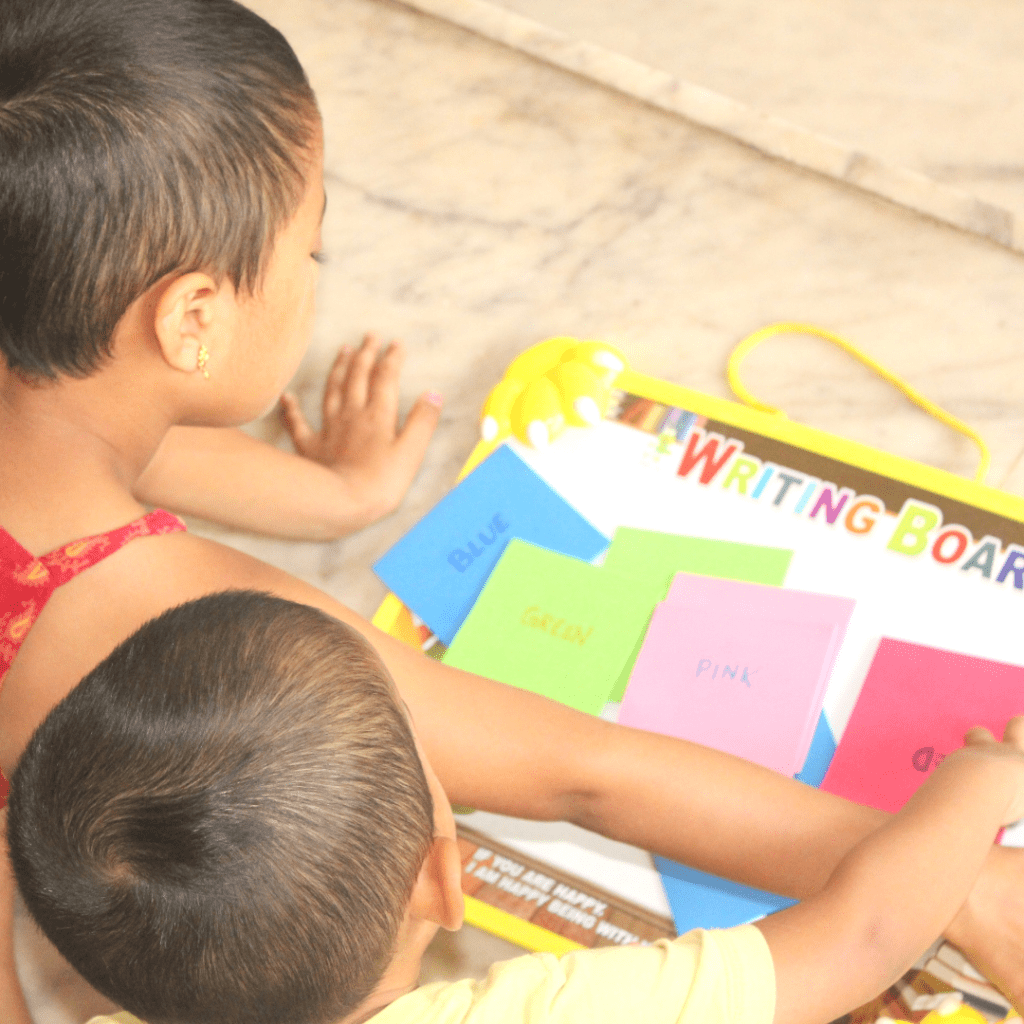 During one of my favorite pastimes- browsing Pinterest for project ideas-  I came across a fun idea for teaching toddlers patterns. It was a Do-it-yourself matching game using Foam sheets. But before we entered the world of patterns, I decided, we needed to spend more time exploring colors. So I modified the project to teach Madhav colors instead. It is one of  my goals for the month of July to teach him at least 5 colors. Whenever I point at an object I try and remember to talk to him about its color. While that helps, a bit, I felt we had to do something hands-on for Madhav to fully absorb the concept.
I bought a few Foam sheets of A4 size in Red, Green, Blue, Yellow and Pink (my 5 colors of the month) at the local Stationery shop for Rs. 20 each. Foam sheets are thick and smooth in texture and can withstand wear and tear much better than cardboard sheets. Perfect for a toddler like Madhav to handle. I cut a couple of squares of every color, named them using markers and spread them on Madhav's writing board.
Medha didn't go to school that day due to pain in her middle ear. She was more excited about teaching Madhav than I was, so I let her take charge.
She picked a color out of the lot, like "Red" and asked Madhav to pick another square of the same color. He kept showing her the wrong ones until she demonstrated a few times the right way to go about the business. He gradually got the hang of it.
It was more fun when Medha scattered the squares all around the house, picked one  and asked her brother to bring the matching square. Madhav ran around excitedly, searching for the matching color and congratulating himself after a job well done, saying, "Red! Very Good Madhav!"
Learning while moving is so much fun. I wonder why schools force kids to sit at a place as they are being taught. I took the stack of squares to Medha's Tennis class to pass time while we waited, and the kids there had such fun tossing the squares on the lawn and calling out colors for Madhav to pick. He even had fun collecting them and putting them back, one by one, into its ziploc bag, all the while counting them.
He still doesn't know what color is what (It's just been a couple of days since we began playing this game) but he totally gets the concept of matching similar colors, which is a big step for him, and for me. I can't wait to teach him patterns and shapes using this method.