Shilparamam – an arts, crafts and cultural for the entire family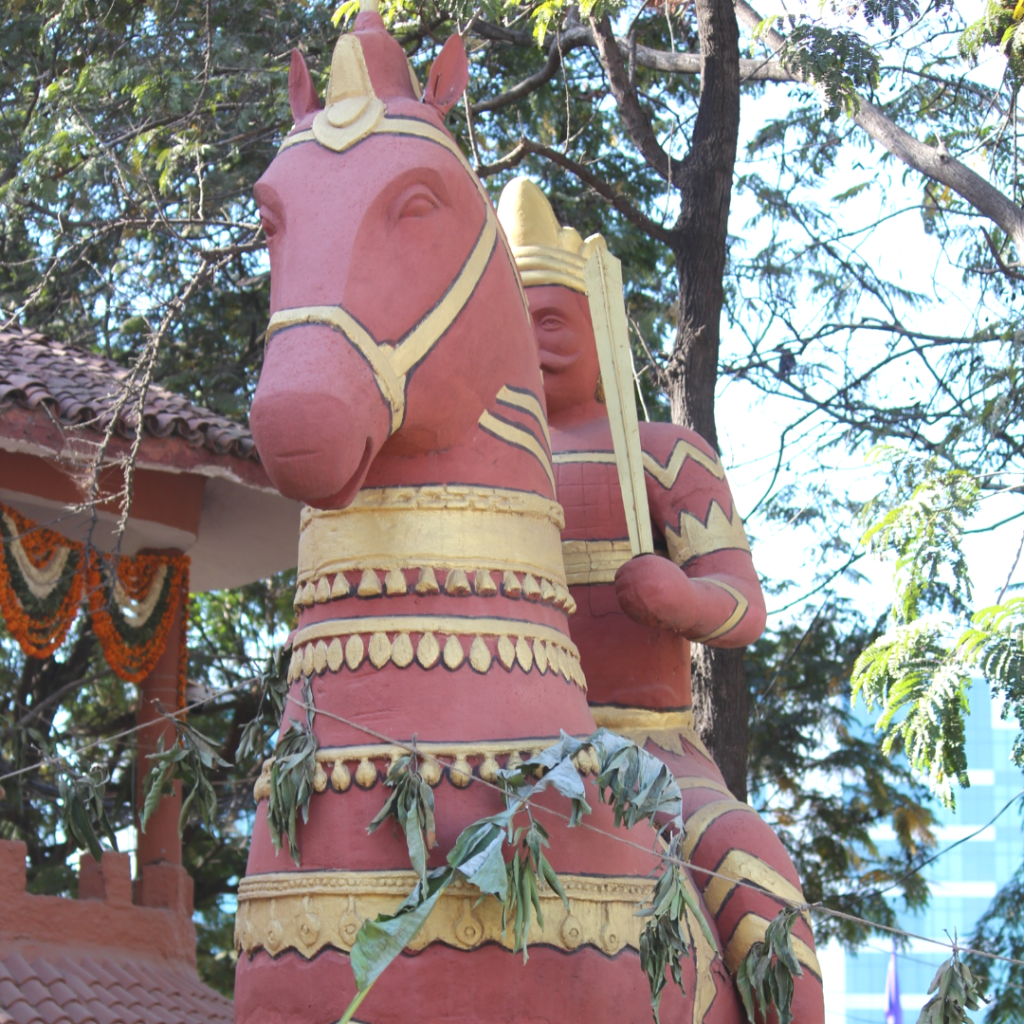 Now is the best time to visit my place, the state of Telangana, when the temperatures drop low at night and stay pleasantly cool through the day. There's so much to see and do here- historical sites like the Golconda Fort and parks like the KBR National Park. But there's one place I can't highly recommend enough- Shilparamam, "an arts, crafts and cultural village" at Hi-Tech City, Madhapur.
Shilparamam has a rural set-up and the shops within its campus remind a visitor of a Village Fair. It costs 40 Rupees to enter ( about 0.6 USD and 20 Rupees for children. Entrance is Free for kids under 4). A couple of huge Terracotta Horses stand guard at its entrance, making it hard to miss.
Even though it is located in one of the busiest parts of the state, the complex itself is free of vehicles, which makes shopping such a breeze. I let the kids run about, with supervision of course, as we were there in the afternoon and it wasn't too crowded.
Shilparamam opens at 10:30 in the morning itself.
The shops are vibrant, stocked with handwoven clothes, paintings, sculptures, pots, pans, jewelry and other tchotchkes. It's hard to decide what to buy and what to skip. Prices range from affordable to exorbitant and most shop-owners are willing to bargain. Many of the stuff you buy support NGOs take better care of those in need of help. So, instead of the usual Buyer's remorse, you end up feeling generous after a bout of shopping. (I can imagine Prasad rolling his eyes at this!)
It's not just a shopping complex, but holds much more than that. Everyone, young or old, can hang out an entire day and not run out of things to do. It's probably not a great place to dine, as there aren't many options to pick from. (There are good restaurants in the vicinity with better food).
The Village Museum is built like one of the many villages one can find in the South. Life-like models going about their everyday activities like selling wares at a market, performing rituals, sculpting etc. displayed in the museum will stun you for sure. The puppet show run by an old couple is always a hit with the kids and adults alike.
Wait wait… there's more- A rock Gallery, Sculpture Park and other attractions which I missed because we ran out of time!
Last but not the least, there's Music and Dance too. An open-air theater showcases performances by musicians and dancers from different parts of India. And local performers entertain the shoppers along store-lined streets, singing some foot-tapping folk songs.
A total package for the whole family, everyone ends up having a gala time! Not only can you do all your souvenir shopping right here, you will also leave with a flavor of Rural India.
(The only drawback is navigating to and from this place through dense traffic! Uff!)