Road tripping in Australia with a toddler – Part 4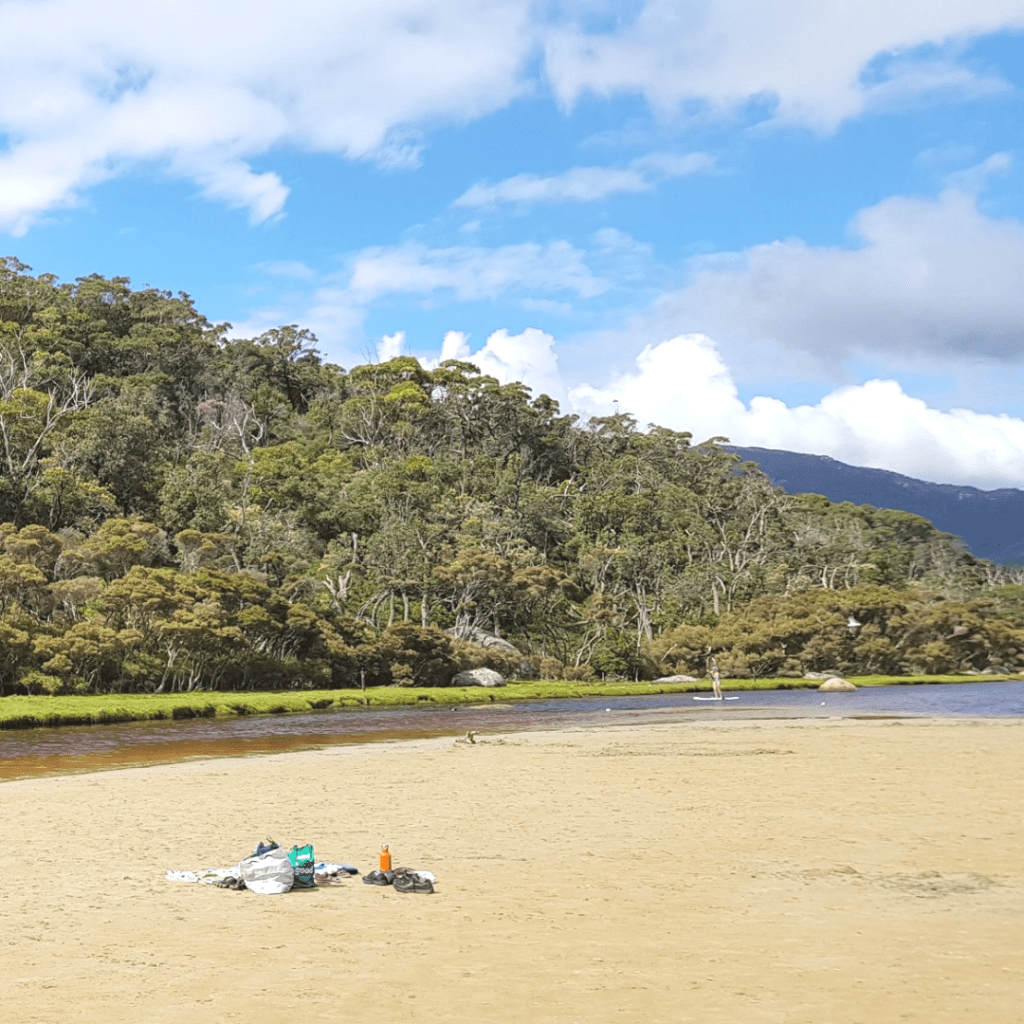 You can read Part 3 here.
Day 11
After breakfast, we drove towards Mt. Gambier in South Australia. The landscape changed from flatlands to dense vegetation. We visited the Blue Lake. As the name suggested, the lake was really blue and beautiful. We had a picnic right by the lake.
From there, we drove to Robe, a small beach town, where we set up our camp at Discovery Parks. After settling down, we spent the evening at the beach. It was so relaxing! We had some of the best pizzas at Pizza Project and ice-creams at Robe Ice Cream. The camp costed AUD 56/night.
Day 12
We decided to spend the New Year's in Brisbane with my aunt and uncle. We made a detour from Adelaide and drove towards Brisbane. On the way, we once again entered Victoria and the scenery reverted to barren land/ desert. After a 7.5 hour drive, we reached Mildura where we camped at Golden River Holiday park. We made Quesadillas for dinner. The camp costed AUD 40/ night.
Day 13
We drove further (almost 6 h) and stopped at Forbes. We camped at Big4 Forbes Holiday park. Mike and Neel spent the afternoon at the pool while I enjoyed reading my book. We cooked Fried rice before resting for the night. The camp costed AUD 31.50/night.
Day 14
We left quite early in the morning and drove further to Warrumbungle National Park. It was very pretty. We decided to set up camp here for one night. After a lunch of Rösti and left over fried rice, we did a 5 km hike. So far on our trip, we had mostly seen dead animals lying on the road. It was nice to watch lots of kangaroos and wallabies roaming around the park. Though they feared us and tried to run away, every now and then they would stop and stare at us. It was very cute to watch. Dinner was Mike`s delicious Spaghetti. Camp costed AUD 32/night.
Day 15
In the morning, we had a simple breakfast of toast and Nutella and drove towards White gum trail where we walked around 500 m to see the most beautiful sunset view in the National Park (though we could neither capture the sunrise nor the sunset). We drove 500 km and stopped at Tentafield. We camped for a night at Tentafield Lodge Caravan park. Dinner was Tikka masala with naan. Camp costed AUD 31/night.
Day 16 and 17
We finally reached Brisbane. We spent 2 amazing days with our family. We got to enjoy home-cooked meals prepared by my aunt; my cousin gave us a tour of her university (The University of Queensland) which I really enjoyed; we walked around South Bank; took a ride on a CitiCat (water taxi) down the Brisbane River while enjoying some of the city's best views; ate yummy gyros and icecreams. We even drove to Mt.Coot-Tha where we enjoyed the beautiful panoramic view of Brisbane skyline.
Day 18
After 2 wonderful days with my family, we left Brisbane to drive further north. My aunt had packed some nice food for the road. We drove another 350 km to reach Bundaberg. We booked at Bargara Beach Caravan park for 2 days hoping to take a cruise to the Great Barrier Reef. Unfortunately, it was fully booked (due to holiday season). Camp costed AUD 45/night.
Day 19
In the morning we walked along the beach. Mike made some delicious pancakes for breakfast. We drove around Bundaberg and Bargara. There was nothing special to look around, so we drove back to our camp and let Neel play for a while. We spent the day relaxing by the ocean. They grow a lot of sugarcane around here but, sadly, we could not find a single shop selling freshly squeezed sugarcane juice.
Day 20
We decided to drive back to Sydney. On the way, we made several stops. Our first stop was Maryborough. We camped at Wallace Motel and Caravan Park for a night. After Mike and Neel enjoyed playing in the pool, we took a walk around the city center. We made burgers for dinner. Camp costed AUD 34/ night.
Madhurya