Road tripping in Australia with a toddler – Part 3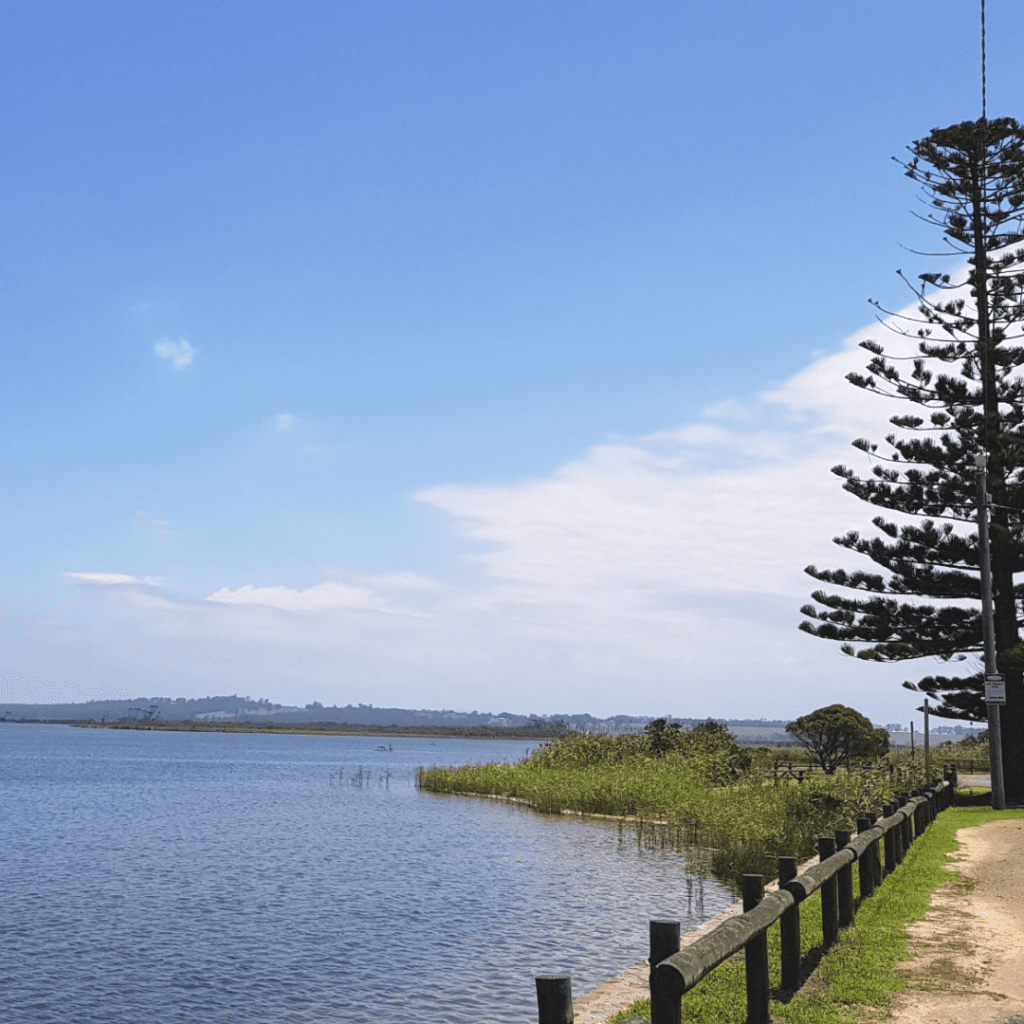 You can read part 2 here.
Day 5
We drove to the mouth of Snowy river, a major river in South-eastern Australia. At a cool picnic spot by the river, we cooked Tandoori masala. Neel enjoyed running around the place.
On our drive to Lakes Entrance, we saw a lot of wallabies. After checking in at our caravan park –Eastern Beach holiday park, we headed to the beach and took a long walk before heading back and cooking Pizza toast for dinner. Park cost AUD 43/ night.
Day 6 & 7
We drove from Lakes Entrance to Wilsons Promontory National park. It was a 3.5h drive. We stopped at Yarram to have an amazing lunch at Yarram coffee place. When we reached the National park, we booked a spot by Tidal river inside the park. It was peak tourist season, so we had to pay around AUD 62/night. We took a walk along the Loo-Errn track. Dinner was pasta for Neel and Maggi for us with delicious mangoes for dessert.
On our 7th day, after a breakfast of scrambled eggs, we took a long hike around Lilly Pilly nature walk and Lilly Pilly circuit. As Neel was still too small to make such hikes, we took our stroller. It was a 6 km hike and so beautiful, we really enjoyed it. Once we got back, we spent sometime on the beach, letting Neel play on the sand. In the evening, we took another hike to Pillar point. It felt like we were walking into the sets of Lord of the rings. And when we reached the lookout point, the view of the beaches and the river was so surreal, it was magical!!
Day 8
We drove towards Phillip island hoping to stay there to watch the penguin parade. Unfortunately, it was fully booked and we also found out that they came out only after 7pm which we thought was too late with the little one. So we visited the Phillip Island Wildlife park where we got to see kangaroos, wallabies, emus etc. We even got to feed them. Neel was happy and so were we. From Phillips island, we drove towards Mornington Peninsula and from there to Sorrento, where we took a ferry (AUD 85/adult) to Queenscliff and stopped for the day at BIG4 Beacon Resort Queenscliff which cost us AUD 100/night.
Day 9
We drove through Great ocean road. Anyone visiting Australia must take a trip along this road. The views are to die for! After stopping to take pictures, we drove to Lorne where we had lunch at an Indian restaurant. Lorne is a seaside town popular for surfing and beach cafes. We camped for the night at Bimbi Park in Great Otway National park. After setting up, we took a 2h walk to the Lighthouse. It was really hot, full of mosquitoes and the lighthouse was about to close. But it was still worth it! We had a great dinner with burgers and fried potatoes. Camp costed AUD 40/ night Plus an additional AUD 2 for shower.
Day 10
We drove to visit the twelve Apostles. On the way we stopped at Ottway Bistro to have breakfast. It was amazing! I had eggs on toast, avocados, roasted tomatoes, hashbrown, mushroom and spinach. Yumm!
Twelve Apostles was just as I had imagined.
Breathtaking!!
From there we drove to The Arch and then to Bay of islands, all the while driving along the Great Ocean road. After another short drive, we drove to Warnambool. It was very difficult to find a free camping spot as every caravan park was fully booked and the reception was closed (due to Christmas holidays) and so we could not contact anyone. We drove to Port Fairy and finally found a spot available at Southcombe Port Fairy caravan park.  I made Dum aloo curry for dinner and after eating it with naan, we walked around a small but beautiful reserve near the park. The camp costed AUD 55/night.
More to follow…
Madhurya.