A Young lady or a Big girl- Medha turns 11.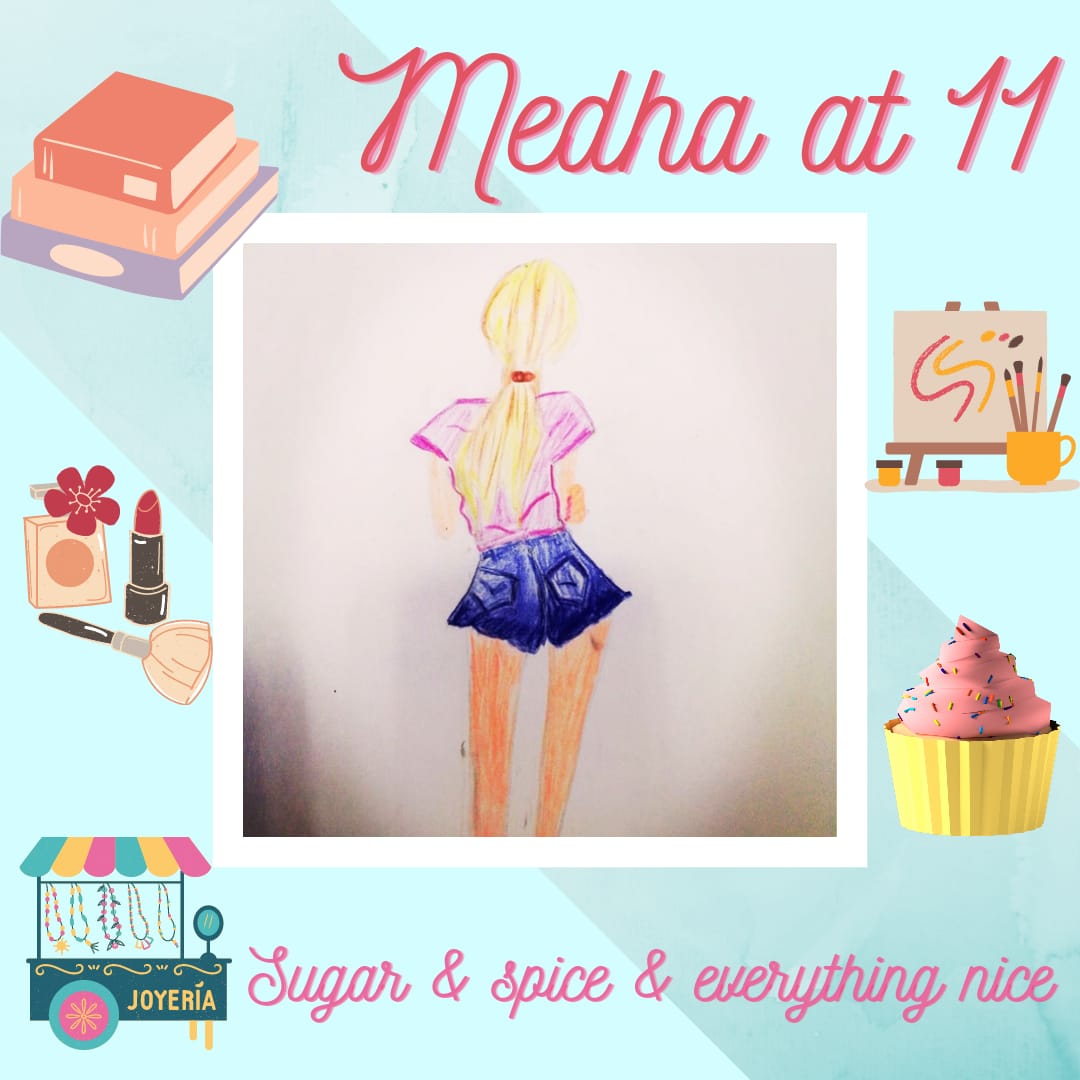 I can't believe this tiny butterfly that flitted about all the time, SO out of anybody's reach, is now a Big Girl. Almost as tall as I am, Medha looks, talks and thinks much older than her actual age of 11. I sometimes forget that she's still a kid and share some of my ideas and thoughts with her just like I would with a friend!
Medha is observant, attentive and smart! She tells me I make a Life lesson out of every joke she cracks! She knows what pushes each and every one of us, especially me, and can easily get on our nerves! I can see her rebel nature slowly emerging. Can't wait for the teenage drama to unfold!
Pick your battles
-I remember a friend's advice to me.
Medha is reading a lot lately. I think it is due to the Harry Potter series. She read all of them and for a while I doubted whether she would ever get out of HP funk, but she found something else to latch onto – Percy Jackson. She read all of them and quickly gobbled up the Heroes of Olympus series too. Over 500 pages some of these books are, She simply tore through them! I sometimes wonder if she pays any attention to detail!
Drawing and watching TV are still the only activities that will glue her to a place. This foodie enjoys cooking and helping me around the house. Ha! Anything to get away from the dreaded studies, right?
By Medha
I feel like I have so much to learn from her. She is so confident in herself, knows what she wants and how to get things done! She tells me she hates movies where girls just sit around and wait for boys to come save them!
Medha loves collecting quotes that inspire or move her. I'm guessing pinterest is her favorite place to be… for drawing, quotes and makeup ideas. What can I say about her obsession with makeup! She is using up all my makeup trying out different styles, sometimes on us too! "WHY do you need them? You hardly use them!" is becoming her signature dialogue before ransacking all my stuff! Daughters!
Cake for her Birthday
She loves making videos and one day hopes to start her own YouTube channel. I know many kids have their own channels and social media accounts these days but I'm not ready yet.
so SHINE ON…..
-Manasa.