Making a clay Ganesha idol – Activity with kids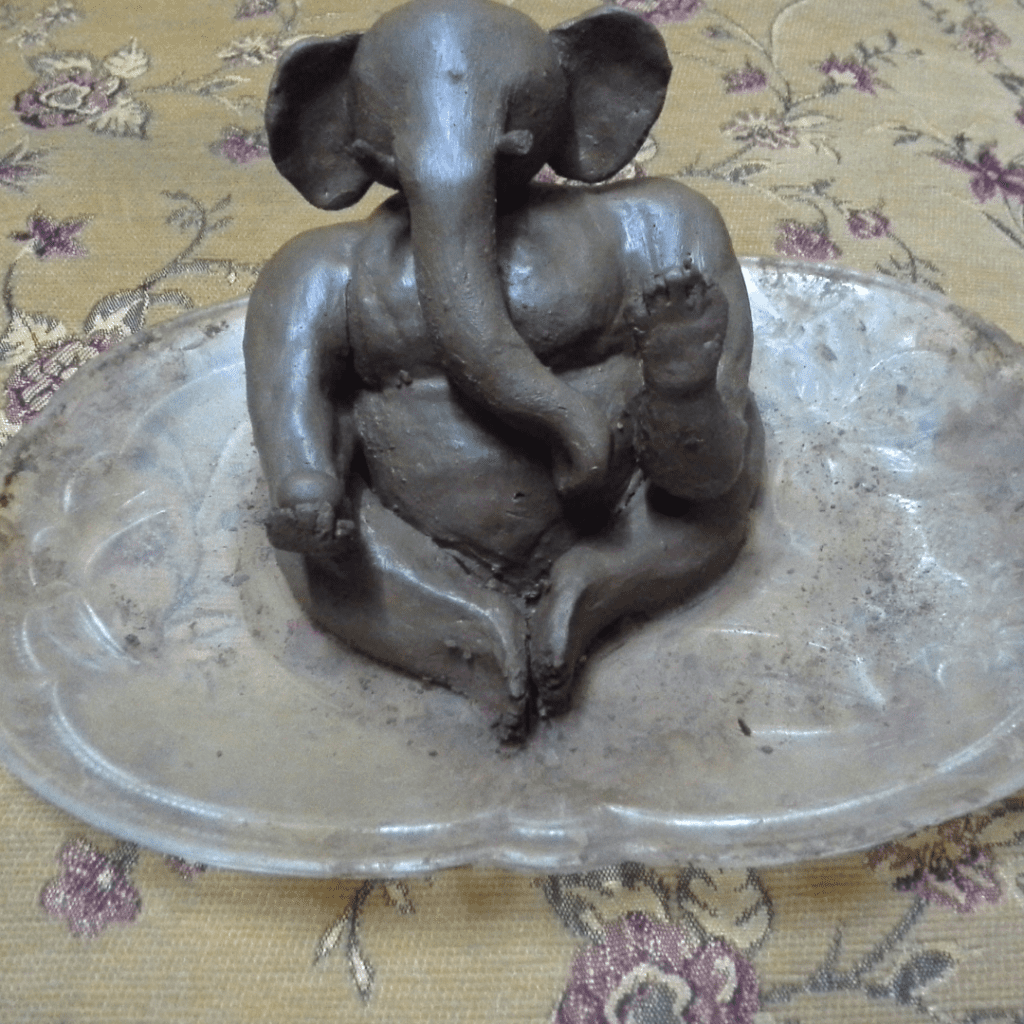 On the birthday of Lord Ganesha, called Ganesha Chathurthi, Indians all over the world worship idols of Ganesha with great pomp and devotion, offering him sweet delicacies. With greater pomp and devotion, the idols are later submerged in water as a way of bidding  farewell. It is the law of nature that that which emerges from soil has to become one with the soil.
This Ganesha Chathurthi, Medha and I decided to make our own clay Ganesha idol. I'd been wanting to make one for a long time but never seriously contemplated it. Medha is old enough for projects now and so I decided the time was ripe to give clay-sculpting a try; I didn't want to wait until Ganesha's next birthday.
I browsed Google for ideas. A lot came up. I picked a video that didn't look too complicated to follow. Even the end result didn't look fancy-schmancy! In short, it looked doable. Just a half kilogram of Shadu (Shadu is a kind of clay found in the river bank, mostly in Rajasthan, Gujarat and Konkan region, I found out) clay and some poster colors were all I needed. Easy Peasy!
Prasad bought some for me after work. I am not sure whether it was shadu or something else. It just looked like a filthy mass of grey mud. It even looked and felt unmoldable. In seconds our hands became un-recognizably dirty.
Playing, replaying and pausing the video on my tablet, Medha and I set to work. I pulled a big chunk and caressed it with my fingertips to form a smooth abdomen. That took a long, long time. I asked Medha to make a leg. She rolled a bit of clay and handed it to me. I asked her to add more mass to it. Lord Ganesha wasn't a supermodel after all. Far from it. "We need  chunky thighs!",  I told her.
Smoothening the blob of clay took a while but Medha didn't lose patience. She kept at making a leg, then another,later a hand and so on. Prasad suggested we add water to the clay. I added some and kneaded the clay-dough. I also kept a cup of water at hand to dab a little, every time it felt coarse. Adding water also added a shine to the emerging idol.
It wasn't easy after all. It took us about 4 hours to make our project resemble (only slightly) Ganesha. But it did. Then we left it to dry before applying poster colors.
There were mistakes. Big ones. I interchanged the blessing hand. The trunk ended up being too big for the face and the shoulders were uneven. Mistakes galore! But, for first-timers we did a pretty good job, I think.
More important than the end result itself, I was beaming with pleasure at having accomplished what we set out to do. It's not everyday that I set a goal and see it through. I let myself soak in the warmth of success. It had been a fun way of spending time with my girl, without the little one around making a big mess. She showed off her Ganesha and corrected me whenever I said "My Ganesha". It was"Our Ganesha" and it was difficult parting with him before we submerged him in water.
Before I attempted it, I didn't know I was capable of making a clay Ganesha idol. I know now that I can accomplish any goal with a plan and dogged pursuit.