JimCorbett National Park with kids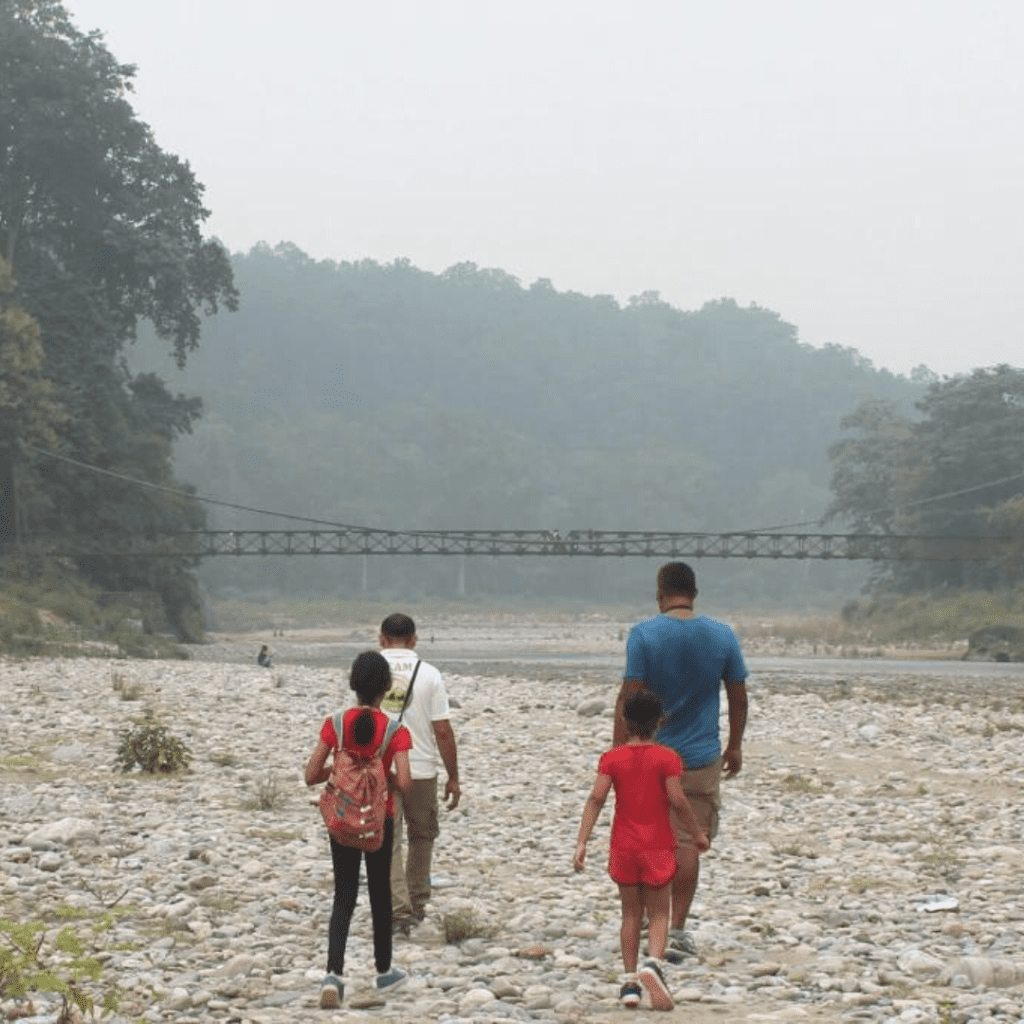 The Tiger is  a large-hearted gentleman with boundless courage and when he is exterminated – as exterminated he will be unless public opinion rallies to his support- India will be the poorer by having lost the finest of her fauna.
-Words by Jim Corbett, a British hunter, tracker, naturalist and an author of several books. He played a key role in establishing the Corbett National Park in the 1930s.
This was 4 years ago. I was going through pictures of our trip to the World famous Jim Corbett National Park. We flew to Delhi from Hyderabad and drove to Club Mahindra Resort in Uttarakhand, about 240 kms away. It was raining cats and dogs and the city was clogged with traffic. Boy were we glad to leave the crowds, the sludge, the air thick with pollution behind! 
Our rooms were spacious, cozy and clean like all Club Mahindra Resorts. The Resort is situated on a riverbed, so we simply splashed about in the water or relaxed on boulders beside the river in the mornings. There was a big pool at the resort that kept the kids busy for hours. And the food? It was quite a spread. There was too much food! And so expensive too. So now and then we tried other dining options like the dhabas and other little eateries. The Resort provided good entertainment for the whole family in the evenings. There was bonfire, music, dance, laughter and good socializing with the other guests.
We booked a guided walking tour to the nearby Garjiya Devi temple which took us beside a river, across an old bridge, through a jungle, on a narrow path hugging a hill and down across the river (Kosi river ?) again with a hop-skip-and-jump on boulders. It was quite an adventure with the little ones. Our guide was very helpful as he led us. A long queue of devotees was snaking its way towards the temple situated on top of a hillock. We simply bowed to the goddess from the outside and headed back to our rooms, this time in auto-rickshaws. 🙂
Apart from a visit to the Jim Corbett Museum, where we had a glimpse into the life and times of Jim Corbett, we even went on an eco-tour of a Kumaoni village, where a local family served snacks and beverages. We explored the village, watched locals carry pots of fresh mountain water from a pipe where we took a refreshing sip or two, visited the spooky temple and enjoyed the beautiful views of river Kosi flowing down below
One morning we even went on an Elephant Safari in the Seethavan, about which I have already written at length here. It fills me with joy to look back on that memorable event, even after all these years.
And then the Jeep Safari…. I can't get enough of it. I mean we've gone on so many, yet it thrills me every. single. time.
I simply enjoy waking up early in the morning when it is still dark outside, bundling up and making our way into one of India's enchanted jungles. To my mind it feels as if we're about to enter the Jurassic Park. A wave of awe and fear washes over me. Jai Shree Ganesh, We send up our prayers. We are determined to spot a Tiger or a Leopard or an Elephant, but you never know what you might find. Or not. As the gate closes behind our jeep, we leave the world of men and enter the abode of the untamed wild.
It is refreshing to breathe in the cool, unadulterated air of the Jungle; The environs look like the fresh face of a child as it wakes up; The sky still, but vibrant, the early morning sun splashing colors as it takes center-stage. What's not to love about an early morning foray into a Jungle, especially if it is one of the oldest, most prestigious Jungles of India?!
We did not spot a Tiger or a Leopard, but we had a great time watching a variety of birds like the Bee- Eaters, Black Drongos, Common Flameback Woodpeckers, Red Jungle Fowls. A playful Jackal wished to walk only on the paved road, instead of limiting itself to the rough woodland. It kept following us for quite a distance.
We went on to explore Nainital and Binsar about which I plan to write next. So please humor me.
Manasa.