Fangirl by Rainbow Rowell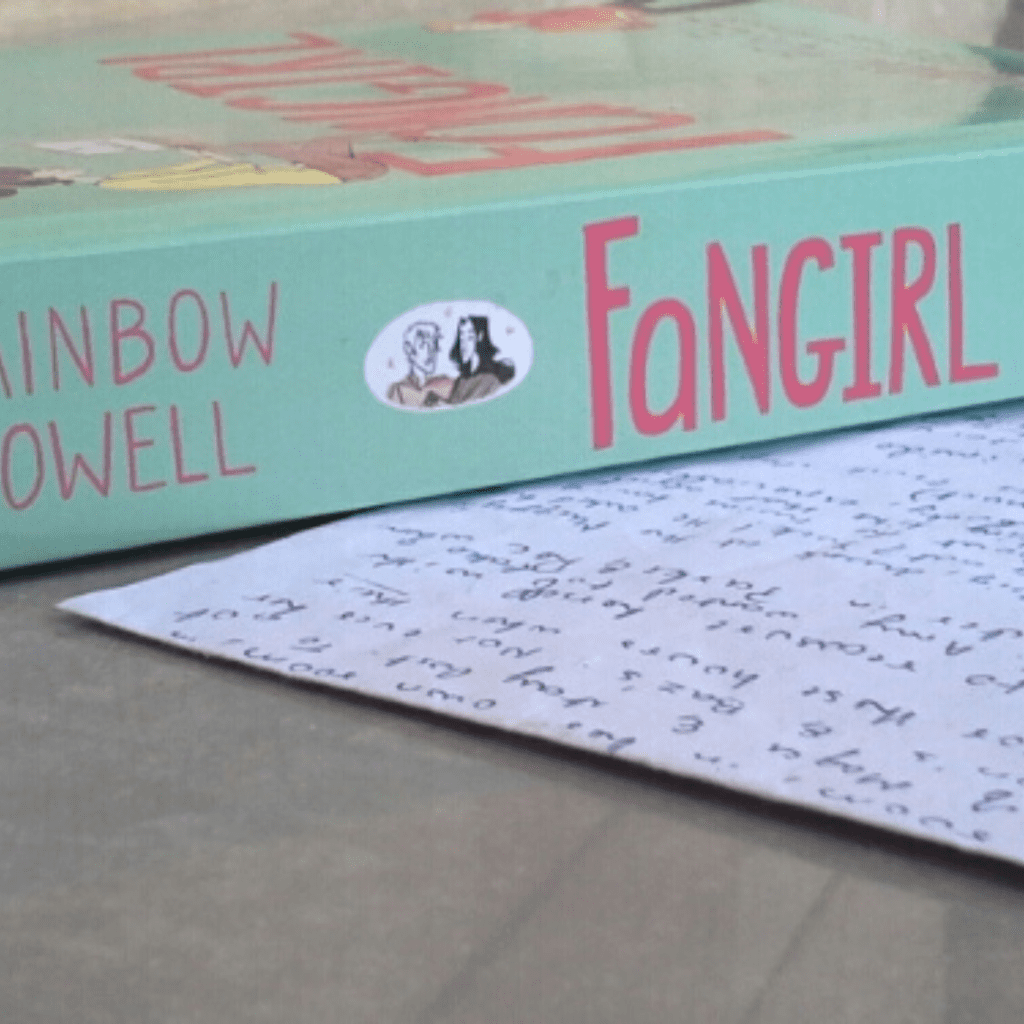 I loved reading it. It is not a thriller or a mystery, yet I found myself speeding through it, yearning to know what happens to the central characters in the end.
It is about a girl, Cather, a year in her life, starting College, her family, her new friends and her love for writing fan-fiction…. just the very sort of book I love to read, and hopefully, write someday.
I wonder why I'm hooked on YA (Young Adult) Fiction these days. In my young-adult years I was full of disdain towards them. I probably thought I was beyond their level, never having been told what was appropriate to read for my age. As my sister and I were growing up, we read what we found at home, and they were books written by Sidney Sheldon, Arthur Hailey and John Grisham. But now I'm always found hovering around the Children's or Teens' sections of my library (Justbooks)! Still not age-appropriate… But who cares!
Coming back to the book… Cather (who likes to be called Cath) has been her twin sister, Wren's best friend and room-mate all her life. Now , in College, Wren wants new experiences, new friends and even a new room-mate. Cath feels lost without her sister.  Writing Simon/ Baz fan-fiction (I didn't know anything about fan-fiction until I started reading this book. According to Urban Dictionary, "Fan-fiction is when someone takes either the story or characters (or both) of a certain piece of work, whether it be a novel, TV show, movie, etc, and create their own story based on it") brings solace to her as she struggles with her fears. Of making new friends. Of not knowing where the canteen is. Of how her dad will manage without the 2 of them at home.
In swaggers Levi, the ever-smiling, helpful, charming, chivalrous Levi, with a razor-sharp memory. I fell in love with him long before Cath did. I kept waiting for their romance to blossom. Will they? Will they not? I wondered. I feared Cath might shut herself off from him. But she doesn't, Thank God.
I love the falling-in-love part in a story. Any story. There's such nervous excitement around it. But staying-in-love? I admit I find it boring, listening or reading about it, unless it is super-exciting 🙂 or the 2 people have remained in love for a very long time. I wish the author, Rainbow Rowell, hadn't spent much time and words on their romance, as she did.
I perked up whenever I came across 'writing' or 'fan-fiction'. Cath is so proficient at taking someone else's story, here, "Simon Snow" series written by Gemma T Leslie (based on J K Rowling, I suppose), and writing her version, that it is hard for her to write a story of her own. She just doesn't know where to start. Her Professor helps her come up with a "starting point". She says "Just start from somewhere in your life and see where it leads you"… But where exactly? Her past is bleak. Her mother abandoned her and her sister, Wren, when they were too young. When they had needed a mother the most. Cath finds it hard to dig into her past. She doesn't want to face her mother, who now wants to come back into their lives. She has trouble trusting people, even Levi.
Relax, there's a light at the end of the proverbial "tunnel". Of course there has to be, when Levi is around. He helps Cath figure out that she doesn't have to have one thing at the cost of everything else – fan-fiction writing over fiction writing, her family over Levi, Wren over her room-mate Reagan. Only then does she make room for so much more in her life.
We are all capable of so much more than we give ourselves credit for.
No big life lessons in this book. No wise characters (except, maybe, Levi). Every character had flaws, even my favorite, Levi (You can see how much I adore him), which made them real, endearing. I looked forward to reading it every night just before sleeping. I felt a sense of deep contentment as I read this book.  I felt joy. My dreams felt attainable. My goals, reachable.
Good books have such power over me.