Celebrating America in India- Activities with kids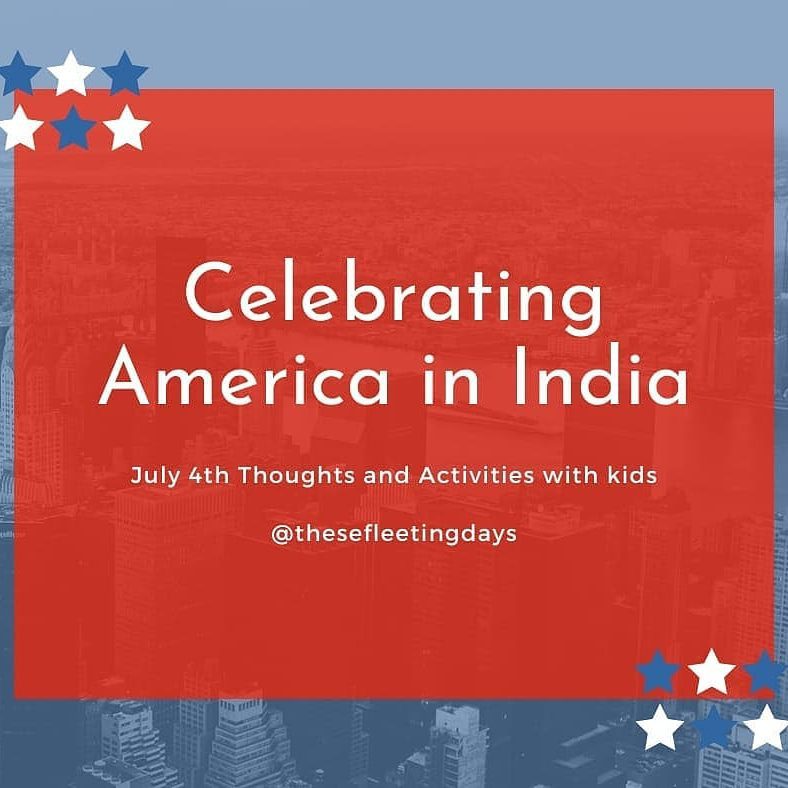 This blog began its journey in a quiet city called Tucson in Arizona, known for its majestic Saguaro Cacti and dramatic Sunsets. I lived there for 5 years, my husband even longer. Life as a newly married woman and then as a young mom, in a different culture was hard. I had no job, my friends lived far and we met them only on weekends; My family lived even farther. There was nowhere I could run to when things got crazy, and boy did we go through some crazy stuff! But bit by bit, day by day, I ventured out into the unknown, got my Driver's license, got lost a few times and found myself again. My friends who are still close to my heart, helped me navigate the unknown roads.
While living in the US, I learnt as much as I could, whenever I could about everything I fancied. I enrolled myself in a Community College and took classes on Sociology, Psychology and what not! I learnt to respect personal space- physical as well as emotional. I began to believe in the power of physical exercise. I learnt to drive and not wait to be driven; cook with the freshest of ingredients available at the local farmer's market; appreciate and protect natural beauty. I learnt to give of myself to causes I strongly believed in, as I volunteered at the local library, for an organization called Junior Achievement of Arizona and at a Seed Conservation Center called the Native Seeds Search.
US has played a big part in our lives. We spent some of our best years there. Part of me yearns to be back, especially when I look at the pictures of our road trips and remember our walks to Starbucks or breakfast at Nico's or shopping at Trader Joe's. And maybe we will go there someday, who knows?!
Just like how I nurtured a love for India and all things Indian in my daughter when we lived in the US, by celebrating all the festivals, reading books about our culture and taking her to Prayer Classes, We want to ignite and keep the patriotic flame going for my kids, who were born in the USA. I want them to learn as much as they can about the place where they are from and where they belong (Not sure which one's which at this point!). So we decided to start our own July 4th tradition celebrating America.
I drove myself crazy figuring out all the activities I could do with the kids. I bought books they can read by themselves or to be read by me. I downloaded free worksheets related to American Independence, came up with lists of songs to listen to and movies to watch. We watched YouTube videos of History lessons for kids. I even compiled a list of shows they can watch as part of their American History "Lessons". Even though it was quite exhausting not being offered a syllabus on platter, it was totally awesome coming up with my own.
Learning about American Independence and drawing parallels between American and Indian struggles for Freedom, discussing topics like how Boston Tea Party vaguely resembles the Salt Satyagraha movement in India, were some of the many things we did as part of our July 4th American Independence Day Celebration. The conversation has only just begun and we have a long long way to go.
On the 4th of July we had hot dogs (we followed this recipe and it turned out great!), watched Hollywood favorites, listened to folksy country music and danced to songs like Katy Perry's "Firework", Miley Cyrus's "Party in the USA"! It was a Party in India… 🙂
This exercise gave us an excuse to learn something new and it made an otherwise mundane weekend very special.
I hope this post inspires you to dive deep into anything that fascinates you and your children. This World is full of stories and magic waiting to be discovered. And who better to unlock these hidden gems with than our kiddos?! You only need to scratch the surface along with them, they will lead the way with their curiosity and excitement.
Books we read – Who was Alexander Hamilton?, Magic Tree House – Revolutionary War on Wednesday.
Downloaded worksheets from Education.com
Got ideas for Songs, Shows and Movies from healthyhappyimpactful.com
Watched Videos on Kids Academy.
Learnt so much from kidskonnect.com
LOVE
-Manasa