Black Buck Resort, Bidar – Travelling with kids in India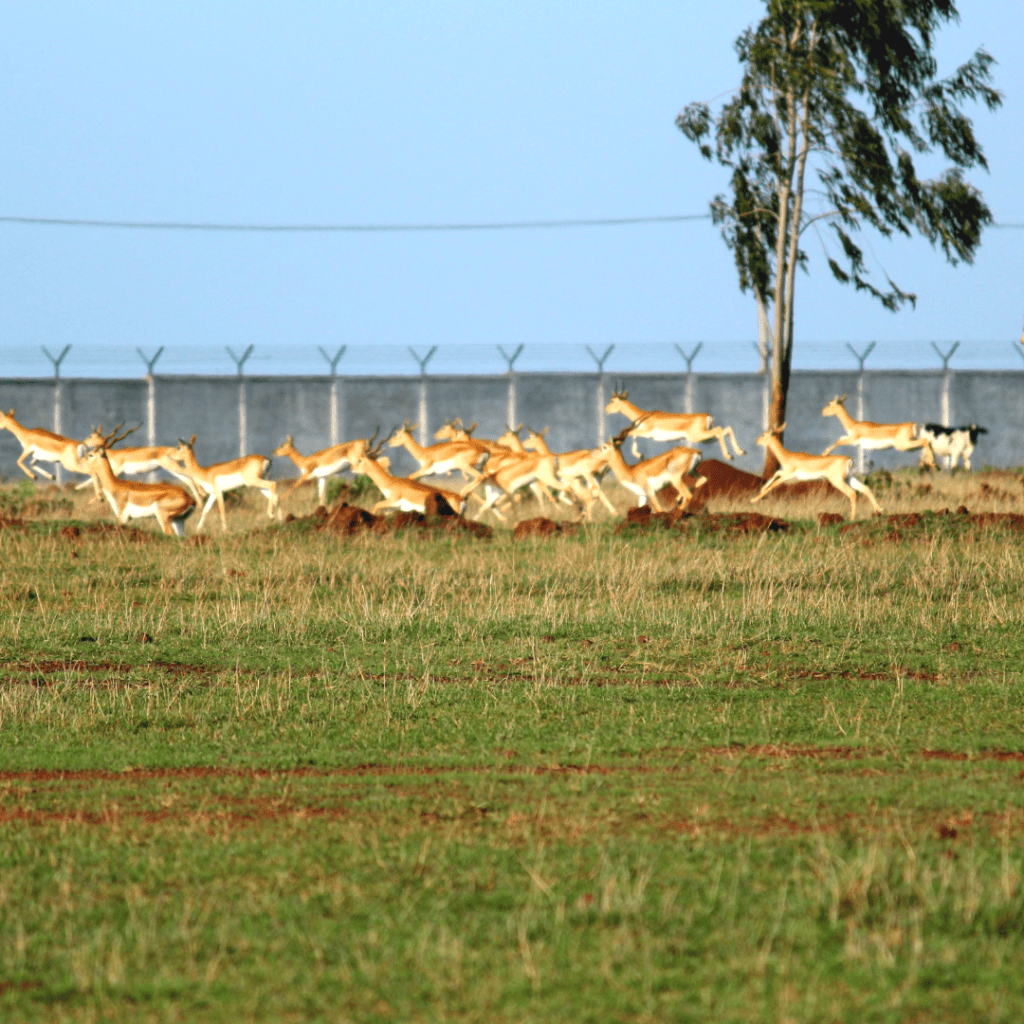 Did you say Black Buck Resort? In Bidar, Karnataka? A different State altogether! Would we be able to cover the place in 2 days?
Wait wait… Black Bucks, you said??? What wild animal can possibly survive the heat and aridity of Bidar?
A number of questions circled my mind and I tossed them at Prasad, who coolly directed me to the Resort's website. I couldn't believe he had already booked our stay!
I'd always assumed Bidar to be one of those drought-struck places with cracked agricultural lands, desperate for a drop of rain. Even the Resort's website with its washed-out pictures didn't look promising to me.  But of one thing I was pretty sure- anything would be way better than staying home over the long Independence weekend. So when time came for us to leave, I was super-excited; The kids were too. Medha, on our drive to the resort, kept saying our home must be thanking us for having left it alone for a while! I thought she made sense.
The drive was good; It took us through a landscape in mottled shades of Green (not the lush green of the Tropical Rain-forests of Western Ghats, but no desert either). On our way, we stopped to buy fresh fruits like Figs, Guavas, Custard apples and a couple of Raw Mangoes from a local vendor.
Bidar is about 134 km from Hyderabad. We stopped for a quick visit to the Bidar Fort (details coming up in my next post)  and then headed to the Resort. It was difficult to find the place as it is located deep in the Forest of Honnikeri, beside the Vilaspur Lake. There were no markers or roads to lead us to our destination. We got there only after we called up the resort and asked for help.
Black Buck Resort is hidden behind a veil of Greenery and is surrounded by hills. But I couldn't find a Lake anywhere. It must be hidden too, I thought, at first. Soon I learnt that it had dried up because of sparse rainfall for the past few years. We were slightly disappointed. The views from the balcony of our cottage were beautiful, but I'm sure it would've been breath-taking, had there been a sparkling lake instead of a grassland. Still, there was just a tiny bit of water and cattle could be found grazing or lolling beside it, which felt serene.
We headed for lunch right away. Food wasn't too rich or the variety too much; There were a couple of curries, freshly-prepared Rotis, Biryani and Rasam and Sambar to go along with Plain Rice. A simple Rice pudding served as a dessert. Everything tasted finger-licking good, as if it was carefully prepared at home… The kids (hard to please) and Grandparents (harder to please) ate without a fuss! Phew!
It was soon time for Tea/Coffee and Black Buck sighting. We boarded a Balero and our guide, Harish, drove us to a grassland quite far from the Resort.
It wasn't exactly a Savannah as I thought it would be. Short grass  covered the land here and there; A Runway (Our Air-force has a training center there) ran beside it and factories surrounded the area. Harish informed us that the animals had gotten used to the noise, but I was skeptical.
Hordes of Black Bucks grazed and chilled and went about their business without a care in the World, until they saw us approaching; When they did, they took off running and leaping, and boy how they leapt! It was a surreal vision! They looked like they were flying, especially the younger ones, who kept jumping higher than the rest.
Despite the runway and the factories nearby, the place did look serene and I remember wishing how awesome it would be if I could capture the feeling of the place too.
On our return, we snacked on French Fries and Capsicum Pakoras (not part of the meal. We had to order separately) and watched documentaries on a Projector screen. I wish the Government of Karnataka, of which this Resort is a part, screened educational documentaries related to Bidar, its history and wildlife, instead of just advertising their other resorts  or playing a documentary on the Rain-forests of Sahyadri Hills like they did, although those were interesting too.
Then it was Bonfire-time, which wasn't much fun at all with a bunch of kids (Medha and Madhav made a new friend there) who kept running too close to the fire or too far from the light.
We gobbled up our dinner (Good food again!) and headed to our rooms. We had to wake up early for some bird-watching.
The next morning we were taken on an easy hike along the periphery of the resort.
We spotted a bunch of Langurs perched on trees and relaxing on rocks, watching us with interest as if we were the animals and they, the spectators (Who knows, it might be the case in their World!), Big Eagles circling overhead and a few other species of colorful birds. We searched high and low for Peacocks whose familiar cries we could hear everywhere, but couldn't spot a single one. They were evading us, probably because of all the noise the kids were making.
But everyone seemed to be having a good time walking, enjoying the beautiful views and spotting (or trying to spot) wildlife. A few visitors to the Resort complained of not having experienced anything special, but my family was pretty satisfied.
The hills, shrubbery, early morning dew on leaves, villagers digging a well, a mama Langur picking lice off her baby, another mama protecting her tiny one from us, the absolute tranquility of the place, interrupted only by the screams of Peacocks who played Peek-aboo with us or the giggles of our kids, everything, made us feel glad we'd visited this obscure place. I didn't mind having my perception of Bidar and its beauty altered for good.
Medha wanted even more of the experience; She wasn't ready to head back home. But when she spotted a Scorpion in our bathroom, her resolve wavered.
We helped her (hopefully) understand that the wild is the home of beasts and critters and we were only  guests there. We just needed to be extra extra careful and leave their home just the way we found it.
After a hearty breakfast, it was time for us to leave.
I felt our Home was too happy to have us back. And Medha agreed with me.
(We paid Rs. 4352 per adult per night that included accomodation+ all meals + safari + Bird watching +taxes)