Baumwipfelpfad Neckertal with kids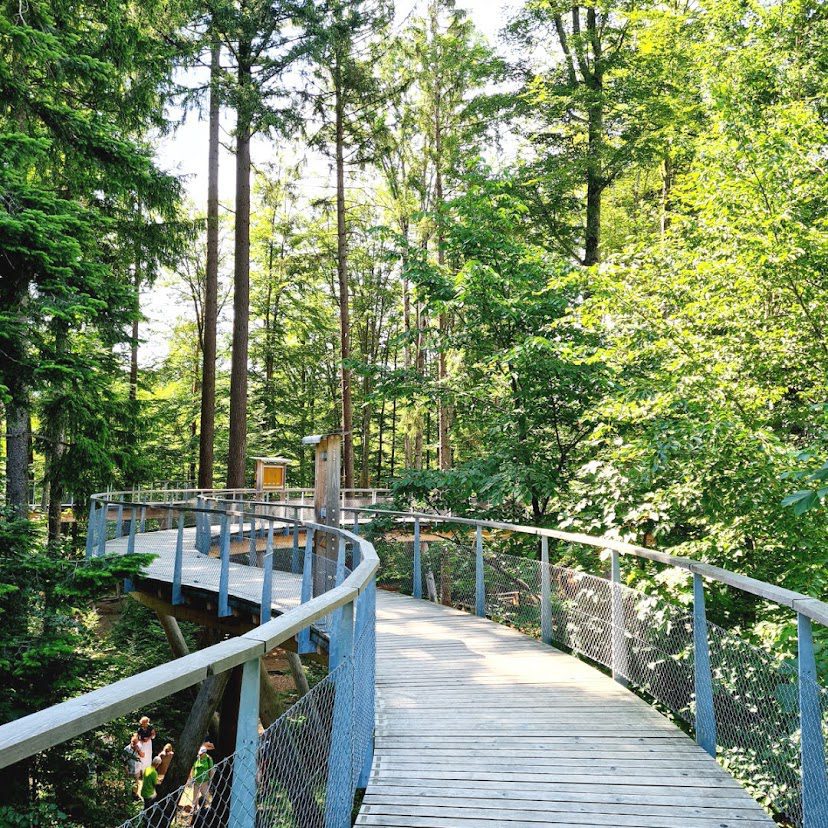 Toggenburg is located in the eastern part of Switzerland in canton St. Gallen. It lies between the mighty Säntis massif and the peaks of the seven Churfirsten mountains, where the Thur and Necker rivers take their course. One of the most beautiful regions in Switzerland, Toggenburg is composed of many villages like Wildhaus, Unterwasser, Alt St. Johann, which are famous tourist spots. In winter, there are many ski slopes in the region and in summer, there are several interesting panoramic views and themed hiking routes that wind through impressive mountain landscape.
Baumwipfelpfad Neckertal, the first treetop path opened in Switzerland, is located in Mogelsberg, a village in the Toggenburg region. The 500-metre path offers a unique experience of the local forest.
I drove my kids from our home in Dachsen and an hour later I was able to find this place quite easily. From the parking lot it is a few meters uphill walk to the hiking area. 
First we walked around the treetop path. There is a lot to learn on this path. There are almost 40 stops/ stations that give a lot of information on the flora, fauna and the settlements in the region. From the viewing platform which is around 50 metres from the ground, you can enjoy a breathtaking view of the entire Neckertal valley.
It is a very good place for kids to learn about the different trees, animals, birds and local people that inhabit this area. When we visited, there was a huge group of kids on their class trip; It was so nice to watch them discuss everything with their teachers.
Below the treetop path, there is a play area for kids and a forest adventure trail which is almost 650m long. After we came down, we walked around the forest trail. There are more interesting and fun stations on the forest trail too. Neel enjoyed the walk looking for different kinds of mushrooms. 
I packed some lunch with us and after we ate them, I let Neel play for a while in the play-area. It consists of a zipline, balancing ropes, swings all made of wood and natural materials. 
Everything looked so natural!
Before we headed back home, we ate some ice cream in the picnic tables set up, while enjoying the views of the region.
Some more information about this area:
Day ticket costs CHF 15 for adults (16years and above) and CHF 8 for children (6 – 15 years) and free for kids younger than 6.
There are many package deals available, find out about them here.
There is a small self-service bistro, where you can grab light snacks and drinks.
All around the park (including the treetop path), there are seating arrangements to sit and just soak in the beauty. 
There are designated bbq areas and picnic tables
The whole facility is stroller- and wheelchair-friendly
There is wheelchair-friendly parking right outside the park
There is a huge parking facility just 15 min from the park at Parkplatz Sportzentrum.
Here are a few tips:
Make sure your stoller can handle the forest path.
As the bistro has very limited options to eat, make sure to take lunch from home. There are many picnic tables to sit and enjoy.
Our picnic lunch usually consists of sliced carrots, sliced cucumbers, sandwiches and fruits 
It usually tends to get crowded on weekends so try to get there early
We spent almost 4 hours inside the area. You can explore the nearby villages or hike around.
I will surely bring the kids and Mike next time when the kids are a bit older and are able to better understand the natural habitat that we call home.
– Madhurya