ANDAMAN – Swaraj Dweep with family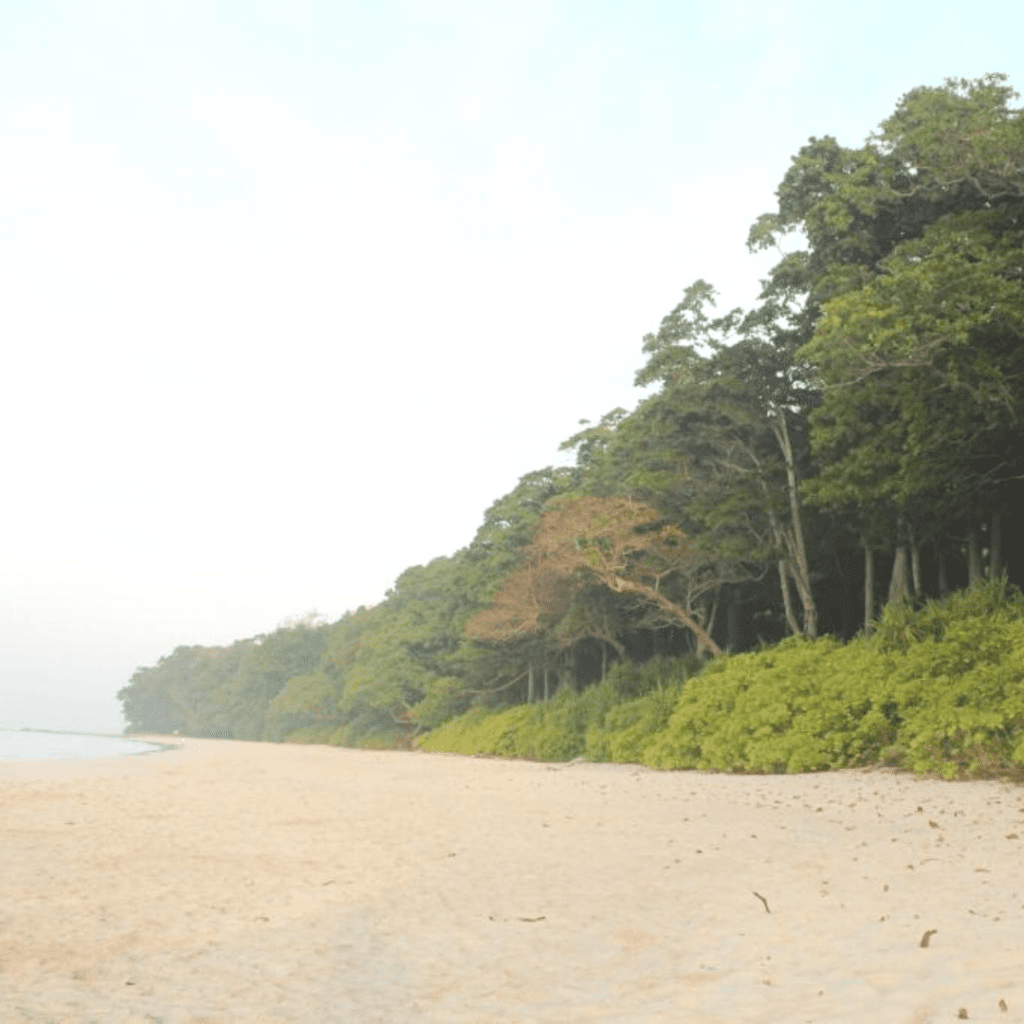 All aboard the Makruzz !
We felt we were on a plane than on a ferry service (1150 rupees per ticket). It took us 2 hours to get to Havelock Island, or Swaraj Dweep as it is now called, from Port Blair (where we had a great time exploring the Cellular Jail and Ross Island. You can read all about it here)
With so much to eat (at the café) and so many people and things to observe, we enjoyed every minute of the ride.
We took a cab from the port to Barefoot resort. This place is far away from the din of the crowd; It is clean. The staff is polite. The beach is gorgeous!
After we checked in, we were served coconut water in coconut itself! We were requested to take off our footwear and walk around barefoot inside the lobby and the restaurant. (As the name suggests) . The world-famous Radhanagar Beach is just a short walk through a jungle of gigantic trees from this resort.
The trees were so majestic they looked like gods themselves had come down to meditate or to view the splendor of radhanagar. We were awestruck as the 'curtain' drew and the first glance of the beach was before us.
I felt so grateful for the blessing of being there amidst such serene beauty. I spent a lot of time in reflection.
Food was great at barefoot. We got complimentary breakfast but for other meals we had to pay a lot, so we explored eateries outside the premises and ate at the resort only when we didn't have another option.
'I'm living my dream' I kept thinking as Chrystal (maybe it was her stage name) sang jazzy music and serenaded the visitors in the lobby at night. It felt so peaceful.
We saw a million stars in the sky when Prasad and I decided to take a walk by the ocean at night!
Time moved at its own sweet pace here.
We got into a motorboat one day and drove to the Elephant beach. The price we paid (around 5k) included snorkeling. But it wasn't such a great experience. First we had to wait too long for our turn. And when it did come, we were taken in pairs and were told that if we wanted to explore further, to go deep-sea diving, we had to pay 1000 rupees per person or 2000 rupees per couple. What a big scam it all was! First of all they weren't upfront about what options we had and how much everything costed. And later kept adding one charge after another. So please do your research and demand to be given all the details before you go. The place and the experience of looking at coral reefs is not to be missed though!
Be prepared to find yourself surrounded by honeymooners on this beach! At one point I felt like I'd throw up if I saw any more red bangles and coochie-cooing!
The next day we covered the distance to the Elephant beach on foot instead of taking a longer route on boat (We didn't know it was at a walkable distance! See… Do your research before you go!). First we took a cab to a point on the road to the jetty. Then we trekked a hilly but not difficult terrain full of hard rocks and dry leaves. Accompanied by the calls of parrots and pigeons and the whirr of motorboats we made our way to the sandy beach. It was prickly hot. We played in the water and munched on fresh fruits and other snacks available at the stalls nearby. We wanted to give snorkeling another try after last time's disappointment.
We wanted to go further into the ocean. So we paid 4k for the 5 of us.
It was a jungle in the depths of the ocean. Madhav was too small to accompany us. First my in-laws went and came back and they couldn't stop talking about the experience. Then Medha, Prasad and I went together with atleast 3 guides. They strapped jackets , tubes and masks on us and took us floating. We spotted pink and blue parrot fish, sea urchins, zebrafish, starfish and clownfish under the turquoise water. Colorful corals with clamshells breathing in and out were the next to make an appearance. I tried stretching my hands to feel the aquatic animals whooshing past and to set my feet on the cool smoothness of rocks underneath but I couldn't move a muscle.
I had the best time!
We were sunburnt from spending all our days on Elephant Beach.
As we made our way back from havelock Island (it looked and felt more havelock than a swaraj dweep to me for some reason) on Makruzz I didn't feel too sad to leave. I'd had my fill of the island.
I was looking forward to the last 2 days of our vacation.
To be continued…