A Weekend in Flims with kids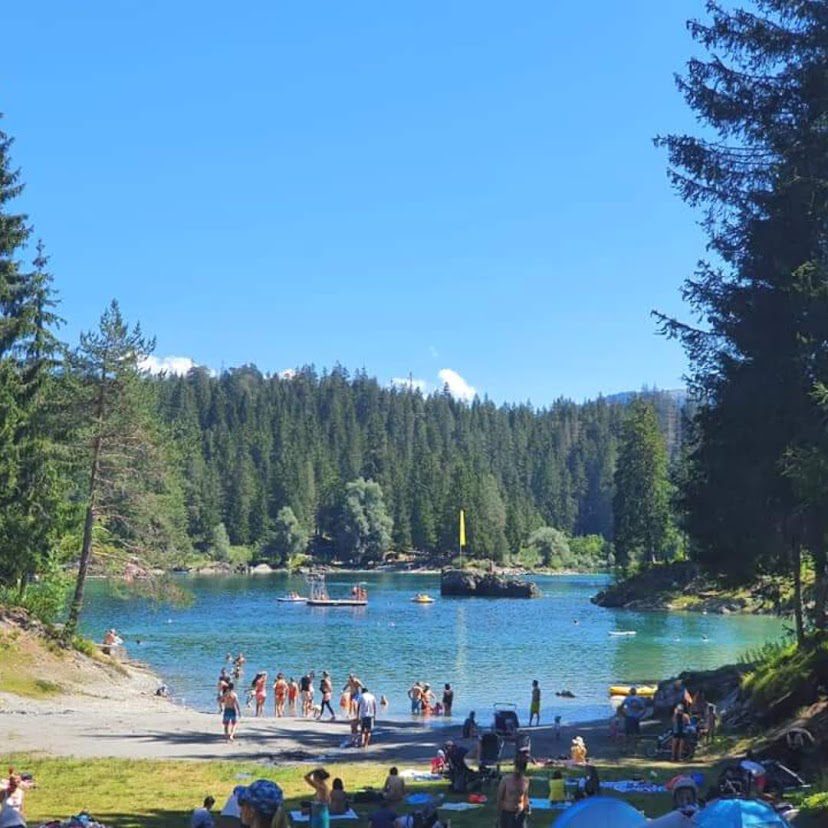 Not more than 2 hours from my home in Dachsen is the beautiful holiday destination of Flims. Tucked in the Canton of Grabunden, this place offers the perfect getaway for hiking, biking, swimming or other child-friendly activities.
We visited this place and had a fabulous time before the kids were born. You can read all about it here. In late August last year, I revisited Flims with my Mother-in-law, my son Neel, and my nephew. As I was quite pregnant and nauseous with my second child, and we were accompanied by 2 toddlers, we decided to take it easy on this trip. I wasn't expecting to have all the fun that we did!
We visited the picturesque Caumasee lake first. This lake is rightfully named the "Jewel of Flims". There have been many changes since we last visited here. Ticket prices are different now; There is a playground with lots of activities for kids and better arrangement to sit comfortably and enjoy the stunning views of the turquoise waters.
Kids had a great time swimming in the lake and running about in the playground. We ate pasta and fries for lunch in the restaurant beside the lake.
You can find all the information about Caumasee including the ticket prices here.
Then We drove from the lake to Rhine Gorge (Ruinaulta), known as the Swiss Grand Canyon. The Gorge looked even better from the Islabord viewing platform.
We checked into our airbnb apartment before heading out to have dinner at a small Turkish/pizza restaurant nearby.
The apartment I booked was just perfect. We found it amazing that:
It was centrally located.
There was a shopping mall a few meters from the apartment with a supermarket in case we needed to buy foodstuff (which we did).
There were lots of restaurants nearby.
For breakfast next day, I bought fresh gipfeli (Swiss version of croissants) from the nearby cafe and we ate them in our airbnb before getting ready for our next outing.
Our first stop for the day was Crestasee. It was almost drizzling when we reached the parking lot. From there it was a 30 min walk to the lake. It was almost empty when we reached and we could enjoy the view and let the kids play about.
We left before the crowd started trickling in. You can find all the information about Crestasee including the ticket prices here.
We then drove to Laaxersee, located in the village of Laax (around 10 min drive from Flims). 
A walk and some play later, we were ready for lunch. We had a delicious bowl of carrot soup and bread (I was happy to find something that didn't make me nauseous!) and the kids ate Älplermagronen (Swiss Alpine Macaroni and Cheese) in Ustria Lags by the lake.
We were so lucky to find this amazing place to spend a quiet evening as it was raining heavily. There was no entry ticket but we had to buy a drink or snack. While the kids played, we relaxed and enjoyed our coffee. For dinner, we cooked pasta in our bnb and watched The Parent trap on Netflix before going to bed.
After our breakfast of more gipfelis, we drove back home as I was too tired to do any more sight-seeing. I made a pact to visit this beauty again with both my kiddos.
Total price for our airbnb was Approx. CHF 400 for 2 nights. Check out other options too.
Do note these points before you visit Flims
Make sure to download the INSIDE LAAX app. It gives all the information on Flims and Laax. With this app, you can book the tickets to the lakes easily and avoid long queues. We got guest cards from our airbnb host using which we got discounts on the entry tickets.
Even though it was summer, it rained continuously for 2 days. We were prepared with raincoats and other wet gear. So make sure to check the weather before visiting (this applies to all places in Switzerland!) 
Reserve your hotels/bnbs way in advance as they can get fully booked and very expensive.
Dont miss this place if you are in Switzerland or if you plan to visit sometime.
–Madhurya