A weekend hike in Tucson with our toddler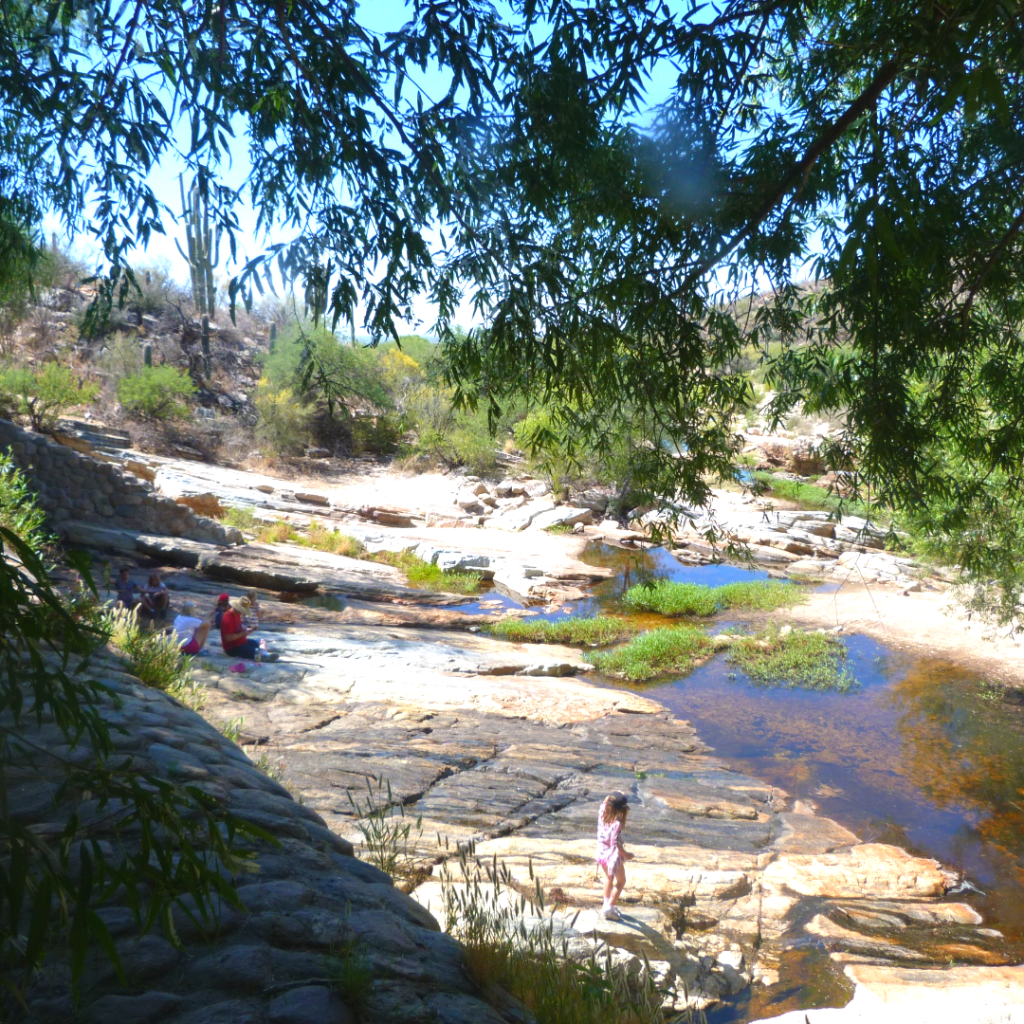 One Saturday morning Prasad and I, our little girl strapped to his back, went to the Sabino Canyon Recreation Area in Tucson. The temperature was to soar up to a 100 F that afternoon, which gave us a couple of hours to hike before the sun was at its fiercest.
When we began at 8, most visitors to the canyon were returning, sweaty and sun-burnt. That didn't scare us regular hikers. The majestic Saguaros, some still spouting spring blossoms on their thorny heads, beckoned us. A mother was spraying sunblock over the bare parts of her family of 4 as each looked away, trying not to be seen. We thanked our cutaneous melanin and walked on.
There was Bear Canyon, Seven Falls and the Sabino Canyon Dam trails; all sounding inviting but requiring more time and courage to walk beneath the roaring sun. Our intention was to wander, to spend some time in the sun-kissed surroundings till one of us decided it was time to head back.
As we walked on the paved road, it looked like we were heading straight into the lap of the Santa Catalina Mountains. Slopes facing the sun looked unforgiving, without a speck of sand or a sign of water. The Saguaros and other cacti seemed to have been thrust out of large boulders. Brittlebush and Palo Verdes added a touch of softness and color to the harsh scrublands.
Whenever we hushed ourselves we could hear the gentle, melodic sound of the Sabino creek cascading underneath the thick swamp of mesquite and cottonwood trees. The promise of a break by this oasis on our return, kept us motivated to hike on.
We crossed small bridges beneath which water trickled and took several sensory breaks to soak in the beauty and the survival instinct of the desert inhabitants. After a 2.5 mile hike we found a cool spot beside the creek where we could eat our sandwiches. We sat back and enjoyed the music of the birds chirping and cooing, and the water rippling.
A bit energized after the meal we decided to get off the beaten path and walk in the well-shaded mesquite Bosque. It wasn't easy; we hopped carefully over slippery boulders, ducked under the branches of cottonwood trees and treaded lightly on the soft, sinking sand. Only after we'd walked a mile or so did we realize that a few hops had taken us to the other side of the creek. To get back on the right track we had to wade through knee-deep water. But there was no right track. The other side had turned hilly. There was nothing to do but forge ahead. We scrambled past thick bushes, careful not to disturb the rattlesnakes, if there were any. Soon, we approached a clearing and to our relief found a trail post.
After crossing a puddle of water we met another hiker who warned us of mountain lion sightings in that area. He asked us to make a lot of noise when we walked. So we began singing, Prasad excited at the prospect of spotting the lion and I, with dread.
We heard other voices and followed them to a man-made structure shaded by mesquite trees. It was the Sabino Canyon dam, at the foot of which people sat and played by a pool of water.
After pausing to steady myself, we headed back, now on a marked trail. That took us along the slopes of the mountains amid thorny Saguaros, exposing us to the blazing sun. By the time we reached the visitor center we were drenched in sweat, crimson-red and had worked up a big appetite!
-Manasa