A trip to Kanha National Park with Kids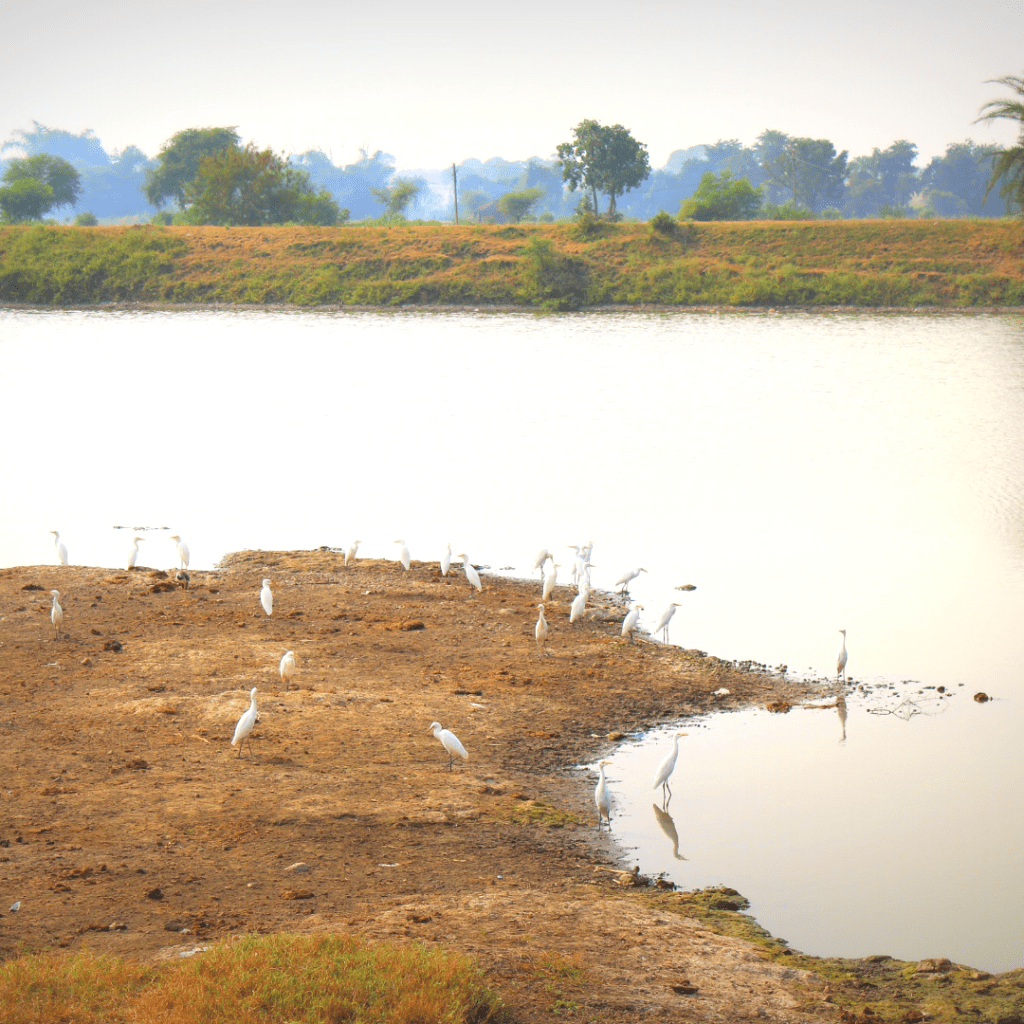 Let me tell you about our trip to Kanha National Park in Madhya Pradesh: A trip that was to last 7 days, strengthen budding friendship between cousins, create joyful memories and to include a rendezvous with the Tigers at Tadoba National Park, but didn't exactly pan out as we hoped it would…
Don't worry, I promise this won't be a sad read!
One crisp October morning, we left home at 5 AM along with Prasad's cousin and his family. The kids (now 4 of them) were too excited to go back to sleep. They played, watched movies and laughed a lot! Since we'd packed all our food for the journey, we stopped only to eat them and to refresh ourselves. Prasad and his cousin, B, took turns and drove, paying tolls as we went along. Some parts of the highway were well-maintained (in Telangana) while the others (in Maharashtra) weren't. We'd planned to break our journey at Nagpur or some other place, but since we'd covered most of our journey by noon, we decided to go ahead and complete it the same day. When we called up Club Mahindra, the resort we were going to stay at, they told us they could give us our suite a day early!
The drive was scenic: huge Teak and Sal trees punctuated beautiful grasslands and snowy Cranes swarmed a lake. We let the kids splash around for a while in one of them..
We reached the resort at 5 PM (About 12 hours later!). The staff made us feel welcomed. In fact they were gracious through our stay. Our suite had a bedroom, kitchen, balcony, dining table and sofa that could double up as a bed. There were a couple of TVs too, something I am not too fond of, especially on a visit to a National Park! But everything was impeccable and pretty! We ordered snacks for the kids- Pizza Margherita, fries and Paneer Pakoras. They were super-yummy but super-expensive too!
Since we were there during the festive season, there was loud music everywhere, in and around the resort. Many gathered around a stage to dance to peppy Bollywood tunes at night; We did too for a while. Then we retreated to an Indoor play area where we took turns playing Carrom, Table Tennis, Foosball and Hula Hoop. The Girl in charge of that area had fun chatting with Medha, asking her questions like, "Where did you come from?" and hearing responses like, "India"!
We were having a good time, but there was an undertone of tension throughout our trip. B's dad was sick and with ticking time, the information we heard from the folks at home kept oscillating between "getting better" to "turning bad"! With it, our emotions too swayed from relief to nervousness.
We were bracing ourselves for the worst!
Morning came and we went exploring the resort and around. It was lovely but noisy. Blaring music invoking Goddess Durga was playing right outside the resort and it was driving me insane! I was pretty sure the Goddess herself would materialize any minute and ask them to shut the hell up!!!
She didn't…. And since I didn't have the costume or the courage to appear in front of a bunch of villagers as Mother Durga, I sucked it up and tried to focus on the bright side (Like Prasad was asking me to!).
I watched the Sun rise and the birds frolic on the lawns, exactly the thing I came here to watch and enjoy. Then I sat in the lobby to read some and write some more.
We let the kids hang out at the pool and the outdoor play area to tire them out and to work up their appetites.
Then we had a heavy breakfast at the buffet. Food was good, not great considering the exorbitant price we had to pay. (Around 800+taxes) per meal per person! But there was a ton of options to choose from.
You may wonder why we chose Club Mahindra, of all the other resorts available. That's because B and his family are its members and our room rent was included in the membership package. That's it. Plus, we were told that the kids would have a lot of stuff to keep them engaged. And they did.
Our Tiger Safari was booked for 3:30 PM. There wasn't much to do in the vicinity until then, so we went to check out Kamlesh Dhaba, highly recommended by the kind gatekeeper of the Park. I'm nervous about dining  at roadside eateries for hygienic reasons, but I liked this one because it looked clean. The food tasted awesome too and was dirt-cheap compared to what we were paying at the resort!
The jeeps had assembled by the gate. We got into ours after showing our IDs and paying Rs. 2000 (Around 30 USD) at the counter. This was apart from the Rs. 1750 we'd already paid online to book a jeep for us. The Park is closed to all vehicles except the Government-approved Safari and staff vehicles.
I can still feel the thrill of the gate opening and letting our jeep inside. It felt as if we were entering the Jurassic Park. We were asked to be really quiet and not to trash the place.
The park invoked memories of our Yellowstone Trip. Kanha looked no less compared to its counterpart in the US in beauty or immensity. Dense vegetation interspersed with rolling meadows, shimmering lakes teeming with wildlife all left us insane with pleasure and gratitude. We spotted Deer, Sambar, Barasingha (a rare type of Deer), Peacocks and more. In their midst I truly felt blessed. I love LOVE my country and felt so glad that there were people out there who were taking really good care of it!
In the meanwhile, we were trying to catch a glimpse of a Tiger. He was one of the biggest reasons why we'd traveled all the way from the South to Central India. Our guide informed us that it was not in his nature to seek out human beings and attack them. In fact he feared us as much (or maybe more) as we feared the beast! Anyways, we were hungry to sight him. I reminded myself to savor every passing minute in that holy place, where folks mentioned in our legends had apparently tromped about.
And all of a sudden whose eyes our driver spots behind a bush?! No,not the Tiger's, but a Leopard's! A female, a mother, with her 3 babies in tow.
She came out, sat a few feet behind our jeep, looked at us and meowed to her cubs, who were still hiding behind the bush. When she took a few regal steps back, we moved too, slowly, our voices hushed, but the cameras clicking away. She made eye contact with us as if to make sure we meant no harm and called to her babies again. We waited with bated breaths to see them.
After a long time, she LEAPED into the air and took off, the cubs whizzing behind her in a muddy-brown blur! We were left with our jaws wide open, a ton of good clicks and our hearts bursting with pride and disbelief at having spotted a Leopard! Apparently, it is an elusive animal and we were able to spot one only because it had been a mother, who was ensuring her kids' safety! Had it been a male, he would've sprung out of our sight in a blink!
Everyone treated us as if we'd seen the Goddess herself! No other visitors had spotted a Tiger that day, let alone a Leopard whose sighting is, according to our guides, comparable to spotting 10 Tigers! I think God treated us to such a spectacle for a reason. He knew we'd be going back home, broken-hearted that very evening….
As we walked around the museum, within the park premises and open only in the evenings, we received the dreaded call. Uncle's condition was deteriorating and it was better for B to return. He asked us to go on without him, but how could we? We'd come together and now there was no way we we were gonna abandon them in their hour of need! We cleared our bills, packed our bags and made our way home.
Hmmm….
The kids had been real gems through the ordeal, which gives us the confidence to visit Kanha (and other National Parks) again. We'd only covered a minuscule portion of the park and there was much to see and do; And what about our meeting with the Tiger?! Heck we WILL go again!!!
Love,
Manasa.