A trip to Hawaii with our family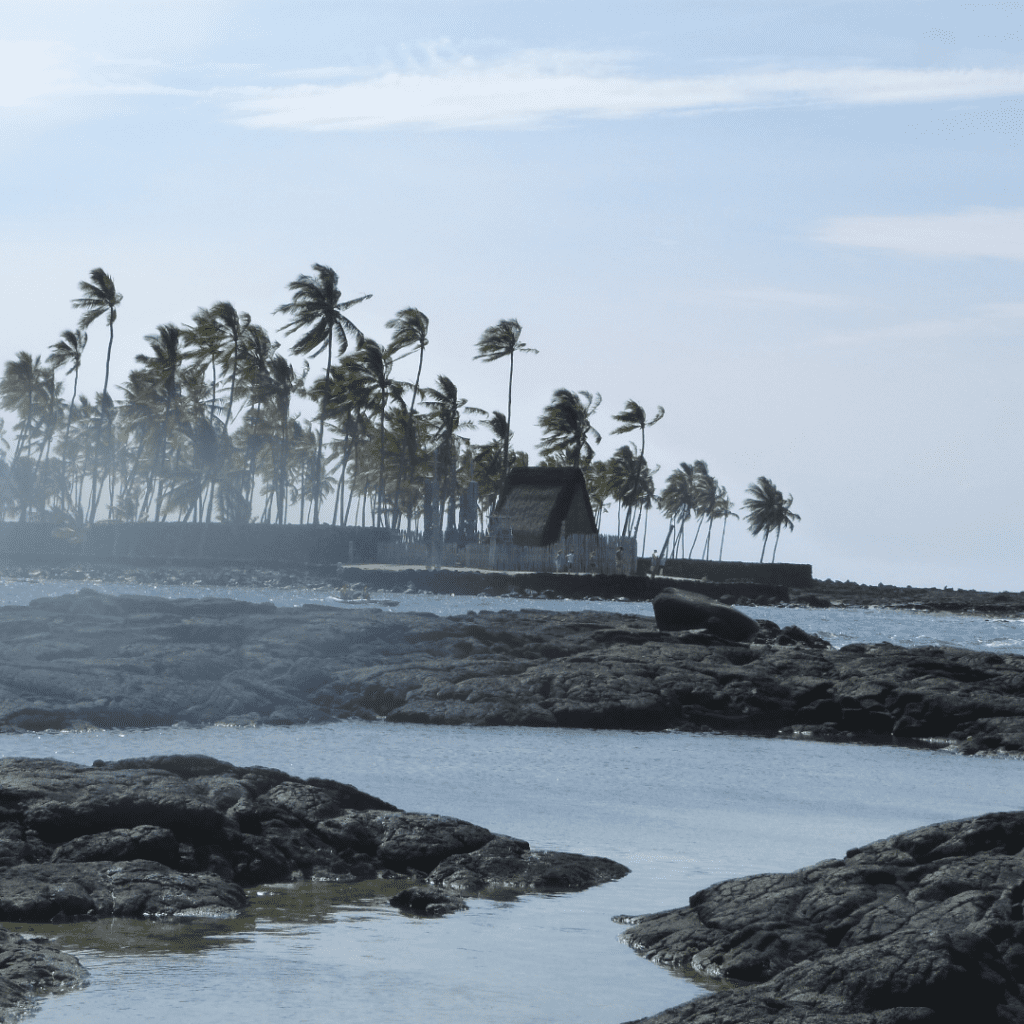 "Aloha!" is the most common word of greeting or farewell in Hawaii. The Insight guide describes it as a composite of 2 words- "Alo" meaning "to face" and "ha" meaning "the breath of life". To me, a vacation in Hawaii, nicknamed "the Aloha State", felt akin to facing the breath of life!
After a long, sleepless and tiring 8 hour journey from Phoenix, we reached the Big Island. But once we set foot onto the tarmac of an airport too tiny to be called "International", we were overjoyed to see it dotted with coconut trees and buildings with tiled roofs that were reminiscent of South India. We felt like we were home!
Kona, or the Big Island, stretches for about 60 miles from Kona International Airport to beyond Kealakekua Bay(1). It is one of the 8 main islands of Hawaii, which is the 50th state of the US. But it was so easy to forget we were still on American soil. "Aloha!", names like "Kealakekkua Bay" and, simply, the whole environment felt so unlike the mainland that I kept expecting to come across a different currency or language.
If we were overjoyed to spot coconut trees and tiled roofs, we were thrilled to have a beautiful balcony with a spectacular view of the ocean from our room at the Royal Kona Resort. Sleeping to the sound of waves splashing against boulders felt like lullaby to our ears at the end of a day's exploration and adventure.
For about 5 days we explored the length and breadth of Kona starting with Kailua Kona where we explored the sunny beach, the cool interior of Mokuaikaua Church, the exterior of Hulihee Palace (which had been turned into a museum whose tranquility We didn't wish to disturb by taking a couple of feisty kids inside) and its tiny shops selling accessories resembling exotic Hawaiian flowers like Plumeria, and other knickknacks.
Kealakekkua Bay was one place that we visited almost everyday at different times to catch a glimpse of Dolphins sleeping after a night of foraging. But we never spotted one. A localite we spoke with said they were out greeting the whales that were arriving just then from Alaska. Makes one good story, doesn't it? But that didn't deter us. We loved its postcard-like views of the mountains and the ocean and went there whenever we had time. Sometimes we took our lunch there so we could have picnic by the ocean. Medha just loved the idea of eating outside where she didn't have to follow table manners!
e
"Kapu" refers to the ancient Hawaiian code of conduct of laws and regulations. Kapus were strictly enforced. Breaking one, even unintentionally, often meant immediate death(2). A kapu-breaker's only chance for survival was to evade his pursuers and make it to a puuhonua, or a sacred place of refuge. Once there, a ceremony of absolution would take place and the law-breaker would be able to return to society(3). Puuhonua o Honaunau National park preserves one such sacred site. Before we got there I had assumed the place must have been full of sinners but I was wrong. It had a "Great Wall" that secured the Royal grounds where "Ali'l" or Chiefs lived,. There, we saw the royal canoe landing; the Keoua Stone, the favorite resting place of the high chief of Kona; as well as halau (thatched work house), fishponds and a heiau (sacred temple)(4) with beautiful wooden statues carved out of coconut tree trunks. A breath-taking view of the ocean pulled us to the Two-step beach close to the park.
"It was like an aquarium out there!", Prasad exclaimed after a bout of snorkeling in the ocean. His exploration took him through jungles of coral reefs inhabited by colorful fish. One experience couldn't satisfy his thirst for the sea and adventure; he wanted to don his snorkeling gear and go swimming every chance he got. He had found his passion and he wanted me to partake in his pleasure; but being unable to swim and having to look after the kids, I resisted the idea. "If only I could rent an underwater camera!", he wondered, wanting so badly to capture that world for me…..
One bout of snorkeling experience at the Two-step beach had not satisfied Prasad. He wanted more. The awesome part about snorkeling in Hawaii is it is free (if you own a gear, but even if you don't, it can be rented for a pittance at stores by the beaches) and it can be done at any beach. In Florida the whole thing had been expensive. The cheapest was at the John Pennekamp Coral Reef State Park, where we still had to pay $30 per person apart from renting the gear.
Prasad wanted to capture the underwater world for me to see. So he decided to carry a water-proof camera along on his next dive. At kahalu'u beach he bought one – a tiny disposable water-proof camera- for $18.
After he left to explore the ocean floor and Medha began collecting sea shells and Madhav napped on my lap, I dove into my Samsung Note to journal our vacation. It was so relaxing, I couldn't have asked for a better way to spend our days in Hawaii. Or so I thought until we found ourselves on a curvy ascent to the town of Volcano to visit the Volcanoes National Park.
As we drove on, sunny, sandy beaches gave way to cooler, wetter coffee farms, banana plantations and hardened lava. After a couple of hours, we reached the Volcanoes National Park, where we first did the 11-mile Crater rim drive, to get an overview of the place. It was drizzling. We saw vents with steam spewing out. It is believed that a big hot rock churning the molten lava underneath the surface heats up all the rain water that sinks, causing its conversion to steam. The steam also contains toxic gases like sulphur dioxide and hydrogen sulphide. For this reason the areas affected look barren while lush rainforest covers the rest of the park.
A short walk led to the Kilauea Caldera, a Shield Volcano (shaped like a warrior's shield), the most active (ACTIVE!!!) of the 5 volcanoes that together form the island of Hawaii (1). Kilauea means "spewing" in Hawaiian. A cloud of smoke billowed from the Halema'uma'u Crater within the Kilauea Caldera . From the safety of the observation deck of the Thomas A Jaggar Museum we viewed its volcanic activity at a closer proximity. As it got darker a vivid glow illuminated the cloud of smoke and made it look like the crater was engulfed in flames.
But before dusk we decided to explore the park on foot. Our first hike was a 4 mile (6.4 km) Kilauea Iki trail. It was still raining, so we bought a couple of Rain Ponchos at the park store (we couldn't find kid-size ponchos). I carried little Madhav in his ErgoBaby carrier and Medha walked ahead with Prasad. First, we descended a 400ft mountain cloaked in Rainforest into the deserted crater floor that was still steaming from a Volcanic Explosion in 1959.
The crater floor looked prehistoric, as if, any second a horde of dinosaurs could come crashing at us. The hike wasn't easy: relentless rain; slippery mountain ; cracks on the crater floor; seemingly-endless walk across a rugged landscape; a toddler on tow that began complaining after a stretch of walking, all made it nearly impossible to finish. I began panicking when Madhav woke up (he had been sleeping on our descent and halfway across the crater floor). We had to reach the safety of our car before anyone went berserk.
Whenever Medha began her whining, her dad called her "Dora the Explorer" and asked her to lead the way. Immediately, she pulled her shoulders back, held her head high and marched on. People who saw her called her a trooper. Madhav looked around captivated by the beauty surrounding us. I tried to steady myself and inhale the rugged beauty around me. We were treading fresh land, i reminded myself, that had been created recently due to volcanic activity. I let the power of nature and our good fortune for the opportunity to witness it sink in.
As we neared our car we felt proud of what we'd accomplished. If we'd stayed tucked inside we wouldn't have had the same sense of deep contentment that we experienced after our hike. We treated ourselves to cups of hot coffee, passion-fruit juice and snacks at the Volcano House. With renewed strength we resumed our exploration.
Our next stop was the Thurston Lava tube, a 500 year old tube formed as the cooler slow-moving lava on the outside of a lava flow hardened and the inner, hot, fast-moving lava emptied out forming a cavity. We walked through a well-lit tunnel where thin, hairy roots of plants hung from the ceiling. It was eerie to imagine that we were standing where lava had once gushed out not so long ago.
We had witnessed the forces of nature at work. Would any other experience we have in the future come close??
At the mountain town of Hilo on Hawaii's Big Island we visited a couple of breathtaking waterfalls called Rainbow falls and Akaka falls. Rainbow Falls (not sure why it is called so) was pretty. More than the falls itself the climb up a set of steps for a view of the water from above was an experience. A large banyan tree with its hanging roots and other trees with their roots creeping above the ground gave the whole place a Hogwarts-like ambience. The lake below was pristine and glistening and lent itself to beautiful photography.
Akaka falls was pretty too. A short hike descended into lush Rainforest that was intoxicatingly green. Akaka's height and the ferocity with which it plunged into the pool below filled me with awe.
Another highlight of our trip was shopping at a Fruit stall. It stood on our way to Akaka Waterfalls. Colorful fruits hung from the ceiling and beckoned us to make a stop. We each had a cup of Sugarcane juice that was so out-of-this-world! Then we bought a bunch of fruits like Guava (which was hard with a nutty texture like the ones we find in India, but tasted bland without some chilli powder and salt sprinkled on it.), Papaya (which the lady at the store cut in half and gave a spoon to scoop up its flesh to eat. It was melt-in-your-mouth soft and so sweet!) and star-fruit (juicy and succulent!) .There was coconut water too but we were too full to try it, but it was fun to watch the lady break it open at one go with a huge knife!
Our last day in Hawaii felt bittersweet. We were glad we decided to visit. The prospect of leaving the US and relocating to India kicked our butts to plan this trip. I also felt sad to be leaving a place as serene and lively as the Big Island. But I'm happy We were able to create such beautiful memories to take back with us. I'm sure they will remain with us for a long long time.
(1)gohawaii.com
(2)wikipedia
(3)gohawaii.com
(4)gohawaii.com