A trip to Binsar , Uttarakhand with kids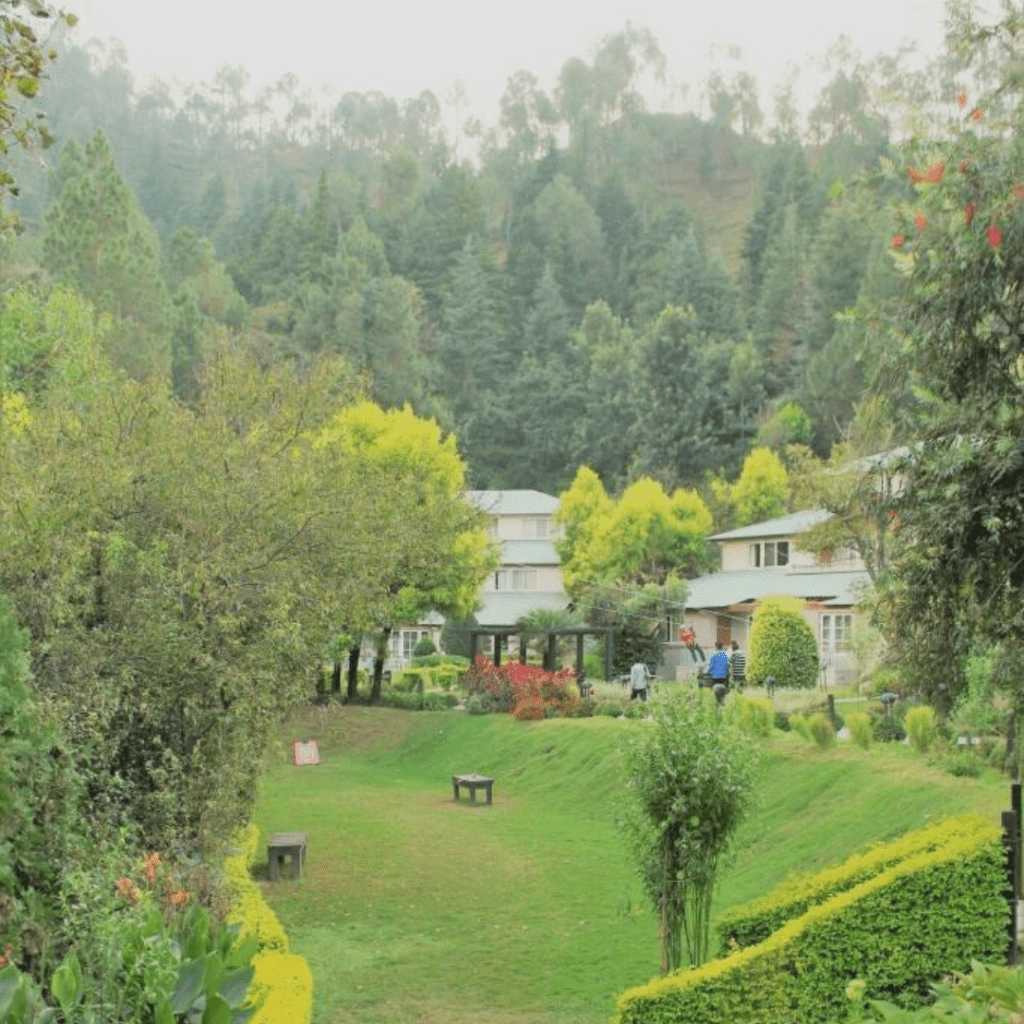 After Jim Corbett National Park and Nainital, our next stop was Binsar, about 150 km away. The journey was uphill and winding. Since almost everyone, except me and a couple of others, suffered from motion sickness, it was a quiet journey, punctuated with frequent breaks for vomiting!
On our way, we stretched our cramped legs and ran about in the lush green Golf grounds of Ranikhet. I was told that parts of the movie, Raja Hindustani, were shot here.
We finally reached Binsar, located on the Jhandi Dhar hills of Himalayas. This was the summer capital of the Chand Kings that ruled over Kumaon between 11th and 18th centuries.
We fell in love the moment we set eyes on our hotel, the Club Mahindra Resort Binsar. The beautiful cottages with their sloping green roofs simply blended into the surroundings. It was a bird-lover's paradise. We could simply enjoy the views of the mountains with tall oaks and pines, the motley-hued birds that made their homes in the gardens, the rich flowers in their full bloom attracting a variety of critters. We didn't have to set foot outside the premises. We all had much to do right inside the cozy confines of our resort. There was karaoke, art and craft, zip-lining, rock-climbing and other activities. The food spread was delicious, but we walked the extra mile (literally) to find cheaper alternatives to our dining experience. We went exploring up the slopes of hills nearby to see the locals and their daily lives up close, and sometimes lost our way too!
One morning we drove up to Binsar Wildlife Sanctuary where we stopped at KMVN (Kumaon Mandal Vikas Nigam) Resort. We snuck up to its wide balcony and stole glances at the majestic snowy Himalayas. The clouds were being nasty, trying to hide the jewels behind, but we were still blessed with a few sightings. We were shooed away, as the views were solely reserved for the guests of KMVN!
We hiked the winding path up to Zero Point with an awesome Guide who taught us so much about the flora and fauna of Binsar. We watched a noisy woodpecker building its nest, learnt about the medicinal value of Rhododendrons, watched the sunlight dapple our path through the shady branches of Oak trees, observed the spores dotting the underside of fern leaves and simply went crazy with pleasure at finding ourselves at such a divine place. At zero point (the highest point of Binsar) with the clouds still teasing us, we had the Darshan of Himalayan Peaks like Nanda Devi, Trishul, Shivling and Kedarnath. Our Guide regaled us with tales of trekking some of its slopes. We began dreaming of the day when we would go on such an expedition!
After a relaxing stay at Binsar, it was time to make our way back down to Khatgodam. On our way we stopped at Naukuchiyatal Lake for a boat ride. Before I knew what was going on we were strapped with life vests and shoved into a boat without a driver! We were on our own! Only later did I learn that Prasad wanted to go on a pedal boat, while the others chose a motor boat that came with a driver! I spent half the journey fuming and fretting, refusing to join him in pedaling. I kept thinking what would happen if the boat overturned or something. Was the lake too deep? Would Prasad, who was the only one at the time who knew how to swim, be able to rescue us?! And then as I felt brave enough to enjoy the stunning views all around me, I joined him in pedaling. We made our way back. What an exercise we had that day! We deserved to gorge on plates of crispy pakoras and spicy maggi at the eatery beside the lake, while watching a flock of ducks putter about.
We drove past Bhimtal with its Island Aquarium on our way to Khatgodam. There we spent the night at a cozy hotel before we caught a train to Delhi the next day. The Capital was eerily quiet as some kind of Bandh was going on. We were glad to be out of Delhi and on our way to Hyderabad.
Manasa.