A touch of Romance, A dab of Mystery and then some more- Books we have read in 2021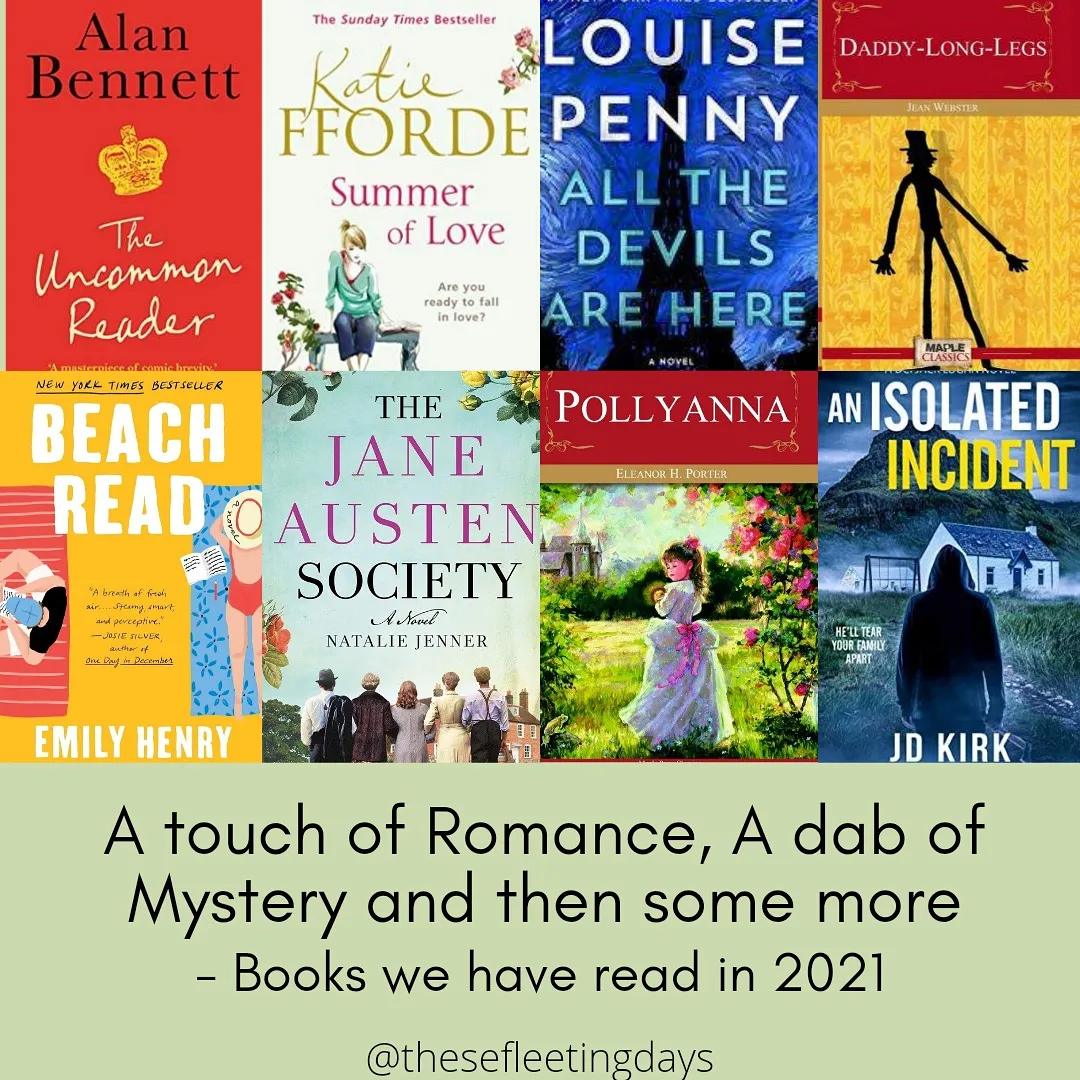 If you're new here, you need to know that we are big on Reading! 2020 was a great year for reading for both of us. All that time that was freshly open in front of us led us to devour quite a number of books. We even surpassed the limit we set for our Reading Challenges on Goodreads!
Comparatively, 2021 has been a slow year, but it isn't over yet.
Here are some of the books we read so far-
This book is about a young woman who moves into a small town far from the bustle of London City with her son and befriends a charming older woman. Their lives are about to change. Something unexpected happens here – Sparks are about to fly (or re-kindled?). It is a sweet Romantic story that can feel a bit too long at times, but it satisfied my love for a story set in a tiny neighborhood where people have all the time for one another and most matters are solved over a cup of tea, a slice of rich home-made cake or a glass of bubbly champagne. I've read a few other books written by the same author and feel tickled by the kind of professions she comes up for her main leads- here, Sian Bishop is a painter of furniture- and the description of her work was enough to compel me to finish the book.
2. Pollyanna – Eleanor H. Porter
My sister and I read this book as part of our "Read a Children's book a month" challenge we have set for ourselves. It is about a girl named "Pollyanna", who is sent to live with her aunt after her father, a Minister at a church, dies. This book is about the transformation she brings to some of the most morose characters in her new hometown by playing a game called "The Game of Gladness". A game taught by her father, it is all about finding something to be glad about, in every circumstance. Isn't that wise, relevant? I will be picking this up for a comfort-read again.
3. The Jane Austen Society – Natalie Jenner
The name "Jane Austen" was enough for me to snag this book when it was on sale on Amazon. It is about an unlikely camaraderie between a host of characters, including a famous actress and an employee at Sotheby's, who come together to form a club called The Jane Austen Society, to save the famous author's estate and her library. I loved the references to Jane Austen's books I adore.
A much-hyped book which I felt like I'd read even before I picked it up, Beach Read is about 2 people, writers, on a beach retreat, trying to get over their writer's block and deal with other stuff life has thrown at them. I wanted to dive right in to see how a writer works through her writer-y cobwebs and have a good piece of writing published, but all I got was a slow – burn romance that felt tooooo slow at times (if you know what I mean), a lot of thinking and not much happening. It was as if all the action was happening inside the characters' heads than on the paper. Frankly, I saw a lot of potential in this book, that got wasted!
5. Daddy long legs – Jean Webster
Another short and sweet story along the lines of Pollyanna, this is an epistolary novel, which means it is written in the form of letters, from an orphan girl named Jerusha, to her anonymous adoptive guardian. She simply calls him "Daddy long legs" and her letters are witty and honest and one-sided (She doesn't get a reply back!). They are so full of the angst and naivete of growing up; I made my 11 year old read it too and she loved it! I will be picking this book up again and again.
6. The Uncommon Reader- Alan Bennett
A quick charming read that came into my life at the time when I was totally obsessed with the show The Crown on Netflix. So, the Uncommon Reader here is HRH Queen Elizabeth herself! A chance encounter with a traveling book library leads to a transformation in the Queen, who becomes an obsessive Reader of all kinds of books to the point that she begins to neglect some of her duties. This is all fiction of course, but it makes for such a delightful read. If you are a lover of books and reading, you have GOTTA PICK THIS UP!
A Romance set in a small town (What's with the small town theme going??!?!) between 2 people who have a lot of emotional baggage to sort through… And all of this happening amidst the annual Renaissance Fair that the town hosts every year. I loved the chemistry between the main characters and the love and care for family that is portrayed in this book. Also I loved the behind-the-scenes of organizing a big event like a fair. It reminded me of my own college days when Fests were such a big deal!
And then, some by Madhurya-
8. All the devils are here – Louise Penny
I have read all of Louise Penny's Chief Inspector Gamache series. Murder musteries are my genre. I am a huge fan of Agatha Christie and Sherlock Holmes. I have read every one of their books. I was a bit skeptical to try any other book from this genre. But was glad when Manasa suggested Louise Penny's books. Once I started the first of the series, I couldn't stop reading them. So you can imagine how heartbroken I was when I got to the end of this book which is the last in the series. Louise Penny's books are not just about solving murders, they dig deep into the soul of the characters to find answers. Almost all of Inspector Gamache series take place in an idyllic small town in Canada called Three Pines, except for this one which takes place in Paris. The family gets together for dinner with Armand Gamache's Godfather, Stephen. Walking home together after the meal, Stephen is knocked down and critically injured and the whole family gets caught up in lies and deceit. Relationships are questioned. Who can they trust? Will they be able to find the bad guys?? In this book, the whole family works together to get to the bottom of this! Very well written!!
9. Ahead of the game – J.D. Kirk
J.D. Kirk's DCI Jack Logan series is another of my favorite set of books I've been reading so far. I love DCI Jack Logan. His big build, his brash Scottish "I dont give a f***" attitude for almost everything except for finding the murderer is quite endearing! Everyone other than his team (who he really cares about) either fears him or hates him. J.D.Kirk' s books can be really disturbing with descriptions. In this book a body is discovered at a popular Highland landmark. What it uncovers can leave you chilling! I totally enjoyed it.
10. An Isolated incident – J.D. Kirk
Another book from J.D.Kirk, a violent home invasion in the remote wilds of Glen Coe, leaves a family of four dead including 2 kids. The plot was really good. However, in between the story, the focus turned to 2 of the DCs working with Jack Logan. Though I loved how the story had lots of twists and turns, I was disappointed with the ending.
I hope you enjoyed the round-up of some of the books we've read so far. Do you have any recommendations for us? Let us know…
-Manasa & Madhurya