A Staycation in Ras Al Khaimah with family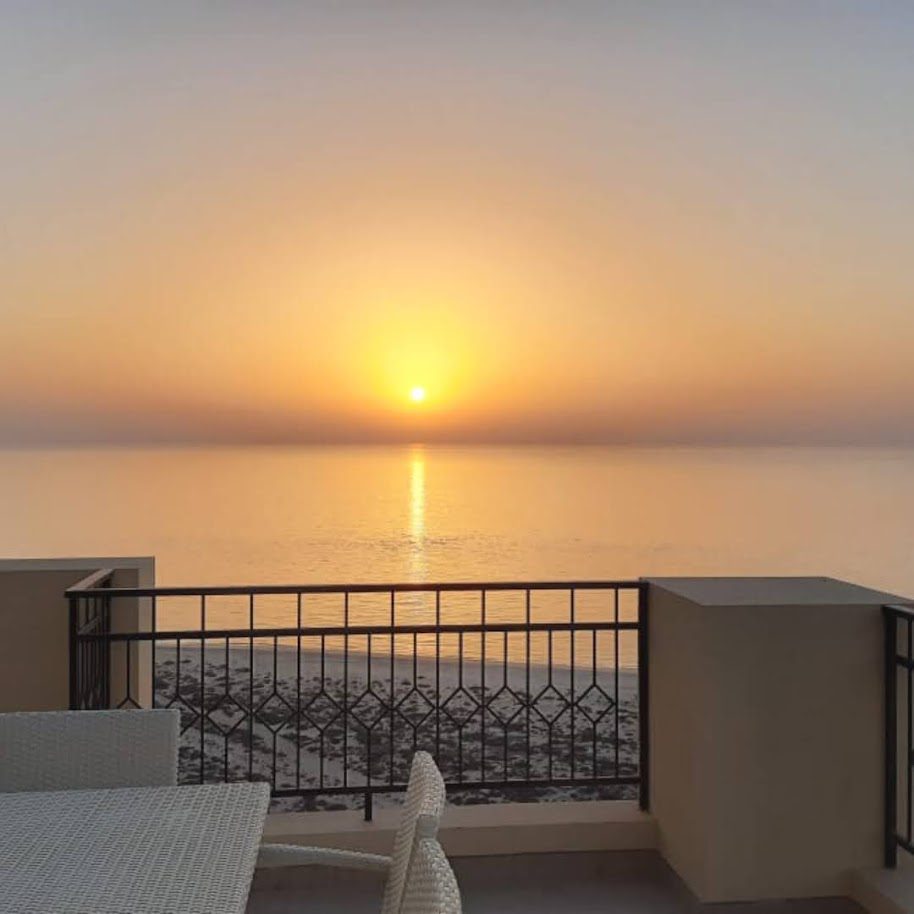 After months of lockdown, I'm in Dubai with my kids, visiting my parents. Manasa was supposed to join us with her kids….
I decided to book a staycation for a couple of nights, somewhere nice and safe in UAE. Ras Al Khaimah, or RAK as it is known, came to mind. It is one of the 7 Emirates of UAE, 45 minutes away from the bustle of Dubai.
As we were going to be 8 people including kids, I thought Airbnb would be the best option. Since having kids, we have been using Airbnb a lot. We find that:
It is much cheaper, especially when we travel in a big group. 
We can all stay in one apartment/ house but also sleep in separate rooms so we get some privacy when needed.
We have our own kitchen. We prefer to stay inside and cook our own food in the evenings when the kids tend to get tired and cranky.
After browsing many options, I found this beautiful apartment in Al Hamra Village in Ras Al Khaimah. It was perfect for the whole family. 
What I loved about this apartment was:
It was very spacious. With 3 kids and a baby we needed more space.
It was right next to the beach and the views from the balcony were just breathtaking!
There were many restaurants close to the apartment.
It was inside a safe and secure community.
The building had a gym, pool and playground for the kids to enjoy.
There were many attractions nearby like RAK zoo and heritage villages.
But before I booked it, I made sure to check the following as well (these are a few things we always check when we book in Airbnb):
Our host is categorized as "Superhost"
The apartment and the host were following all cleanliness, health and safety protocols. 
All the amenities required for small kids like a baby bed, high chair were available.
There were enough good reviews from other guests.
Unfortunately, Manasa's trip to Dubai got canceled due to the second outbreak of COVID in India and the ban of all flights to Dubai from India. Instead of cancelling our staycation, we went ahead with it even though now the apartment would be too big for us.
When we reached in the late afternoon, we took a quick survey of the apartment to make sure it had everything we needed and all the facilities were working and in good condition. 
In the evening, we took a walk around Al Hamra Marina & Yacht club, a 10min walk from the apartment. For dinner, we bought Pizzas from Pizza hut and ate in our fancy balcony.
To wake up early in the morning and watch the sunrise (when the kids were still in bed) while sipping a hot cup of coffee was the best experience! For breakfast we walked to Al Hamra Marina & Yacht club and ate at Tucano Coffee. It was a beautiful café, especially for book lovers. The shelves were full of books. We ate delicious pancakes, bagel, croissants while gulping lemonades. I'm sure Manasa would've loved this place!
We spent the rest of the day relaxing in the apartment before eating lunch at Al Hamra mall. In the evening, we drove to Marjan island, few minutes from our apartment, and took a stroll along the boulevard while Neel played in the huge play area.
The next morning, while the baby slept, my parents took Neel to the swimming pool and playground in the premises and I enjoyed some quiet time in the apartment. We ate toast, butter and store-bought croissants for breakfast.
We had a lot of time to visit other tourist attractions, but we were not so keen on doing it. It was way too hot to go out in the day time and we really were enjoying our time inside the apartment. Neel got to play with the toys arranged by our host. My dad had brought his laptop and he was able to work in between and also relax. My mom was able to rest and NOT cook and clean for a change. Even though this staycation was short, it was worth it!
Just to see my parents enjoy the grandkids was truly a blessing!
Did you also get a break? If so, where did you go? Do share your comments. If not, I really hope you get to have one soon…
Madhurya