A South-Goan Vacation with family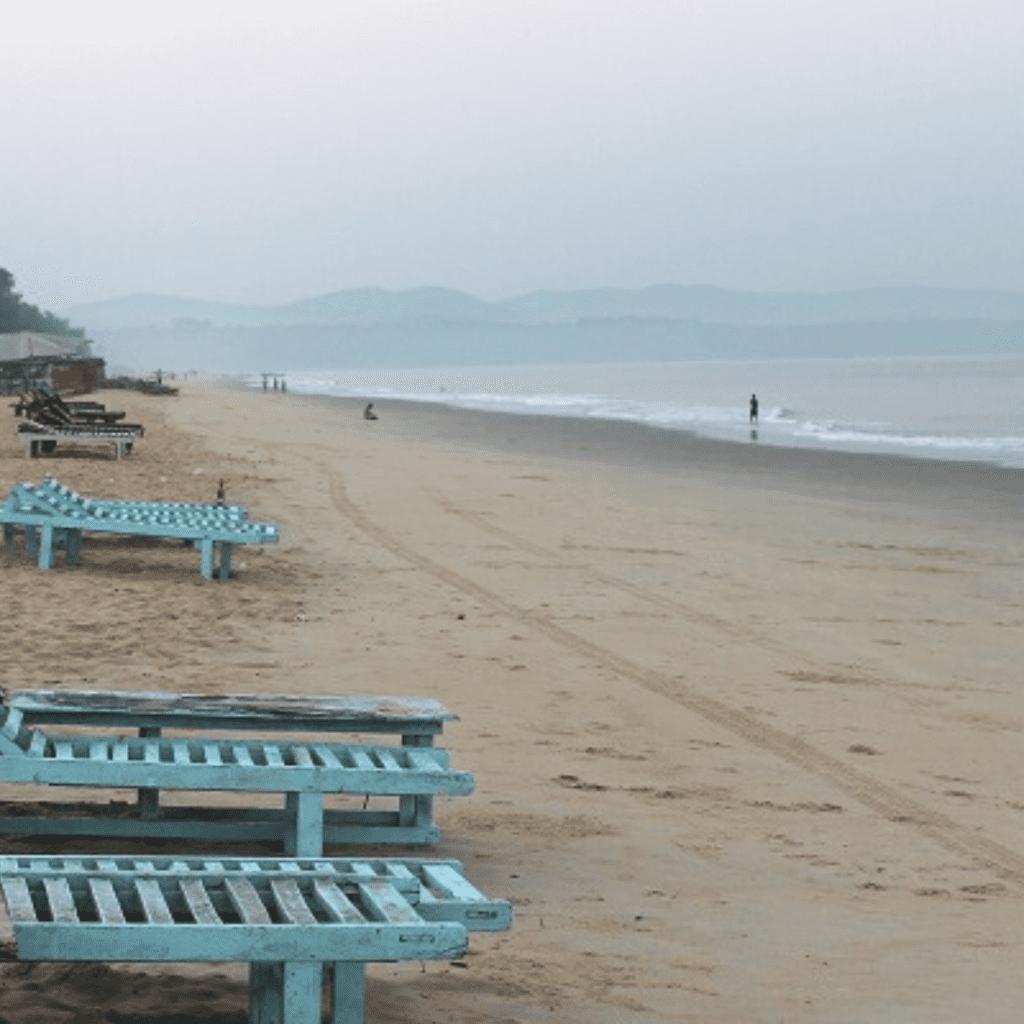 1st March, 2018– We were on AirAsia. It took us an hour and 20 minutes to reach South Goa.
Our pre-paid taxi driver drove us through picturesque inroads. Fresh green fields bordered with tall coconut trees and homes which looked like they were from the Victorian era, added bursts of color to our journey. There were houses in shades of purple, sea-blue and mustard yellow. The women wore frocks. It made me feel like we were back in Mangalore, although Mangalore is losing its old-world charm quickly.
There were quaint little churches dotting our drive. As it got darker we could spot cafes and bars with outdoor seating shimmering like magical havens. We were exclaiming all the way which must have thrilled our driver who threw in a random bit of history and culture our way. We let out whoops of delight as we rounded into a compound with a huge building all lit-up. We had reached Radisson. We couldn't contain our excitement as we got out. The ceilings are almost sky-high with arched railings for roof. There are huge murals depicting the history of Goa. The pool is gargantuan and inviting, everything here is King-size! As we were taking in the interiors like a bunch of school kids, I spotted the actress, Radhika Apte, talking animatedly over a phone and walking over.
I could write all day about this hotel itself. We could spend the rest of our holiday right at the resort and still feel like we've had the best time! The rooms are spacious, cozy with beautiful paintings and lampshades. The bathrooms are big and clean. There are bathrobes and slippers. There's a locker facility available. There's TV. There's a porch on which we enjoyed our morning coffee, which was delicious by the way.
We freshened up and  went to find a place to dine at. The avenue was chockful of shops selling swimwear, jewelry and other junk. I wasn't interested in checking out the stores that were catering mostly to foreigners. I wanted to go to the local stores. After much looking we found a restaurant called "Mike's Place". Prasad, I and the kids loved its vibrancy immediately. There was live music. It was outdoors and prettily decked up. It smelled of sea food which was a bit of a turnoff for the rest of my family. The waiters were quite nice but the service was delayed. We were famished by then. And when the food did arrive, it was in smaller portion size. So we had to order more and wait even longer! But the taste was great! The food wasn't spicy or oily. We ate Naans and Rotis, Babycorn crispies and Gobi Manchurian, Veg Jalfrezi, Kadai Paneer and Aloo Gobhi. Everything tasted finger-licking good!
When the in-laws and kids left for their room, Prasad and I walked to the beach and had a quiet, lovely time.
We don't care for a visit to the US or Egypt, we simply wish to explore the length and breadth of India!
2nd March, 2018– I scribbled in my journal to the sound of waves tumbling towards the White sand beach. Along with the sound of waves there was the cawing of crows and the talk of people, mostly Indians, early in the morning. We could not spot a single Indian at the beach or on the streets the night before.
I took off my sandals whenever we walked on the beach. The powdery sand felt nice under my tired feet. Cavelossim is the name of the Beach. It is a private beach reserved for the customers of Novotel, Radisson and not sure what other hotels. There's no litter here. There's no noise and mess that's certain to be found at the other beaches.
Last night there was music, laughter, fireworks and the roar of the waves. It still felt calm and therapeutic just lying on the benches and do nothing but lose ourselves in the experience of being in a heaven-like place. I simply gazed at the stars above, trying to figure out the patterns they made. I never felt so in-the-moment as I felt that night. I'm so hurried, stressed and elsewhere most of the time.
We booked a 5hr tour around south Goa. It was for 3700 Rupees. People on the streets could be seen playing Holi, the Festival of Colors, even foreigners. We first climbed onto Baradi Hills. Then we took a walk outside a church that was closed at that hour. There was a scenic view at the top, of the ocean below. We tried freshly-picked Cashew Fruit which was oozing with juice but tasted funny. I couldn't gulp it down my throat.
Next it was time for Cabo de Rama Fort. It used to house a prison before but now is quite desolate, with graffiti on walls, overgrown trees and the path crackling with a spread of dead leaves and dry sticks. There was a beautiful blue-and-white church- the cleanest and freshest area within the fort. Beneath the fort there was unspoilt beauty. The sea looked clear and blue and the hills looked majestic. By the end of this jaunt we were parched. All of us rushed into a tiny place advertising the availability of fresh fruit juices. It costed us less than half the amount we would have paid in and around our hotel!
Since we'd loaded ourselves up with heavy complimentary breakfast we didn't feel hungry for a long while. We also stopped at Agonda and Palolem beaches. It was getting hot by then and we were sapped. We had another hour's exploring left but we cut our trip short and made our way back to the hotel.
In the evening the kids splashed about in the pool with their grandpa. Freshening them up, we set out to find a place to eat. Our driver had told us about a hotel called Kinaara that served great vegetarian food, so we made our way there. It took us about 10 minutes by walk. The menu looked good and reasonable. In fact it was very cheap. We ordered Masala Papads, Veg Pakoras, Crispy corn, Cheese sandwiches, Egg Masala, Veg Kolhapuri and rotis. Everything tasted great, but again, since there was just one chef, the service was a bit slow. I had a chance to speak with the manager there. He told me North Goa is about 2 hrs away and there's a great Saturday Night market and everything is much cheaper there. He told me most foreigners preferred South Goa over the North as it is less crowded and more serene.
3rd March, 2018– My pen was smooth, its tip gliding along the surface of the book as if writing by itself; like the ripples of water effortlessly making its way towards the shore. It was sunrise. A couple of dogs sat beside me as I wrote. There were shacks- Seaway's, Q-Baa, Baywatch, on one side and the frothy ocean on the other. I sat snugly between them. I was enjoying it all. I could easily get used to this kind of life, I felt. A life of leisure. Waking up when my body decides to, and not when the alarm shrieks. Sitting on the porch sipping coffee and enjoying the peace all around. And then going for long walks or writing in a quiet place. Maybe if we save up enough money I'll do just that. At least for a few months at a stretch.
I prayed to the Sun God as he gently made his way up. Namah Suryaya… I felt grateful.
Our plan was to head to North Goa after a nap in the afternoon. Afternoons are kinda exhausting as it gets really hot around here.
But before that, we gorged over the lavish breakfast and made our way to Kris's cruise. Jack's was offering us a 500 Rupees per head on a double deck boat. We went with Kris's after reading reviews online. He was offering us 2500 Rupees for a private motor boat. We went for the Dolphin tour. We started in the backwaters, making our way towards the sea. The backwaters, smooth and the sun, balmy, lulled us to sleep.
It was nice to watch the deckhands on the other boats going about their daily business- eating, bathing right on the boat, hanging clothes at the top to dry etc. As we entered the sea we were sprayed with salty water as our boat picked up speed. We began spotting Dolphins right away. They were jumping out and nose-diving back in. They seemed to be everywhere. Hey here here… there there… we saw them splashing about, their glossy exteriors sparkling in the sun. We returned to our rooms, parched and exhausted.
After a siesta we were ready to explore North Goa. The taxi driver we found outside was willing to take us to Old Goa and Panaji Market (not the Saturday market, as he said it would be too crowded) for 3500 Rupees. We thought it was a bit too high, but we didn't know how far and how long it could take us. It was a long drive. We went to the Basilica of Bom Jesus. Then the Se Cathedral. From that onto the Viceroy Arch, the gate of the palace of Adil Shah. It was closing time, so we couldn't go to the museum where we could've learnt about the history and culture of Goa.
I loved the cool interiors of the churches, where I sat and soaked up the calm and serenity. They were tall, majestic, awe-inspiring and even humbling. I sent up my prayers and gratitude to Jesus.
These historical places could do a better job of explaining the monuments to the visitors. Most of them were built before the 18th century, but their history and significance are not clear. Only the architectural style and the construction materials used have been mentioned. That's not enough.
At the Panaji Market we ate snacks, did a bit of shopping for souvenirs. We got everything for half the price they were charging in South Goa. We picked food for the grandparents and kiddos on our way back and they ate in their room. For ourselves we decided to check out one of the shacks by the sea. We googled a bit and went for Silverwaves, which had a good enough crowd. It was magical, just the 2 of us, a candle burning bright between us, the sound of waves giving a background score. The food was great. I was worried it would make me feel yuck. The veg fried rice with gravy, the tandoori mushroom, all prepared fresh and hot simply satisfied us. The experience was priceless!
4th March, 2018-  It felt like we made the best use of this vacation. I was ready to go back home. But there was a small part of me that felt a tug, a pull to stay back and enjoy the good life.
Madhav and Medha splashed about in the sea. They made a happy sight. Even though Madhav coughed a bit, we let him play. Things like this don't happen often. We wanted them to enjoy the sparkling ocean to the fullest.
We had to check out at 12 pm but our flight was in the evening. We requested the concierge to give us more time but they couldn't, as the hotel was totally packed.  And there was a wedding party coming along that day. But the staff were considerate. They let us place our bags at the concierge and told us we could use the pool and shower facilities. Prasad and I headed out even though the sun was high and we were quite drowsy. The kids and grandparents hung out by the play area. We thought of checking out the scooter ride as we hadn't tried that one out yet. The guy told us it would cost us 500 Rupees and a deposit of 2000 Rupees and we could use it all day, but return with the same amount of fuel. We tried negotiating with him saying we needed it just for an hour or so, but he went down only a 100 bucks. Anyways we didn't have the deposit money at hand to begin with nor the energy to roam about. It was crazy hot and it felt like we would be scorched. We dragged ourselves to the nearest shack on the beach, ordered a couple of drinks and lay on the beds provided. There was a big umbrella shading us from the sun. We spent time relaxing, sipping juice, people-watching, and, in my case, having a pedicure done. It was lovely!
It felt surreal once we landed in Hyderabad, as if Goa had never happened. We were brought back with a thud , quite literally, to reality, as we'd lost our house key and had to break in into our own home!
-Manasa.