A Scandinavian Vacation with our toddler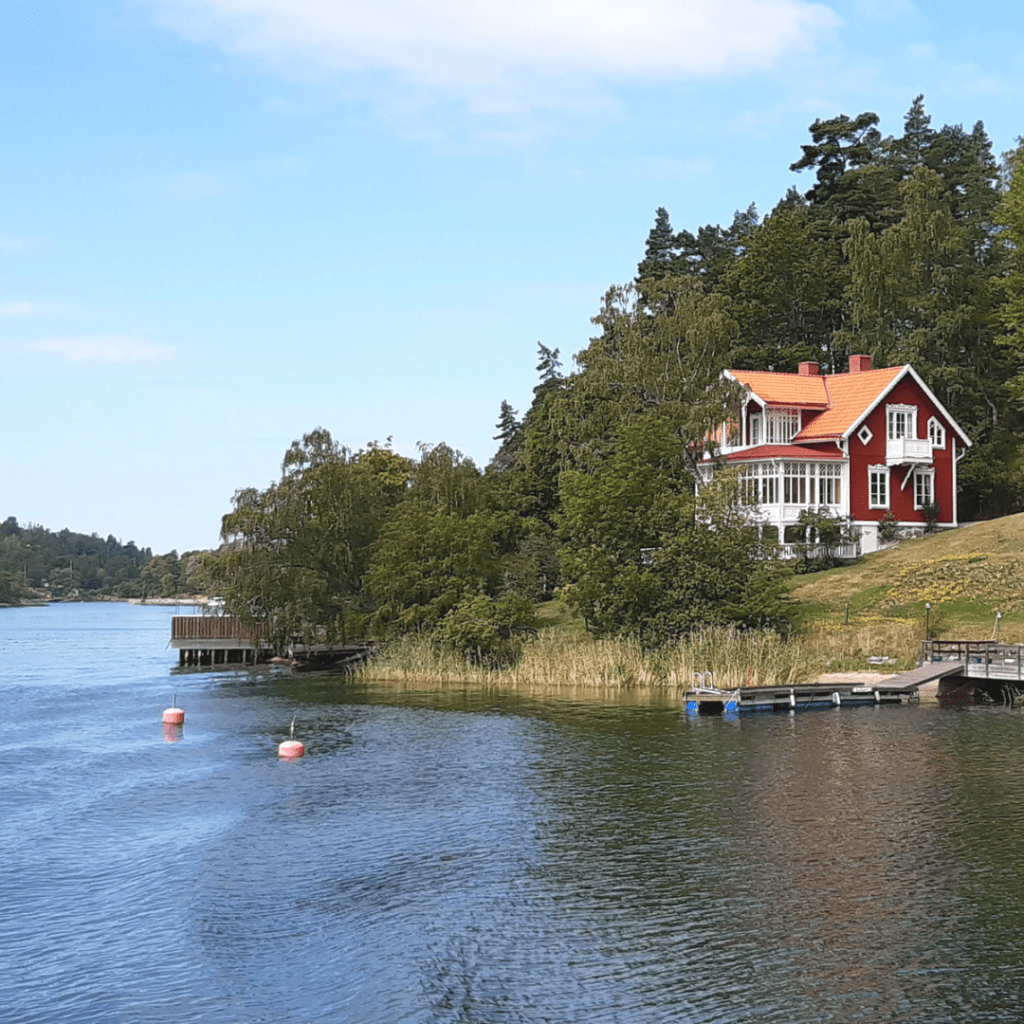 This is a blast from the past- one of the trips we made last year for a long weekend. Most of these places might be closed now due to COVID.
I was not so keen on visiting Sweden, as I had my heart set on a sunny location like Slovenia or Italy, but as it was peak travel time, we finally agreed upon Sweden.
It turned out to be a short but beautiful trip.
Where did we stay
We stayed at a lovely AirBnb in Saltsjö-Boo in a beautiful guesthouse located by the sea. It was a cabin which had a large bed, kitchen, bath and dining table. All the amenities were available. Neel was really happy as there was a huge lawn with toys right in front of our house which belonged to the family who owned the guesthouse. It was a perfect house located on a perfect location. We could take nice walks along the pathway by the sea. While Mike and Neel enjoyed watching all the boats and ships sailing, I had a good time looking at the gorgeous Scandinavian homes. We also spent time drinking cups of coffee on the lawn while enjoying the beautiful views of the sea.
Places we visited and things we saw
1. Unfortunately, on the day we landed in Stockholm, my mobile crashed, so I HAD to find a dealer who could fix it or buy a cheap mobile. So the first stop we made was to Kungsgatan, a central area in Stockholm full of shops, cafes and restaurants. We spent the rest of the day walking around the city. We also visited The Stadsbiblioteket (Stockholm Public Library) and spent sometime browsing the books.
2. When you visit Stockholm, you cannot miss the old town- Gamla Stan. It is filled with cobbled streets and 17th- and 18th-century old, colorful buildings.
3. An Archipelago tour with a guide was a perfect sightseeing tour on a boat. For a duration of almost 3h, we got to see a beautiful collection of islands, learnt about Scandinavian culture and history and also spotted some amazing homes. Depending on the tour you take, it costs around 610.00 SEK (1 SEK= 0.12 United States Dollar) for 2 adults and for children under 5 years it is free.
4. All you Music lovers, do not miss Abba The Museum. It takes only a couple of hours to get the most out of this museum dedicated to the famous Swedish band.
5. Vasa Museum– Honestly, I was not such a fan of this museum, but Mike and Neel (die-hard boat-lovers), were really impressed. So do visit this museum if you want to know more about the history of Vasa (a Swedish Warship).
6. We also visited a beautiful archipelago town, Vaxholm. We had to take a ferry to reach this town. Wooden homes and fishing cottages beautify this quaint place. We really enjoyed spending time walking, eating Swedish lunch and lazing around while having coffee. Mike even bought an authentic handmade wooden boat from here as a souvenir.
If we ever visit Sweden again, I would love to explore more of its natural parks and nature reserves.
Madhurya.