A perfect Itinerary for a 14 day road trip with Two kids in Ireland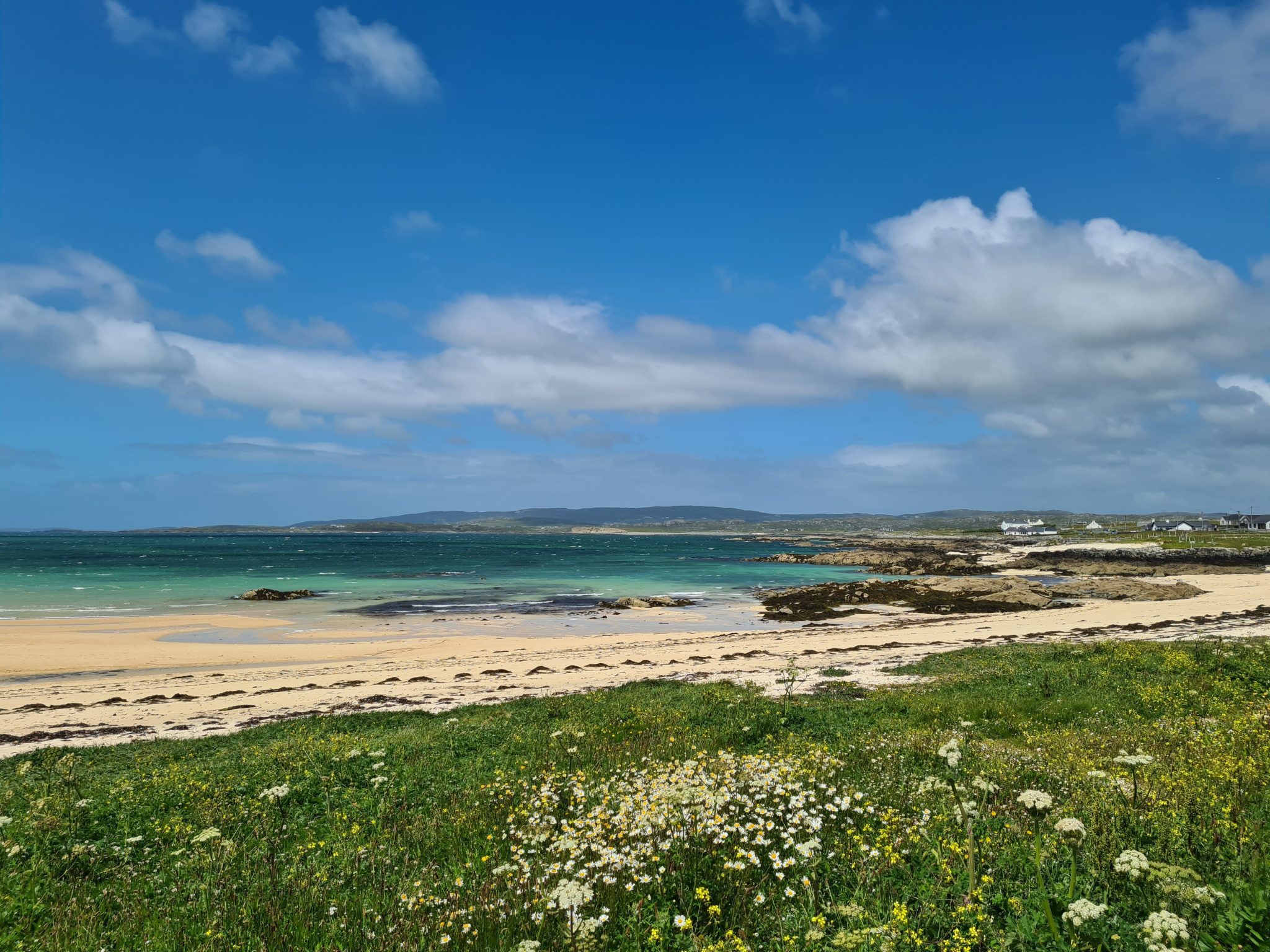 Check out some of the Highlights from our 14 day road trip in Ireland here
This summer, we did a road trip with our kids around Ireland.
These are some of our tips for planning an amazing road trip with your kids.
When to visit Ireland?
Weatherwise, summer (June, July and August) is usually the best time to visit Ireland. But summer is also a peak season with a lot of tourists. Because of school vacation, there are a lot of vacationers expected during this time as well. Also, depending on which part of Ireland you want to visit, expect rain on any day of the year.
Before visiting Ireland
If you are planning to visit Ireland during peak season, make sure to book everything in advance. Before our travel, we made a detailed itinerary of all the places we wanted to visit, where we wanted to stay and the number of days we will be staying in these places and accordingly booked the flights and the accommodation.
Don`t forget to pack these things for the trip
The weather in Ireland can be unpredictable. One minute it is sunny and the next minute you are drenched in rain. So make sure to pack the right gear for you and your kids for the trip.
Sweaters / fleece
Rain coats and pants
Waterproof shoes
Neck warmers
Follow the method of layered clothing
If you forget to take something with you, don`t worry, you will find many local shops selling the best gear.
Flight to Ireland
We chose the direct flight from Zürich to Dublin. There are flights from Zürich (with 1 stopover) to Cork, Shannon, Donegal and Knock. However, flying to Dublin directly made sense for the trip we had planned.
Where to stay when you visit Ireland
On a road trip, if you prefer to stay as far away from the cities (like us) and love visiting beautiful small villages, mountains and the coast (which is what we did in Ireland), then we highly recommend staying at Bed & Breakfast . These are cottages converted into B&Bs by the tenants. They are very homely and child friendly. Look for accommodations which:
Suit your budget.
Have all the amenities you need especially for the kids
Are located close to some of the attractions you want to visit
Are close to the village center which has restaurants and/ or shops
Travelling around in Ireland with two small kids
We decided to book a rental car from Hertz in Dublin Airport and use it to drive around throughout the time we were in Ireland. There are ofcourse trains and buses, but with two small kids, we thought renting a car was a cheaper and hassle-free solution than using public transportation. Don`t forget, you need to drive on the left side!!
Preparing for a road trip
We love road trips! Mike and I love the freedom and flexibility of choosing where we want to go, how long we want to stay there and when we want to go. If the kids are tired or cranky, we stop or if we spontaneously find something interesting, we take a detour! However, it is also a good idea to be prepared for such trips especially if you are travelling with 2 small kids.
Try not to do longer than 1.5h drive at a stretch
Take a lot of snacks for the little ones
Ireland is really beautiful, rather than driving on the highways, take the smaller inner roads to experience the true Irish beauty
If the kids are inconsolable and too cranky, make a stop at any spot where the kids can get to vent their energy out and carry on with your trip
Look for atleast one kid-friendly activity to do each day
We tried to eat one meal of the day (other than breakfast) in our room. We bought bread and cheese or nutella and had a simple dinner rather than taking the tired kids to a restaurant.
14 day Itinerary in Ireland with kids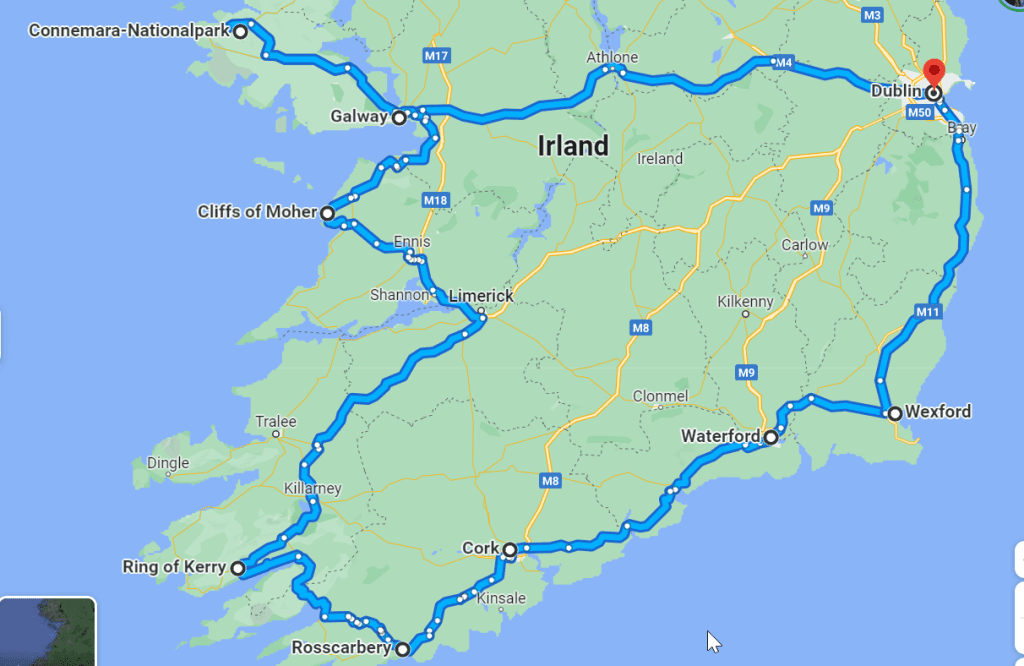 Western Ireland
Ballinasloe, County Galway
There was quite a chaos at the Dublin Airport when we landed. Due to the shortage of ground staff, we had to wait almost 45min inside the plane till it was clear to get out. After getting our rental car, we left Dublin and drove to Ballinasloe.
What did we do: After checking into our B&B, we drove to the town center. Ballinasloe is a town in the eastern part of County Galway. Most of the shops were closed and after the flight and the drive, we were too tired and hungry. So we decided to just eat and go back to our room and have a fresh start the next day!
Where did we eat: Lunch was sandwiches from the flight. Dinner was Pizza and pasta at Venezia Italian Ballinasloe
Where did we stay: Nephin. A warm and a cozy B&B owned by a very friendly couple. Our room was clean and the breakfast was served in a small dining room with a beautiful view.
Galway city, County Galway
In the morning, we drove to Galway, a city in County Galway, an hour drive from Ballinasloe.
What did we do: We walked around, exploring this wild and vibrant bohemian city lined with colorful shops, cafés, pubs and the restaurants. Galway is one of the popular locations in Ireland with long sandy beaches. Eyre Square ('An Fhaiche Mhór' in Irish), Lynch castle and the Spanish Arch on the left bank of the Corrib River, are few of the Galway`s historical gems, dating back to pre-medieval times.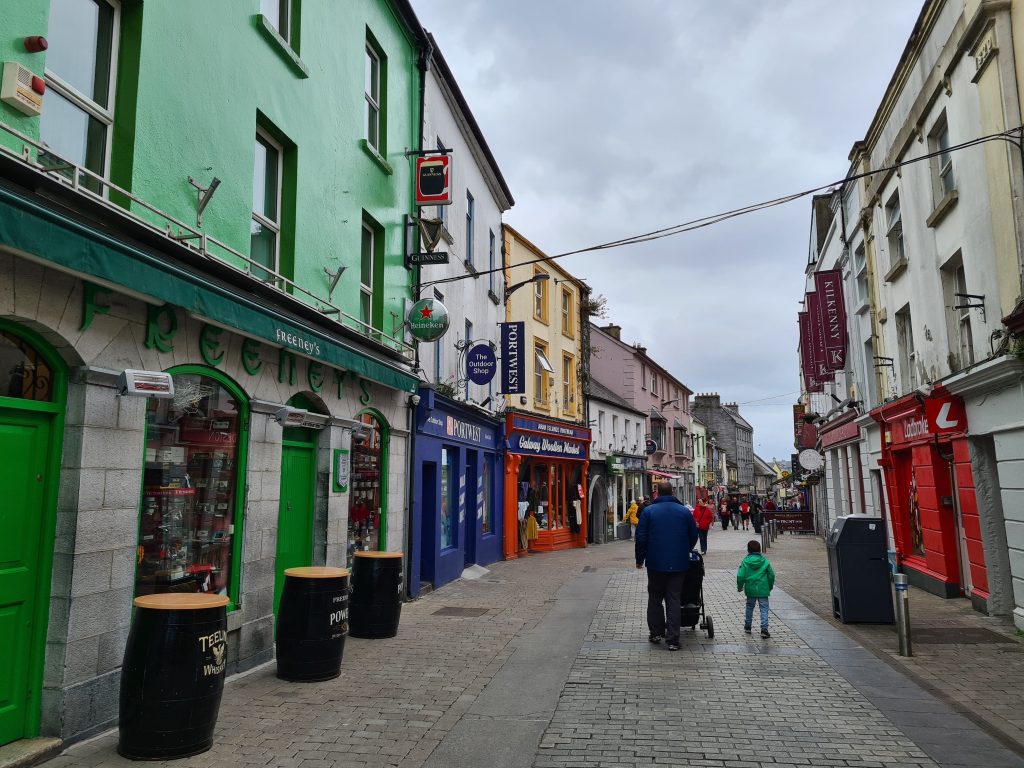 Where did we eat: There are a lot of restaurants and pubs in the city center. Freddy`s serve authentic Italian food. If you are in the mood for some pastries or cakes, check out Bridie Murphy`s home bakery. They sell amazing scones, cakes, brownies and all kinds of coffee.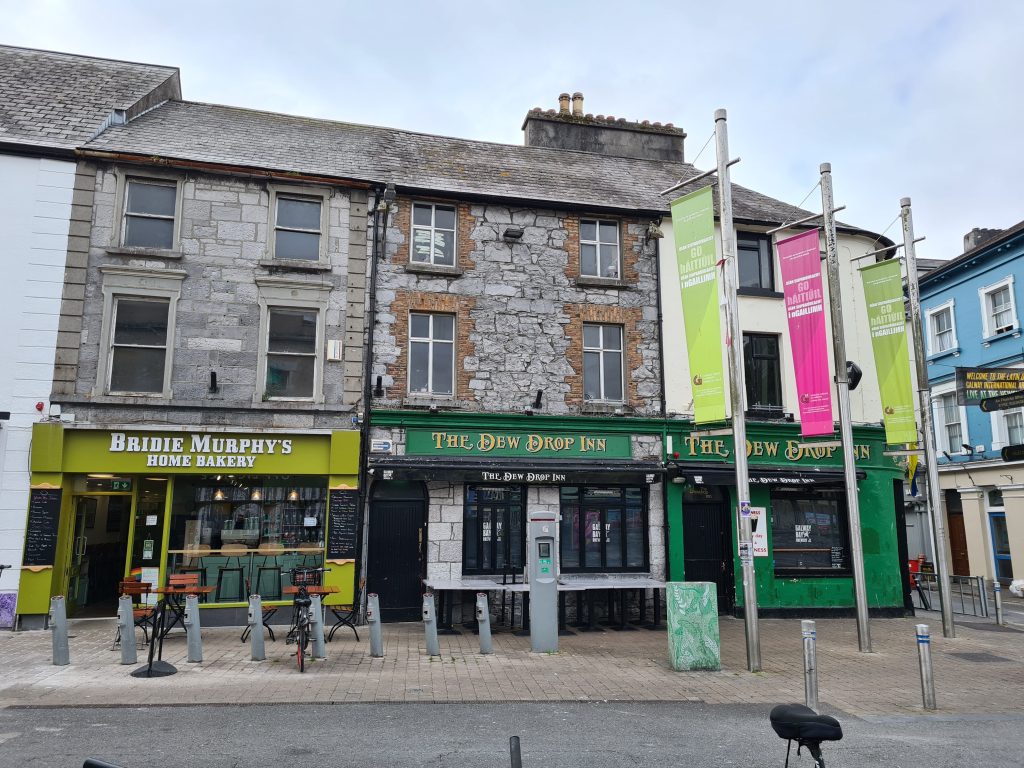 Connemara, County Galway
From Galway, we drove for another 1.5h to our next destination, Connemara, a region in the west of County Galway.
What did we do: We stopped at Mannin Bay Blueway, a very popular beach in Clifden (the Capital of Connemara) because of its white sands and clear blue waters.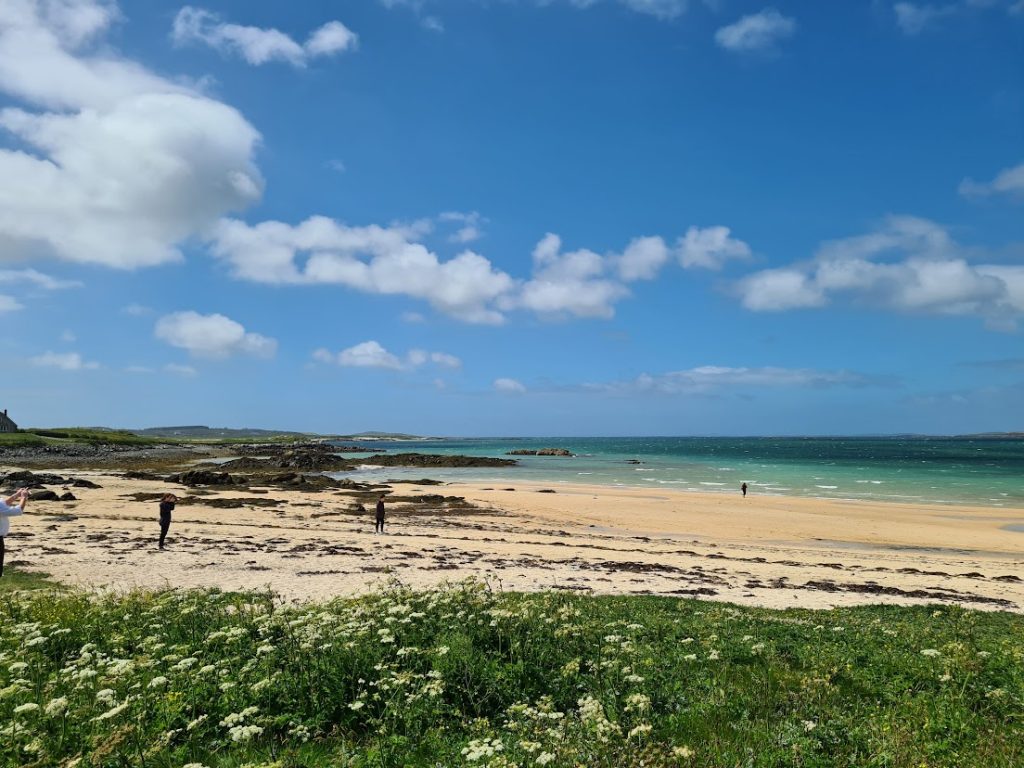 In the evening, we drove to Clifden, a small coastal town filled with shops, restaurants and pubs.
Derrigimlagh is one of the most magnificent wetland environments in Europe. Located on Ireland`s Wild Atlantic way, it is a 5km looped walk through the boglands. It is a stroller friendly path and the kids will enjoy walking freely while watching the sheep grazing.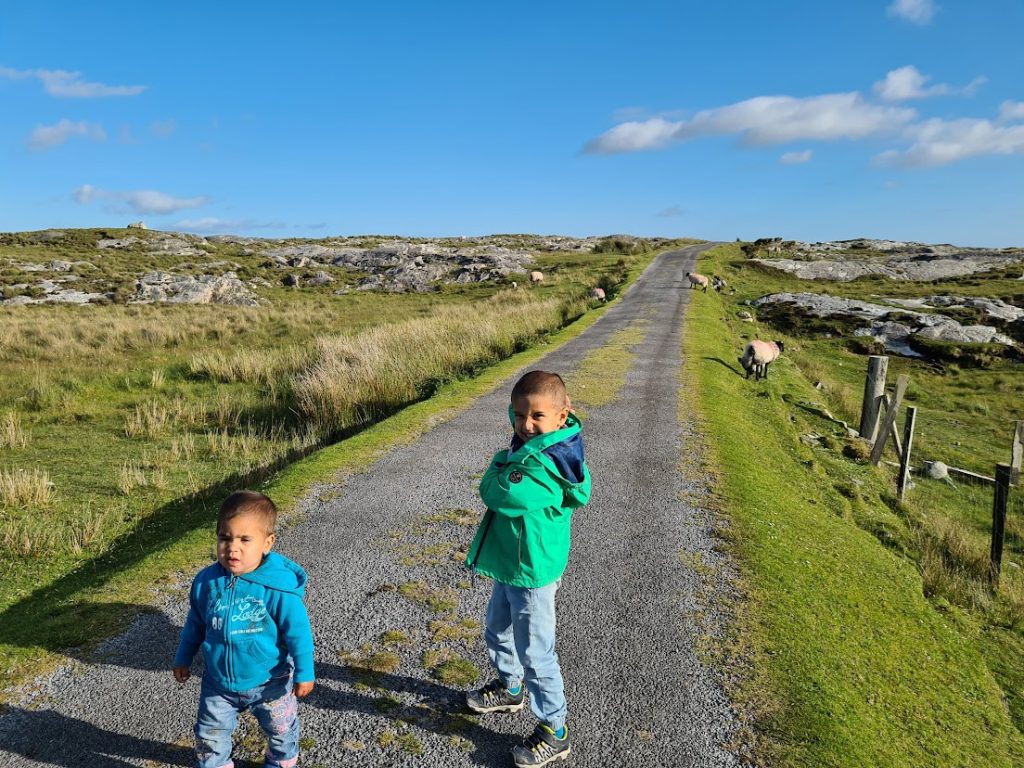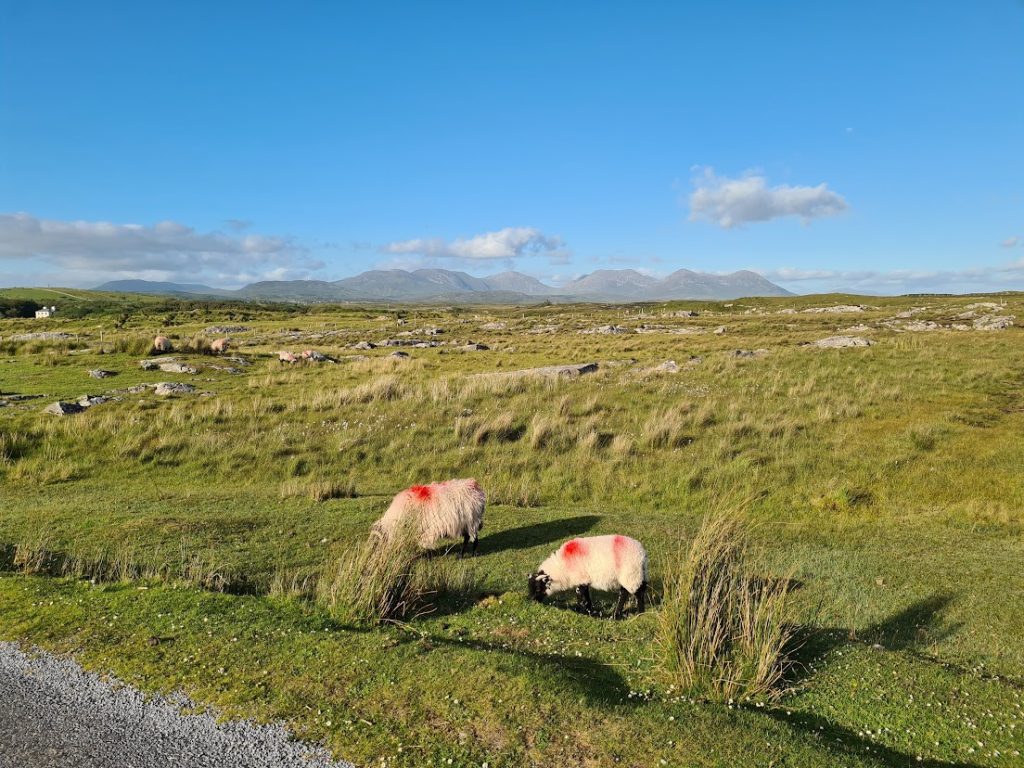 Where did we eat: Marconi Restaurant in Clifden was quite amazing. They serve Seafood and traditional Irish favorites, locally sourced.
Connemara National Park, County Galway
On day 3, after breakfast, we headed to Connemara National Park.
What did we do: There are many walking trails of different levels and some are accessible by strollers too. We took the shorter path accessible by stroller. Though Nyra walked for few minutes, Neel walked all the way collecting sticks, flowers and stones. After the hike, we let the kids play in the playground.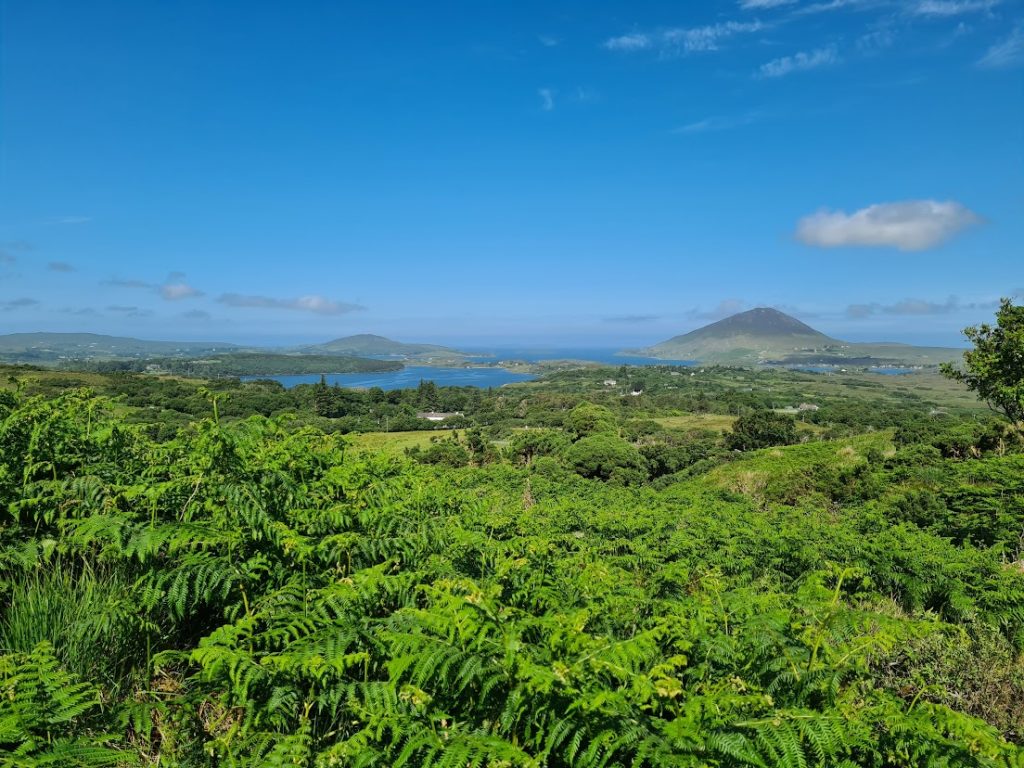 Where did we eat: We had a picnic on the designated picnic tables next to the playground. We prepared sandwiches from bread and other fillings we bought from a nearby supermarket. There is a café in the National Park too serving fresh coffee, cakes and snacks.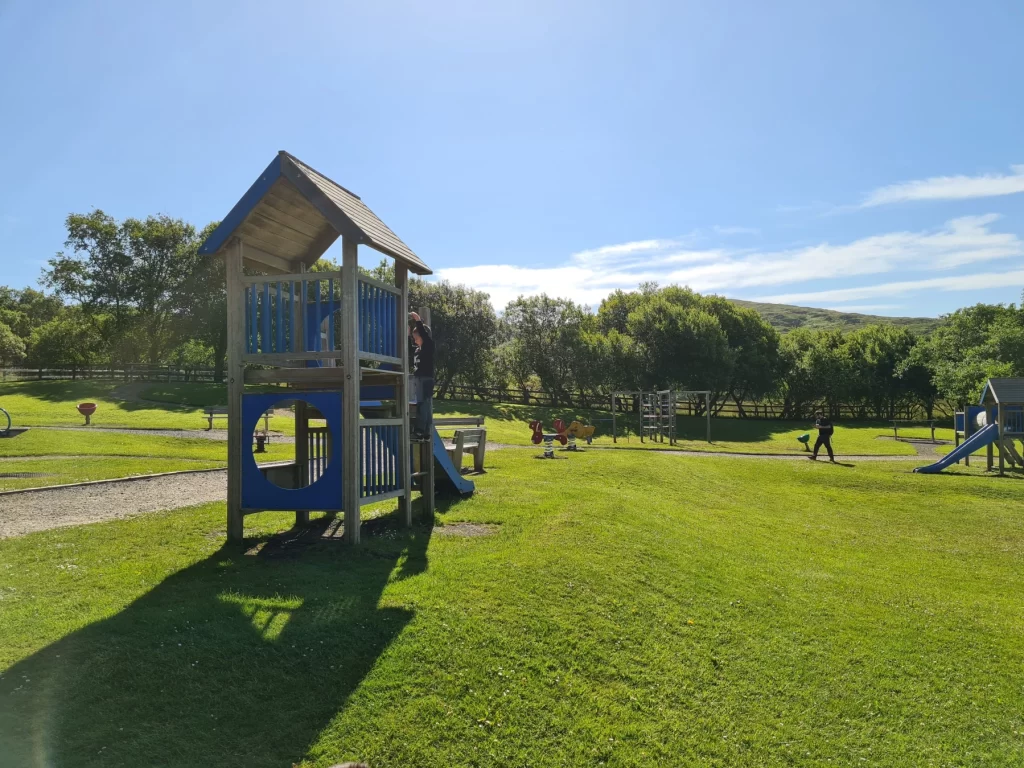 Westport, County Mayo
From the National park, we drove through the scenic route to Westport, a town in County Mayo.
What did we do: We took a walk around the town eating icecream, browsed for books in a bookshop and then drove to the quay where we spent the evening walking along the quay. We stopped for coffee at Westport coast hotel and let the kids play in the small playarea nearby.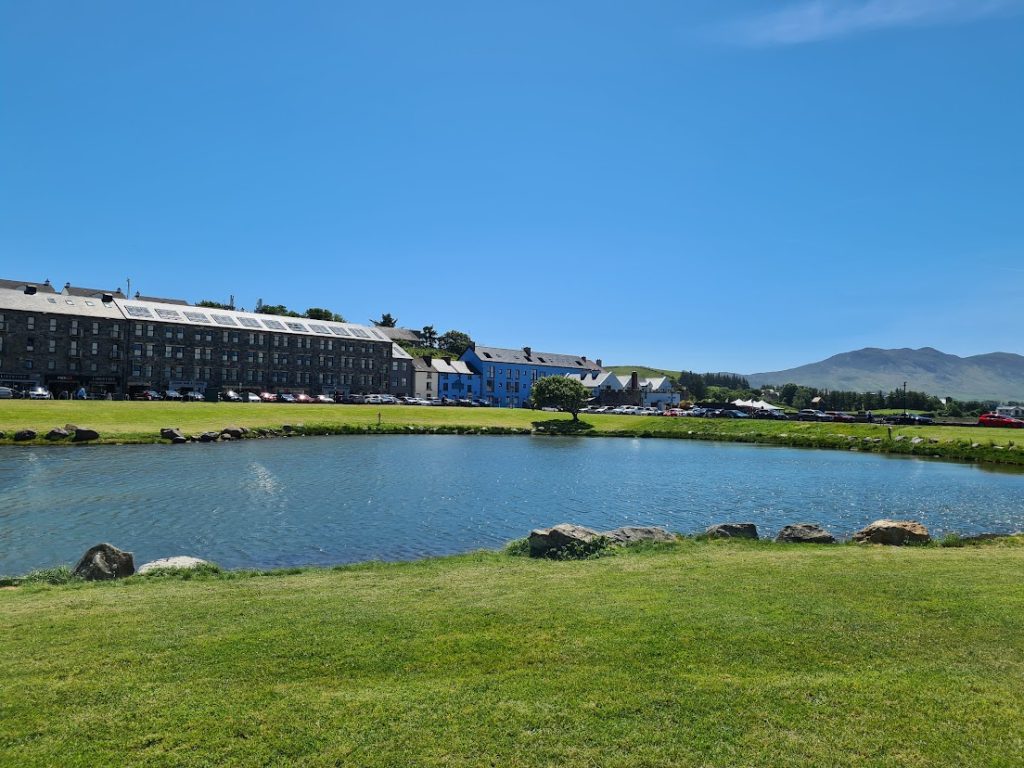 We drove back via the coastal route crossing Louisburgh, Leenaun and stopped at Kylemore Abbey. Unfortunately by the time we reached, it was closed. However, we could admire its external beauty from a distance.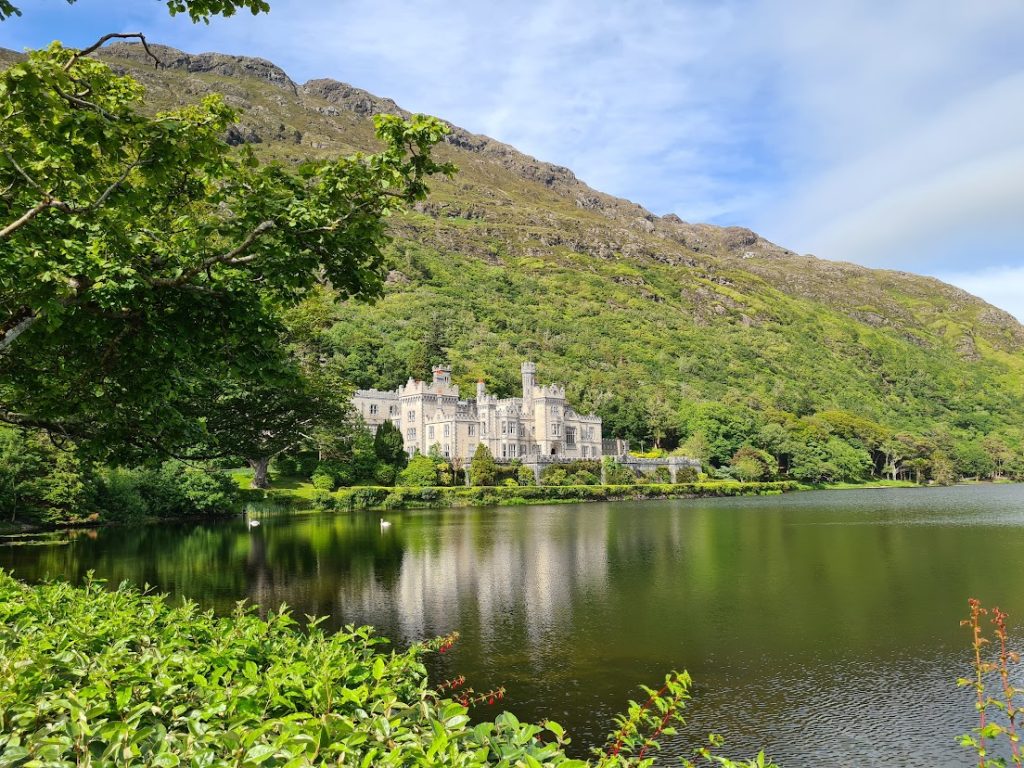 We drove back to Clifden via Sky road, the most popular scenic road in Ireland which offers stunning panoramic views.
On the way, we stopped at Omey Island, a tidal island, accessible at low tide by crossing the firm sandy beach, either in a car or on foot. More fun for the kids to play on the sand here!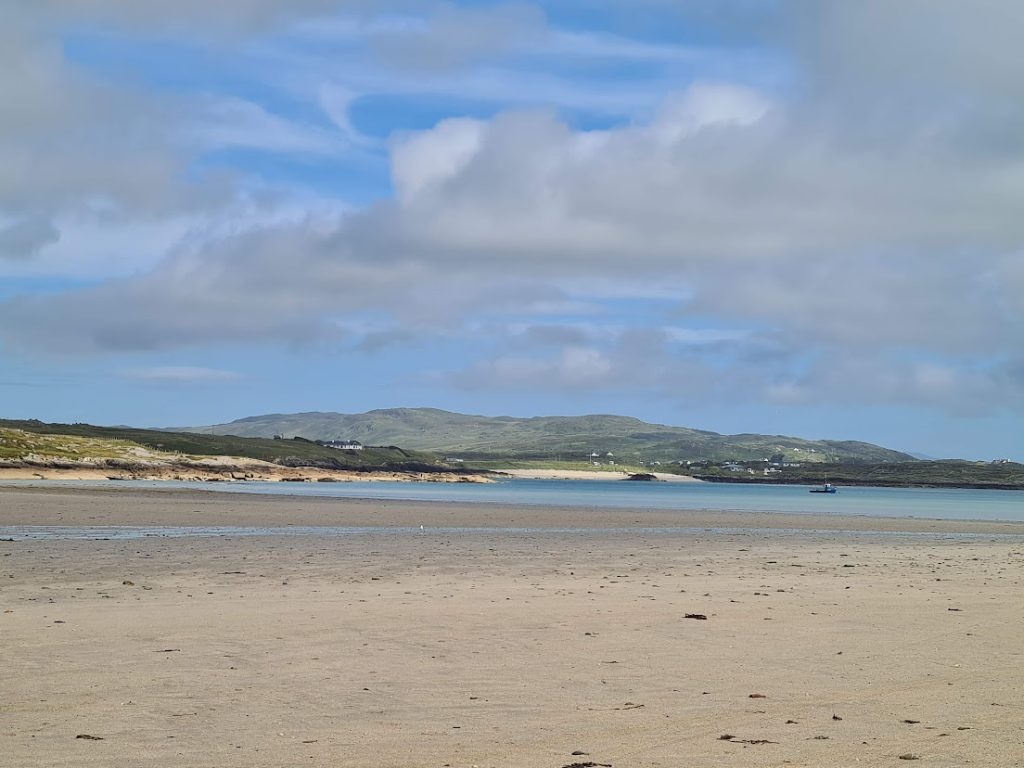 Where did we eat: We chose to eat at E J Kings Bar & Restaurant in Clifden. They serve amazing burgers and seafood.
Inishmore island, County Galway
The next day, we left early after our breakfast and drove to Rossaveel port in Connemara to catch the first ferry to Inishmore, the bigger of the 3 Aran islands.
What did we do: There are many ways to explore the Aran islands. You can rent bikes, take bus tours or horse and carriage tours. As there were no options for E-bikes with trailers, we decided to take the horse and carriage tour. We had an amazing experience during the ride admiring the landscape filled with limestones bordering patches of land, cute cottages, ocean and the Celtic and Christian monuments, well explained by our guide, Martin.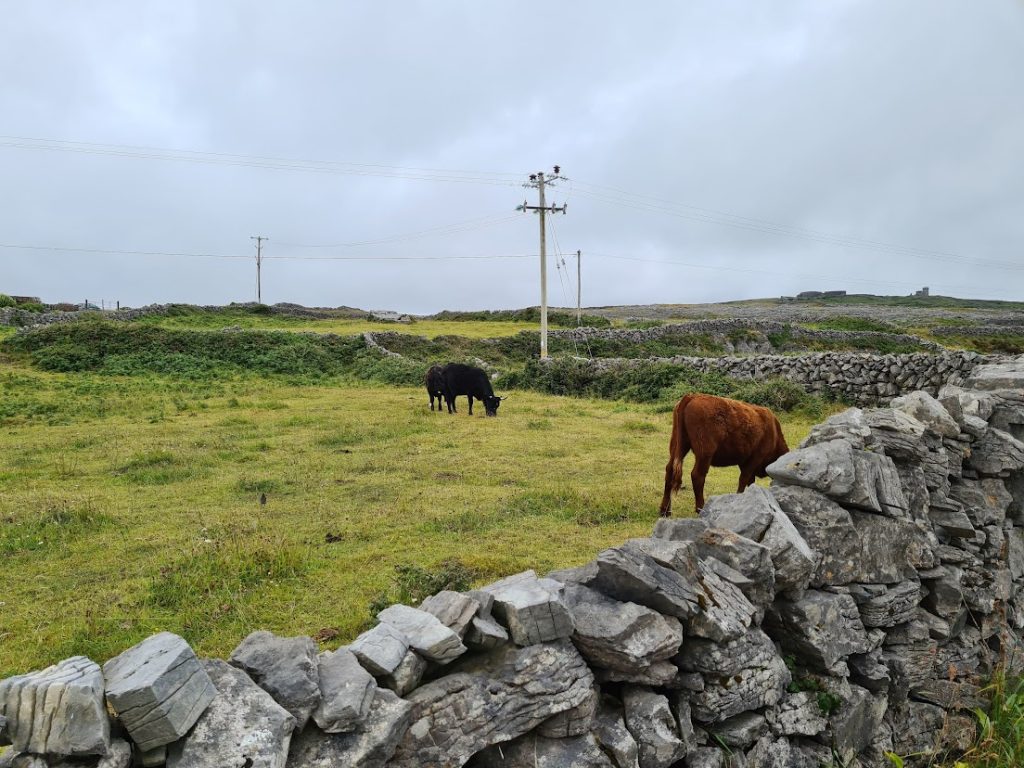 Our guide stopped at the café next to Dún Aonghasa, a breathtaking semi circular stone fort overlooking the Atlantic Ocean. These cliffs are not stroller friendly, so if you wish to climb the cliffs, make sure to take a baby carrier along with you.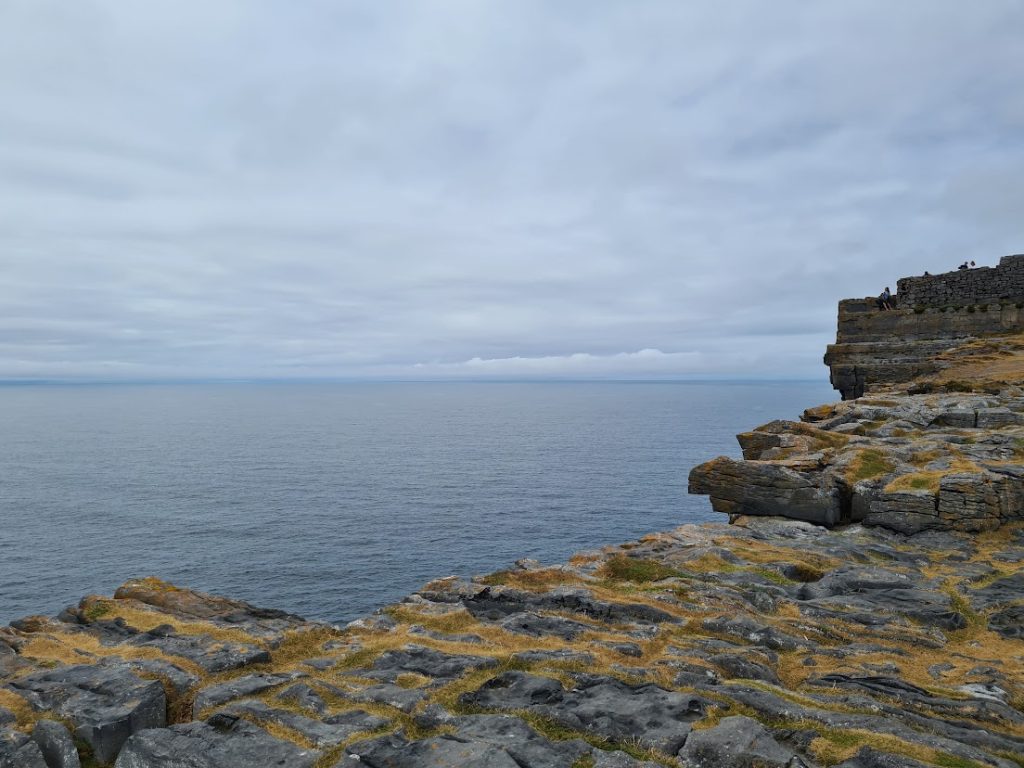 Where did we eat: We had a small lunch of sandwiches at the Café next to Dún Aonghasa. Dinner was at the cozy restaurant in The Woodfield Hotel in Clifden.
Where did we stay: We stayed for 2 nights at Teach An Easard, a beautiful Bed & Breakfast located in Ballyconneely, 15min drive from Clifden. Due to some miscommunication, the room offered was not very big, which was quite disappointing. However, we loved the ambience and the location.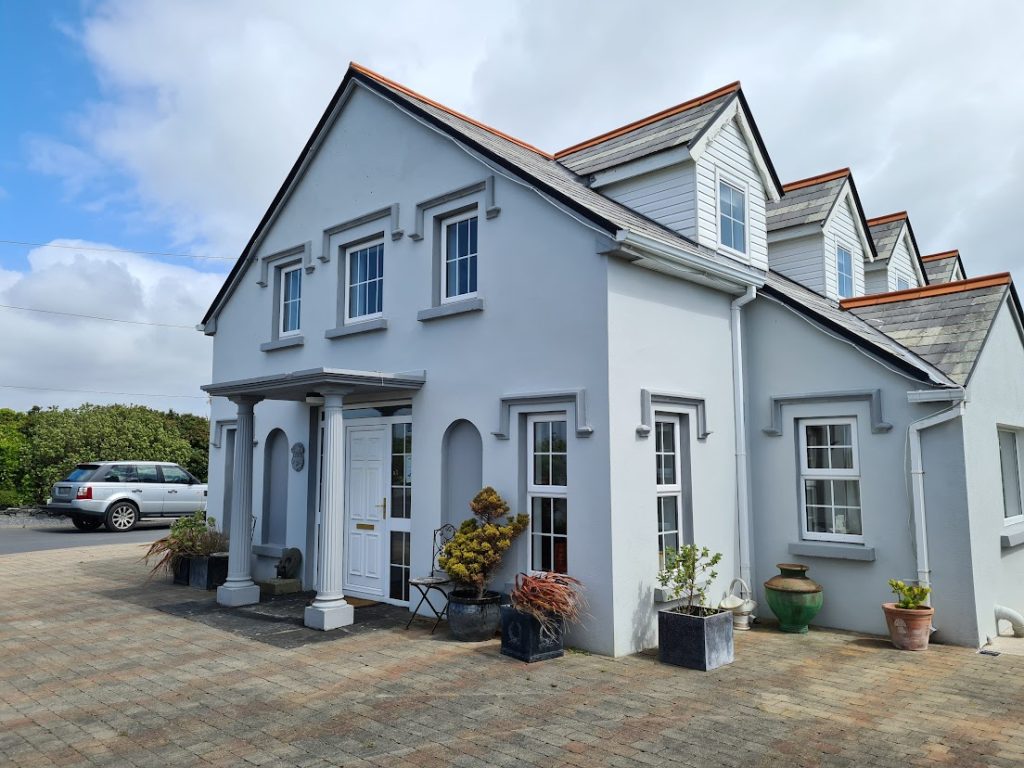 South-Western Ireland
Burren, County Clare
After a 2hr drive from Ballyconneely, we reached Burren, a small town in County Clare.
What did we do: If you are visiting Burren with kids, Aillwee Burren Experience is highly recommended and worth a visit. It includes a tour to Aillwee Caves, one of the oldest caves in Ireland; Birds of Prey centre which is a residence for Eagles, Owls, Vultures and Hawks and a farm shop selling local cheese. Kids will really enjoy this experience.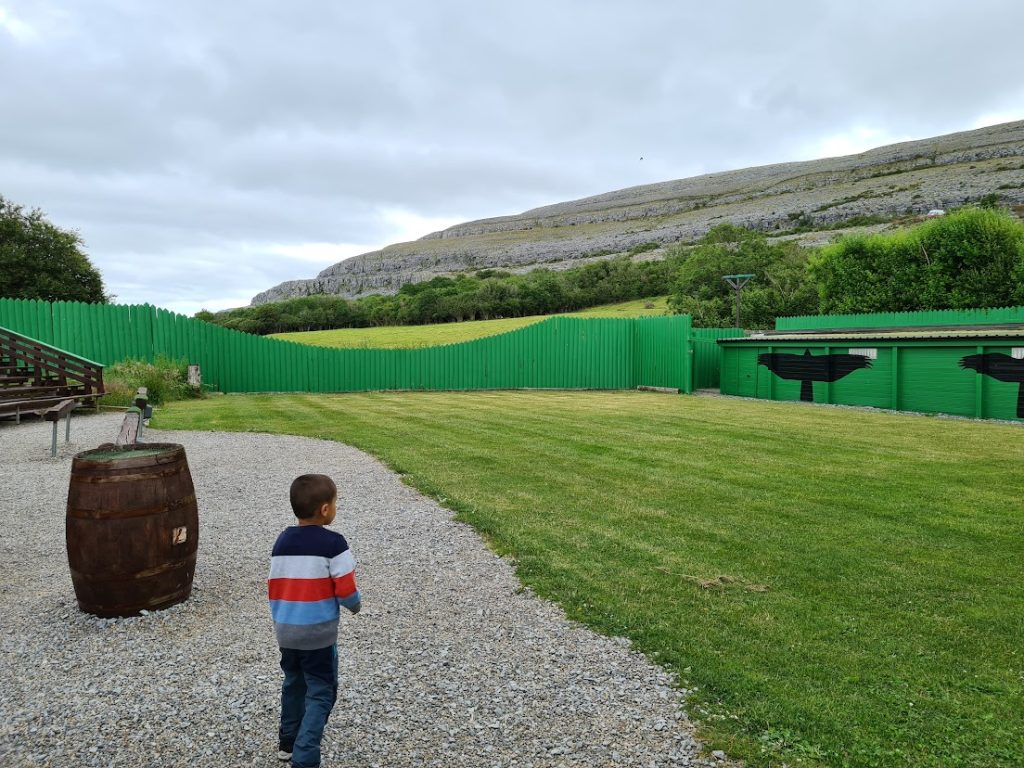 Where did we eat: We bought pizza and Lasagne at Eurospar and ate by the quay.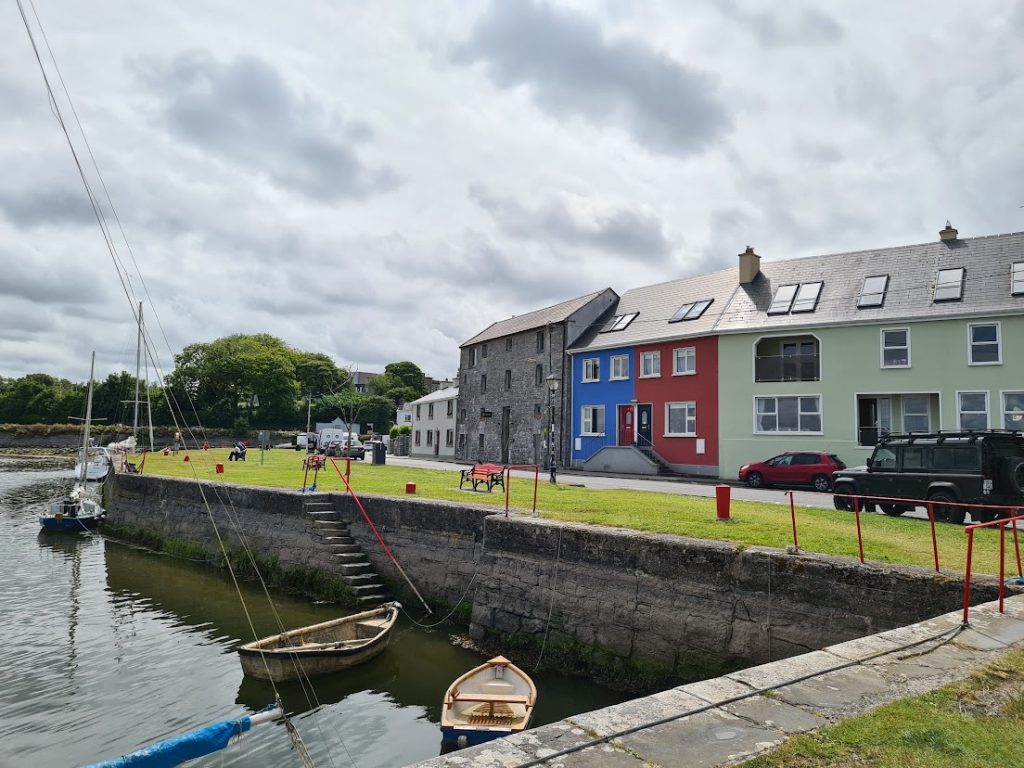 Ballyvaughan
Our B&B was located in Ballyvaughan.
What did we do: 5 minutes drive from our B&B was Bishop's Quarter beach. We spent the evening taking a stroll along the beach. You can find lots of jelly fishes in the beaches of Ireland, do be careful!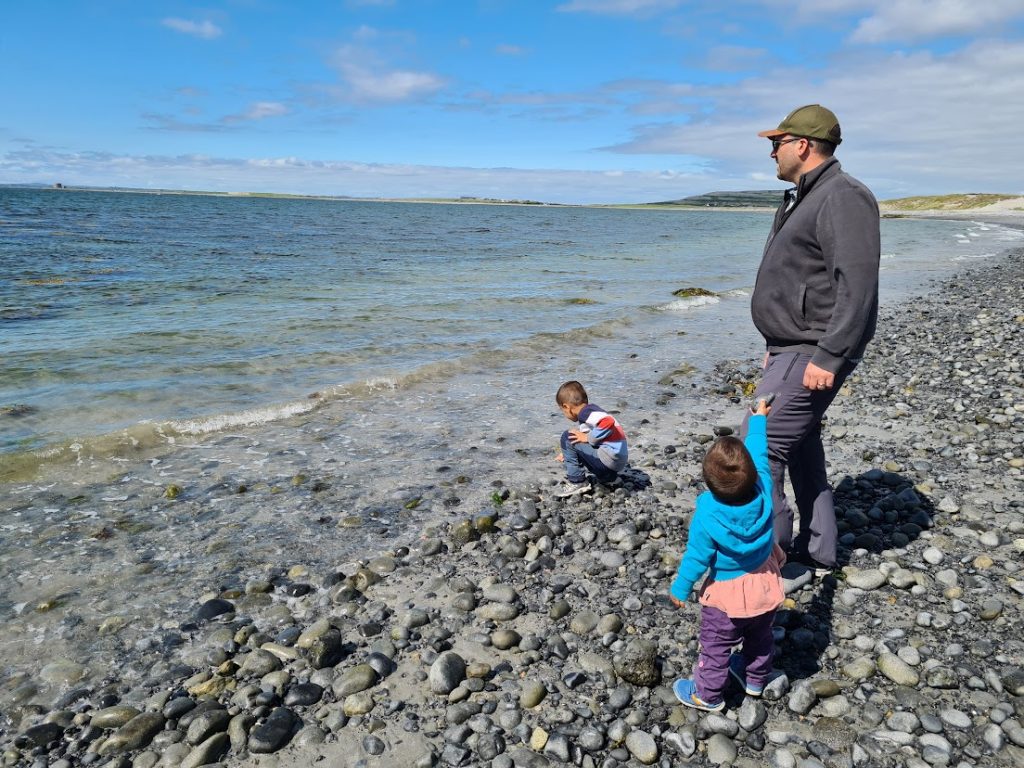 Where did we eat: Monks by the pier in Ballyvaughan.
Cliffs of Moher
The next day after breakfast, we drove to Cliffs of Moher. Situated on the western part of Wild Atlantic Way, it is one of Ireland`s most famous tourist attraction.
What did we do: We visited the cliffs on a rainy / foggy day and the cliffs were fully cloaked in fog. Luckily, the fog lifted and we were able to bask in the glory of one of the most outstanding coastal features of Ireland. We took a walk from the visitor center to almost near Hags head (until the path became too narrow to take our stroller) and walked back to our car. If you want to explore everything here without any hindrance of a stroller, better take a baby carrier.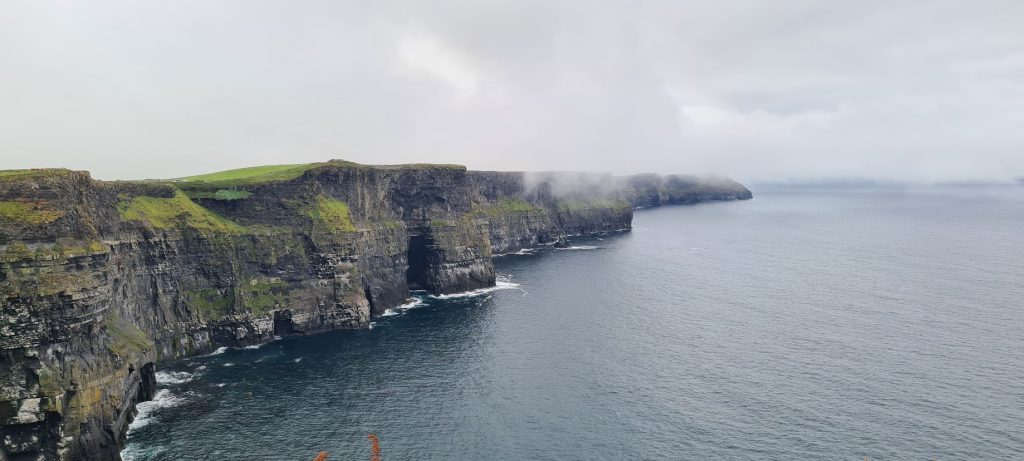 We drove from Cliffs of Moher to Doolin to spend sometime here. Unfortunately, it was fully crowded with lots of tourists and we could not find any parking spot and so we drove further to Parknabinnia Wedge Tomb, a pre-historic wedge tomb located in Burren. Café Linnalla overlooking Galway Bay was the best place to relax after a tiring hike with kids. You can order various flavored icecreams from the café and eat them on the seats arranged on the lawn while the kids play in the playground. You can even take a walk around Lough Murree.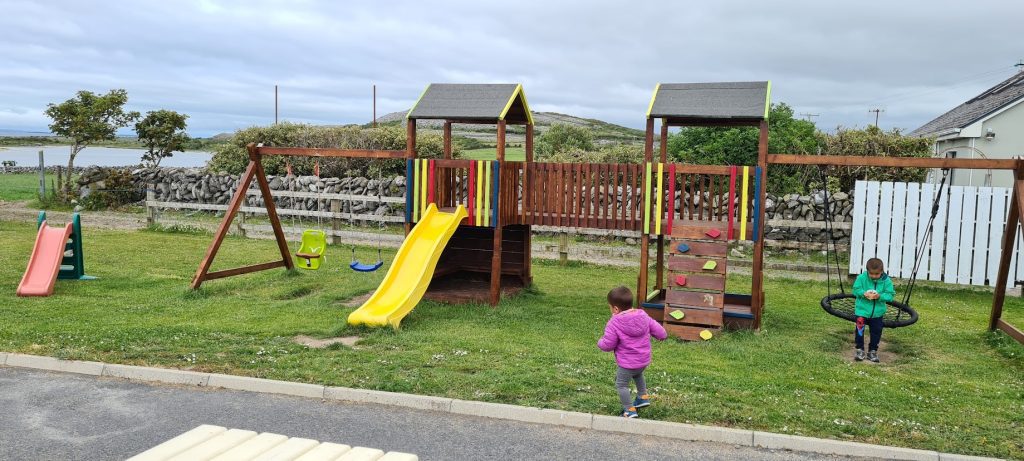 Where did we eat: For lunch, we ate at The Hungry Veggie, a food trailer specializing in delicious homemade veggie burgers, fries and salads in Cliffs of Moher. For dinner, we had pizza and pasta at L`Arco Italian Restaurant in Ballyvaughan.
Where did we stay: We stayed for 2 nights at Drumcreehy Country house in Ballyvaughan. We had the perfect 2 nights here. The room was perfect for a family of four. I was in awe of the interior decoration of the main area of the B&B. The scrambled eggs, omelette and pancakes for breakfast were simply divine! I highly recommend this B&B to anyone visiting this side of Ireland.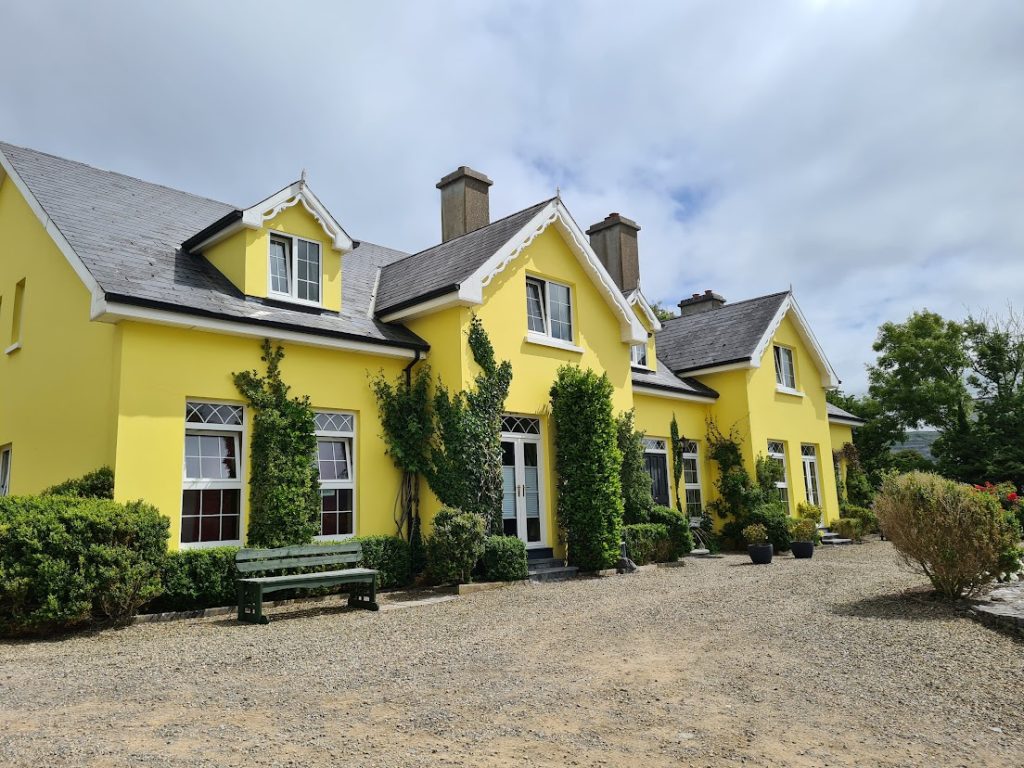 Killarney, County Kerry
It was almost a 2.5h drive from our B&B in Ballyvaughan to reach Killarney.
What did we do: It was raining heavily by the time we reached Killarney. We stopped at Killarney outlet centre to eat lunch before heading to our B&B. I would have loved to spend the day in the town centre, but the rains did not allow us to visit any place.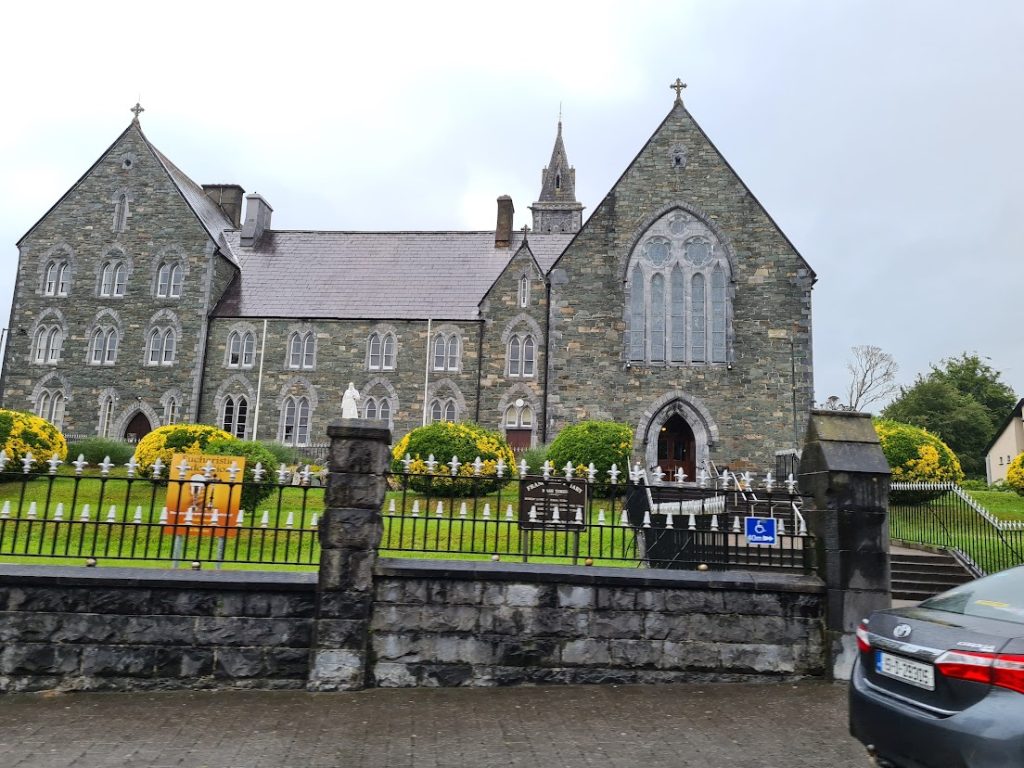 Where did we eat: Lunch was delicious sandwiches at O`Briens Café in the outlet centre and dinner was Mexican food at Casita Mexicana in the town centre.
Ring of Kerry, County Kerry
The next day, even though it was raining heavily, we decided to take a drive around Ring of Kerry.
What did we do: We drove from Killarney around the route stopping shortly to capture the scenic views of the ocean, lakes, hills, cliffs and the beautiful villages like Portmagee, Waterville and Sneem.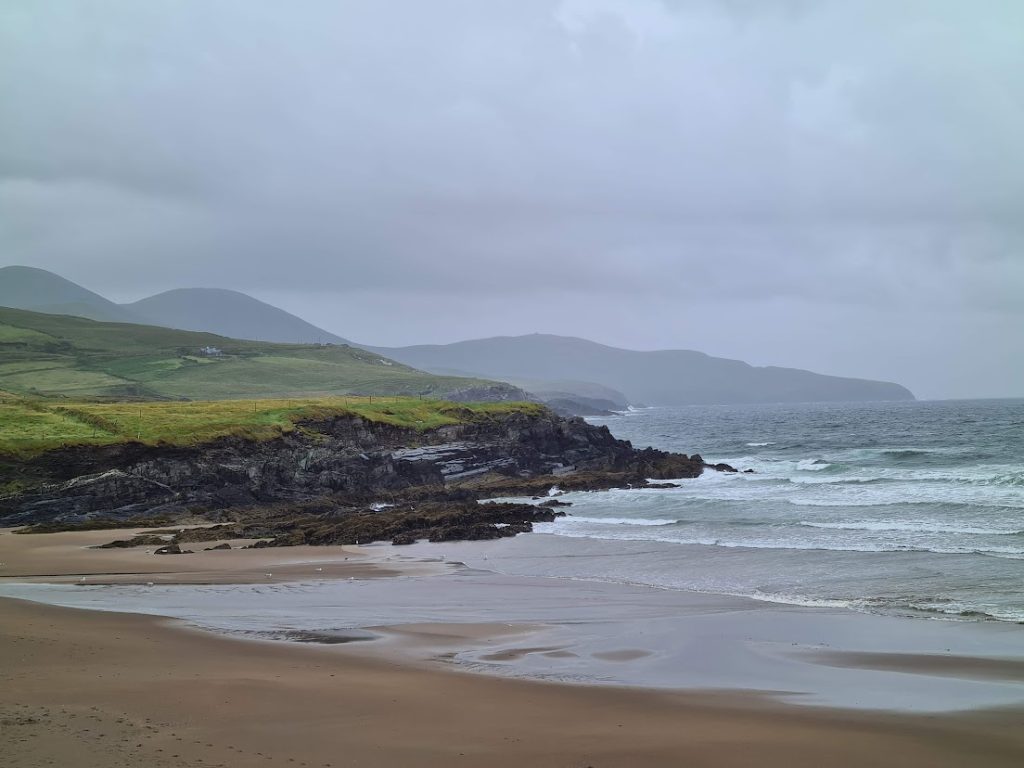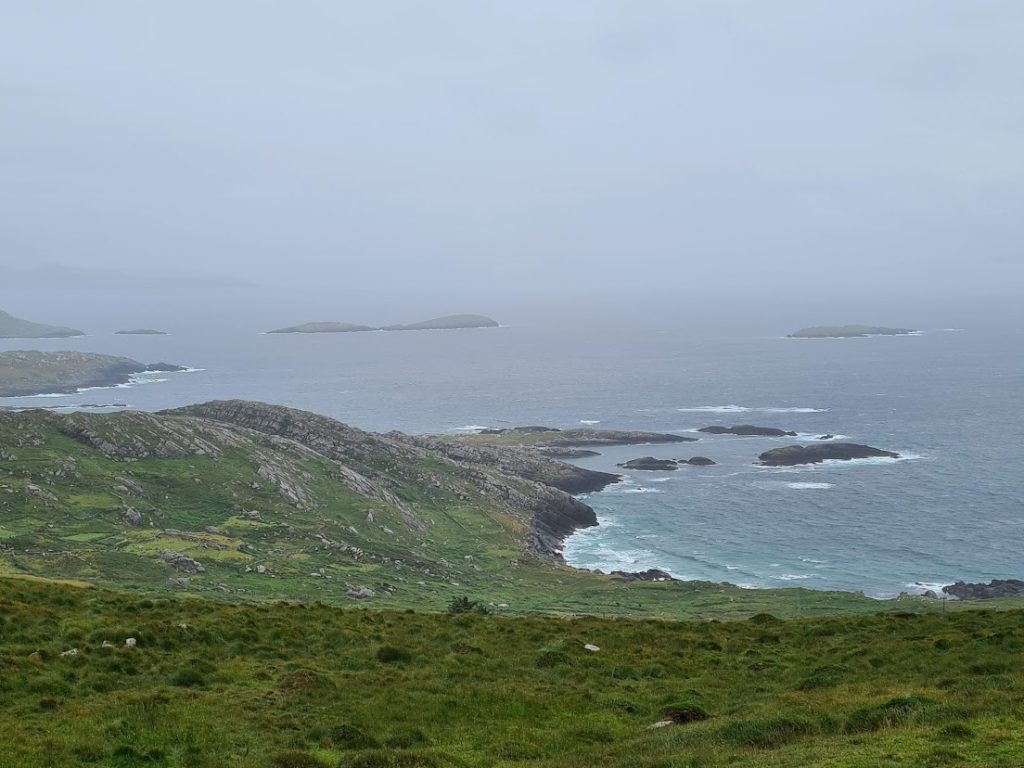 After completing the circular route, we visited Muckross House in Killarney, a 19th century Victorian mansion set against the stunning beauty of Killarney National Park and took a tour of the house.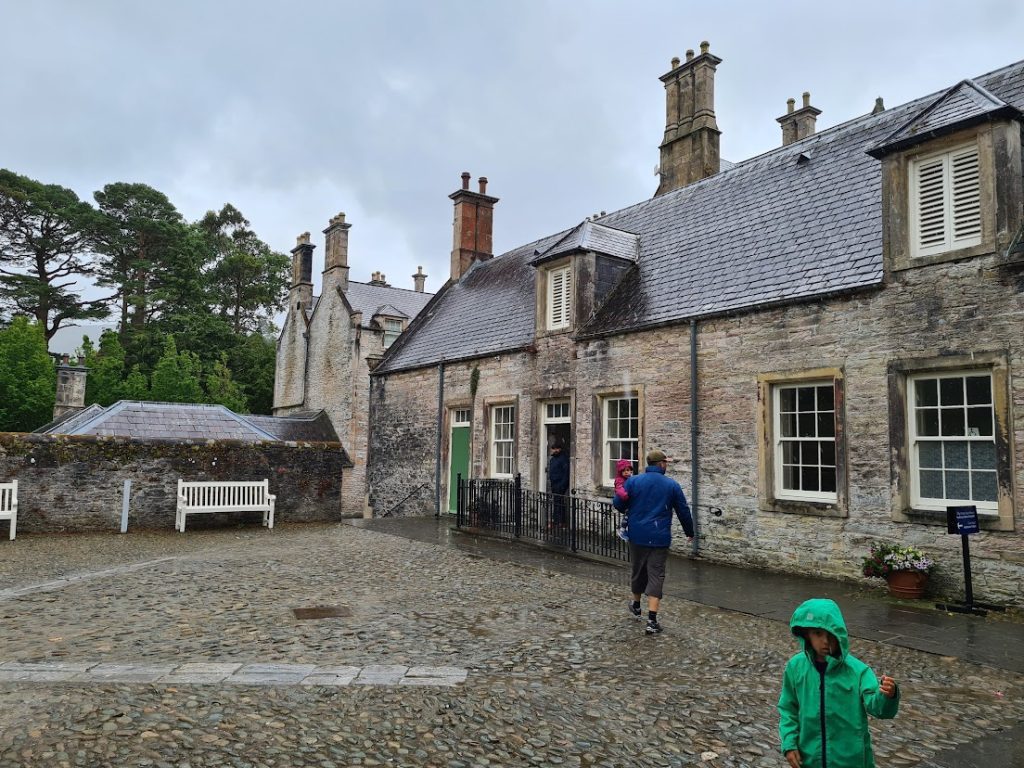 Where did we eat: Lunch was authentic Irish food at the restaurant Stonehouse in Sneem and for dinner, we stayed in our room and ate sandwiches made of bread and cheese.
Where did we stay: We stayed for 2 nights at Reeks View B&B in Killarney. It was a cute B&B located close to the center of the town and the hostess was very friendly and helpful.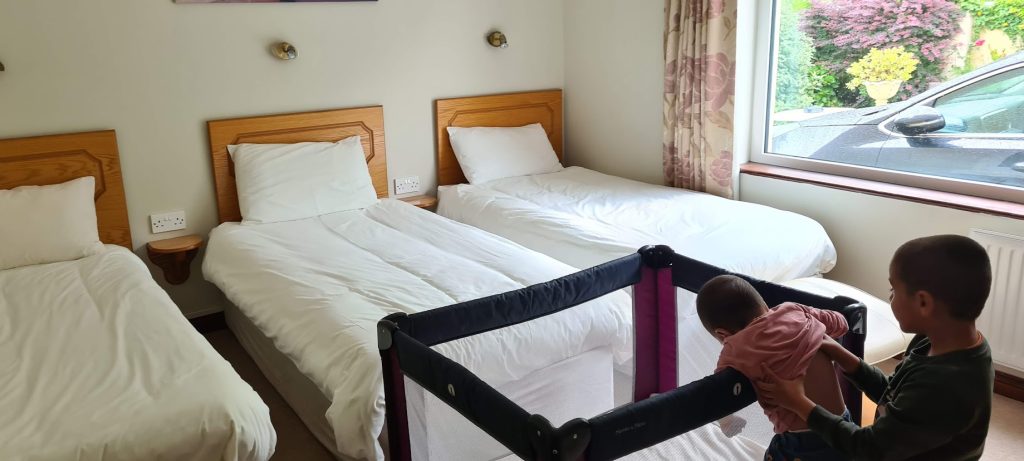 Rosscarbery, County Cork
We drove through the beautiful Healy Pass, a mountain pass located on the boundary between Cork and Kerry counties and reached Rosscarberry, our next destination.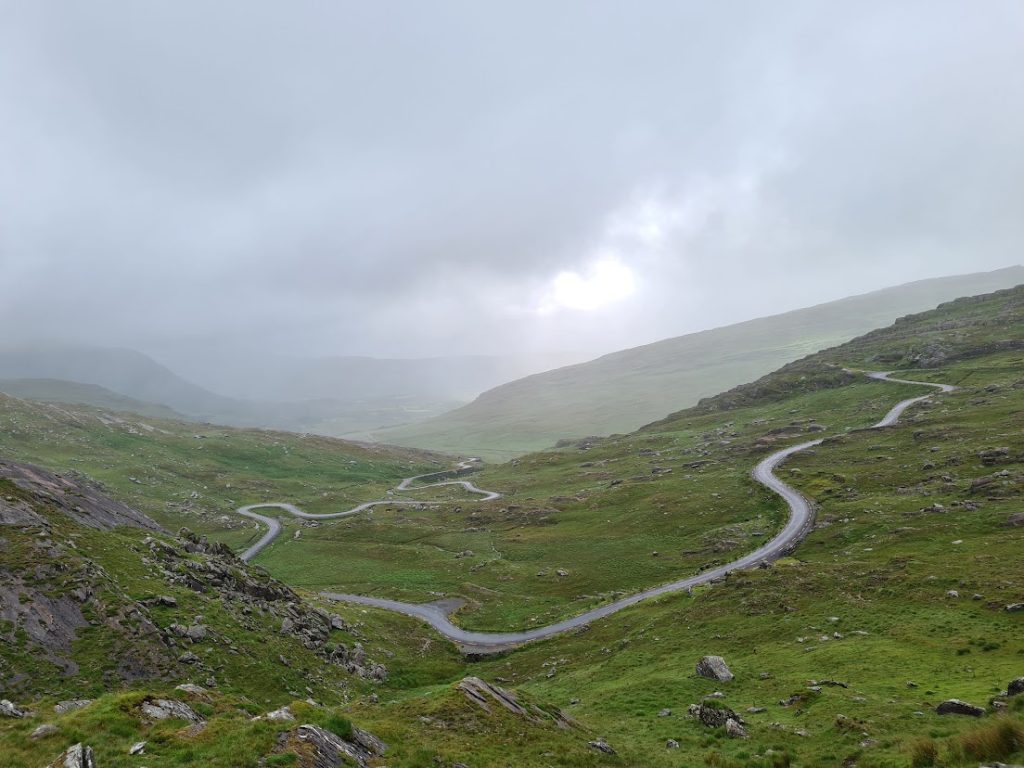 What did we do: Clonakilty, a town in County Cork is located only 12km (10min drive) from Rosscarbery. We took a walk around the town enjoying the beautiful facades of the buildings. After lunch, we took the kids to the playarea in the town.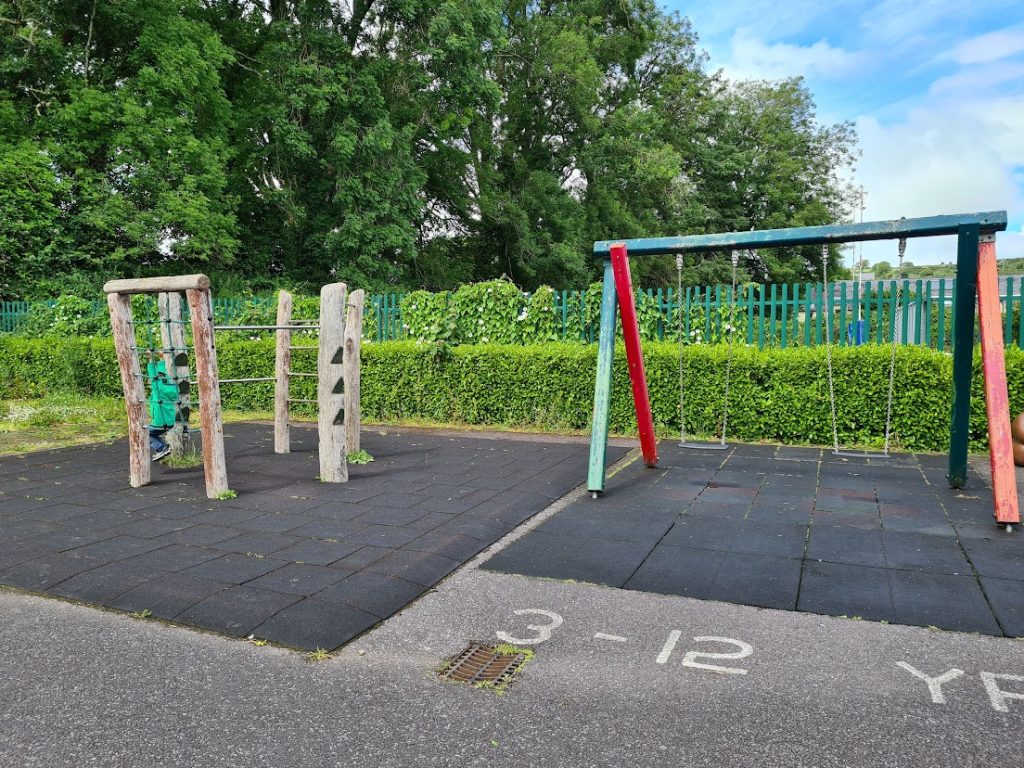 Inchydoney and Warren beaches close to Clonakilty are some of the best beaches in Ireland. Though it was too windy and cold to swim, we enjoyed walking on the sand.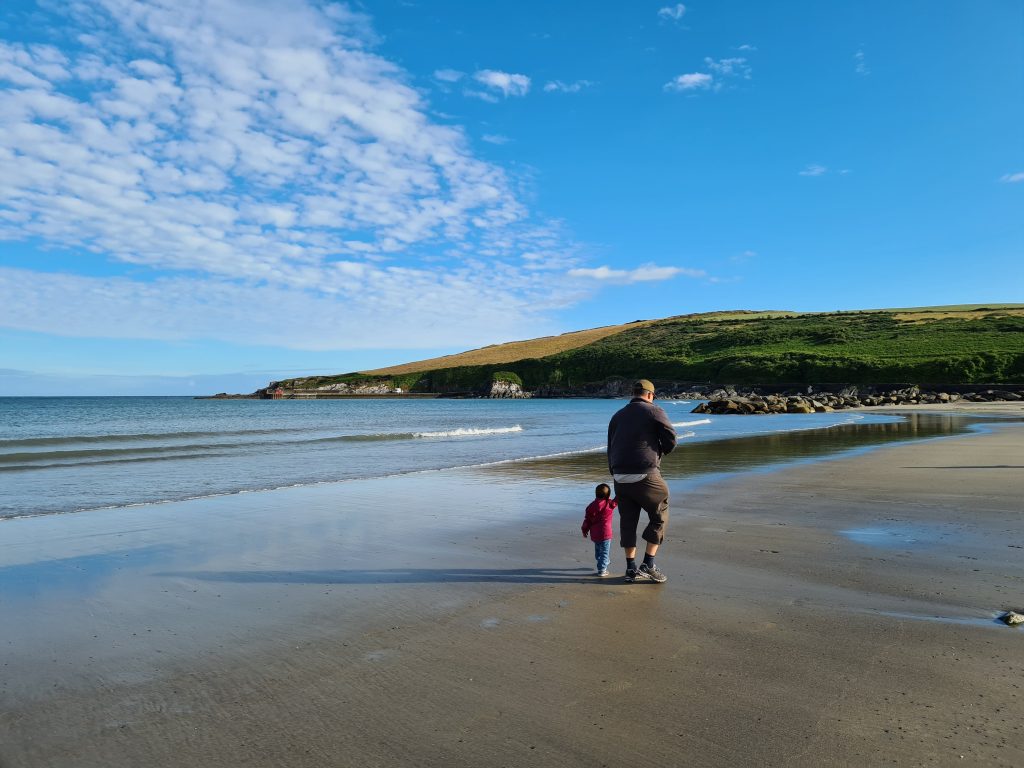 Where did we eat: We ate typical Irish food at Abbey Bar in the town of Rosscarbery.
Cork 
What did we do: We drove to Fota Wildlife park in Cork, a 100 acre wildlife park located on the scenic Fota Island. It is a unique place with lots of animals and birds with some of them (like wallabies and lemurs) roaming freely throughout the park. There are a lot of cafes, restaurants and playgrounds and is a great place to bring your kids to spend the day here.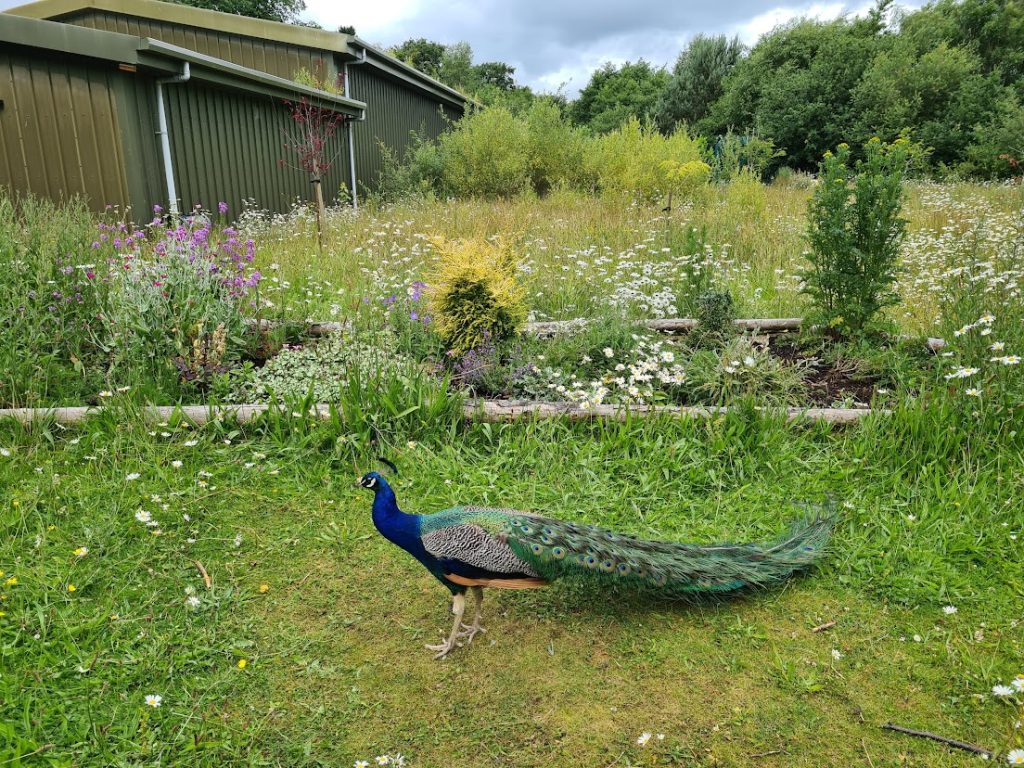 We drove to Cobh harbor, the second largest natural harbour in the world and is best known for being the 'last port of call' to the ill-fated RMS Titanic. It was quite windy and I was glad that we were prepared with jackets and warm clothing. We roamed around the harbor, enjoying the beauty of the city and walked to the Titanic Memorial Garden.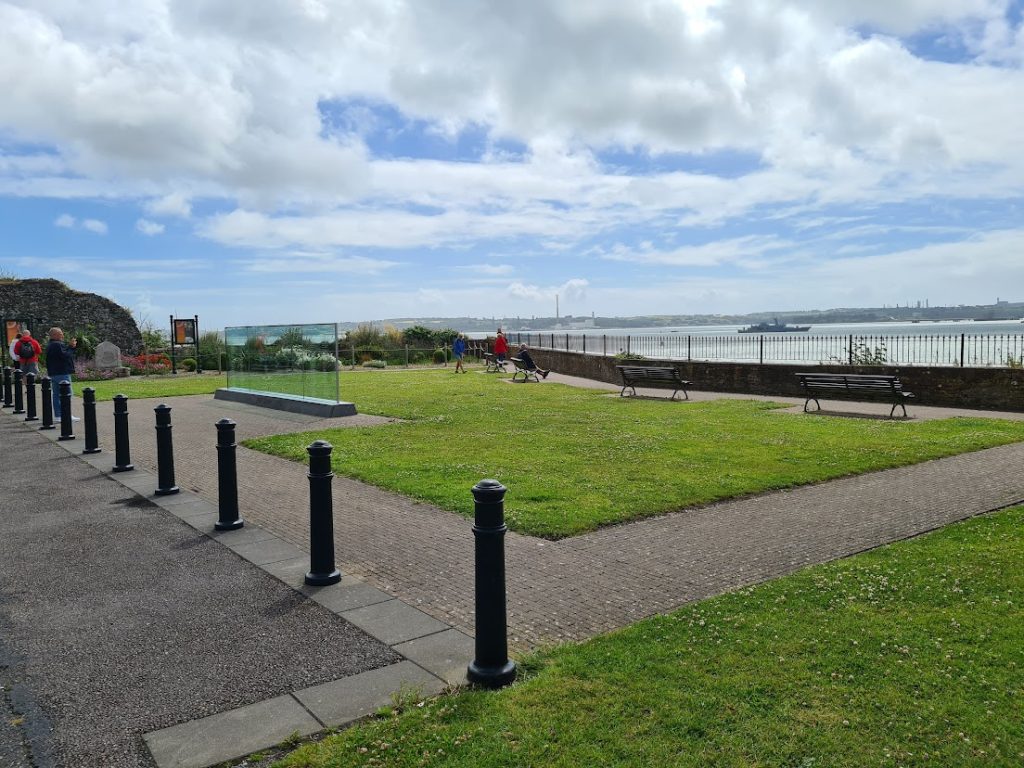 After lunch, we spent the rest of the day in the playarea at the harbor!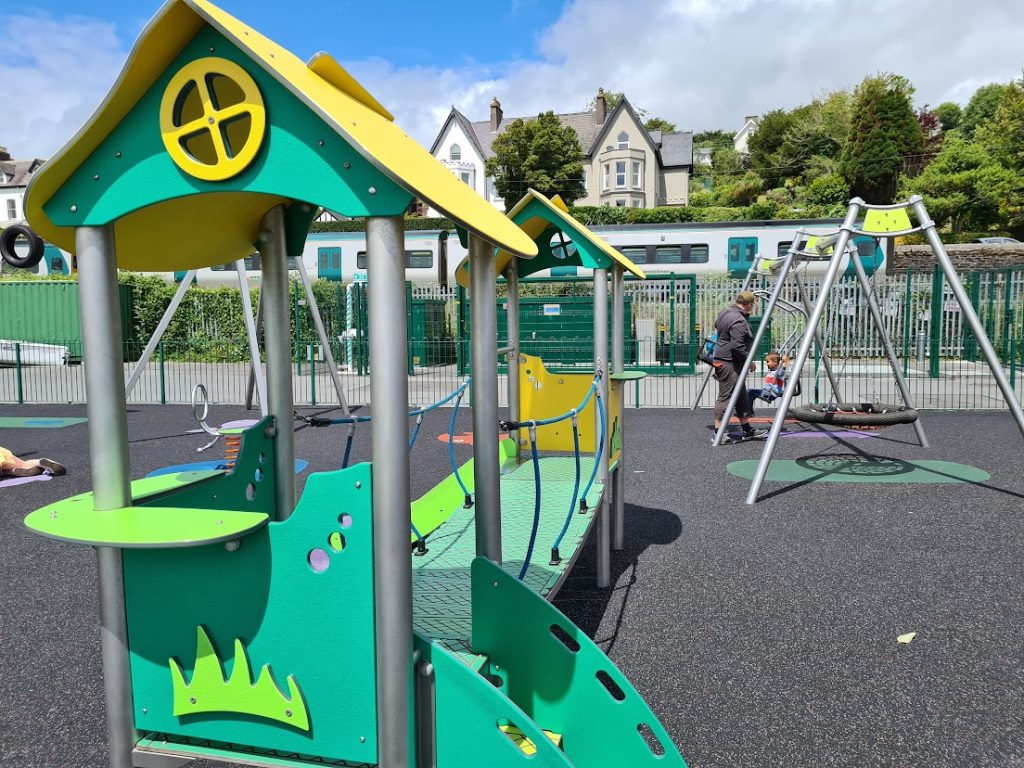 Where did we eat: Lunch was soup and garlic bread for me, Thai curry for Mike and burger for kids at The Harbour Grill – Commodore Hotel. 
Where did we stay: We stayed for 2 nights at An Rosalithir B&B, a charming pink cottage in Rosscarbery, owned by a very sweet and friendly couple. We had a great experience in this B&B, only thanks to the owners who made us feel at home.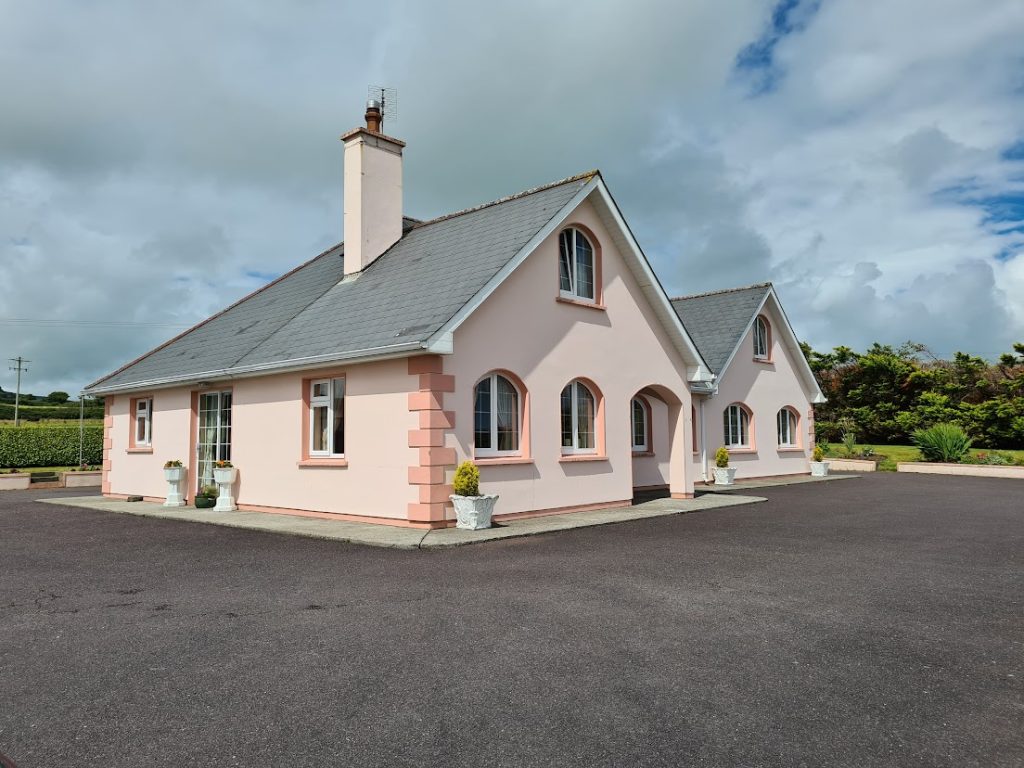 South-Eastern Ireland
Wexford
What did we do: We drove to Hook lighthouse, the oldest intact operational lighthouse in the world. An exceptional tower built almost 800 years ago and still fully active today. We had a lovely time walking around the place, enjoying the spectacular view of the ocean. Kids had a great time playing around.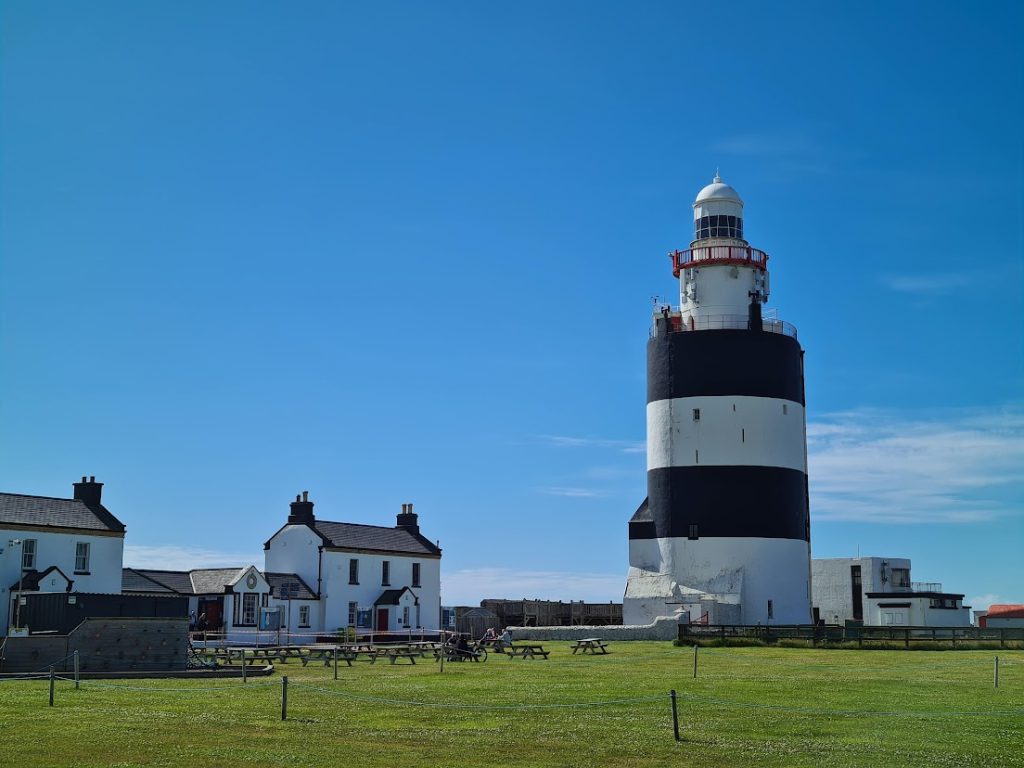 From here, we drove to the town of Wexford, and spent the day there before heading to our B&B in Waterford.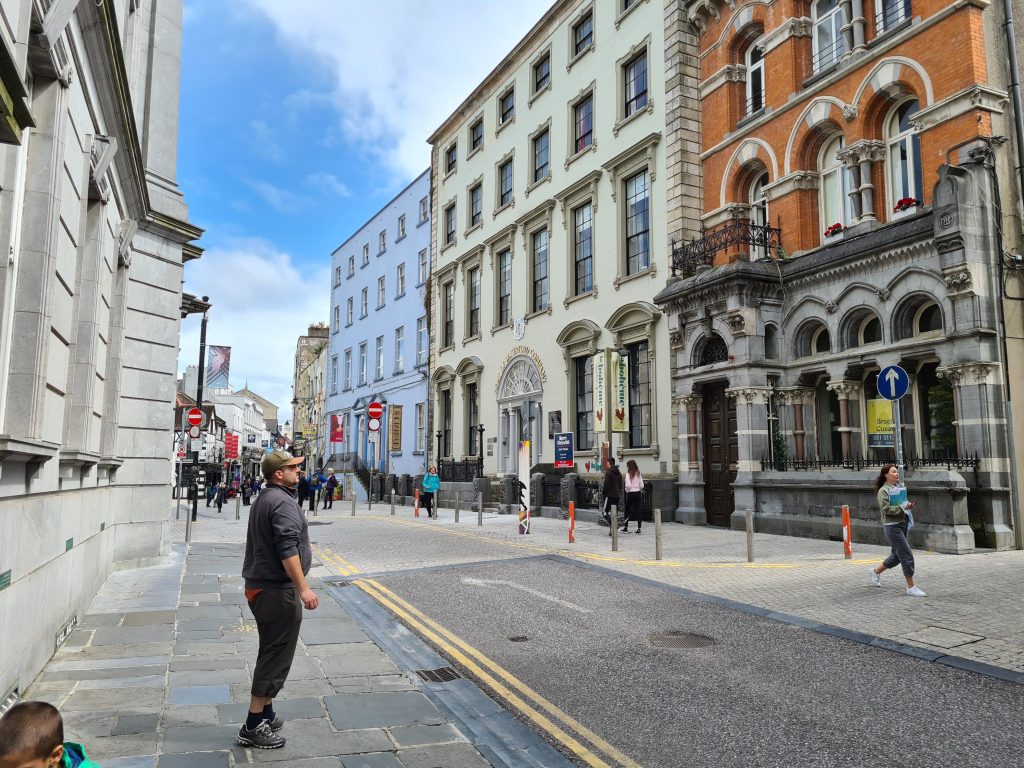 Where did we eat: We ate lunch at Rob`s Ranch House, a wild west restaurant in Wexford.
Waterford
What did we do: We drove to Waterford from our B&B to spend the day in the town.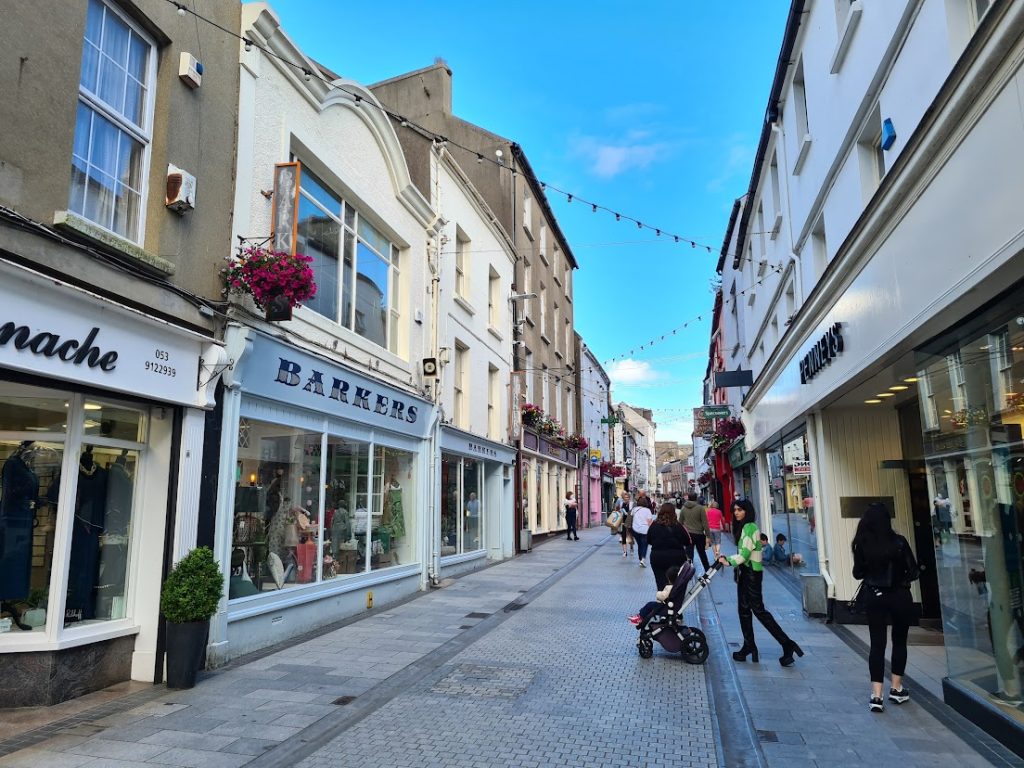 Where did we eat: Mike and kids ate pizza at Papa Johns while I had Subway sandwich.
Where did we stay: We stayed at Samuel`s Heritage, a family owned B&B in Waterford. The hostess was really friendly and took care of everything perfectly.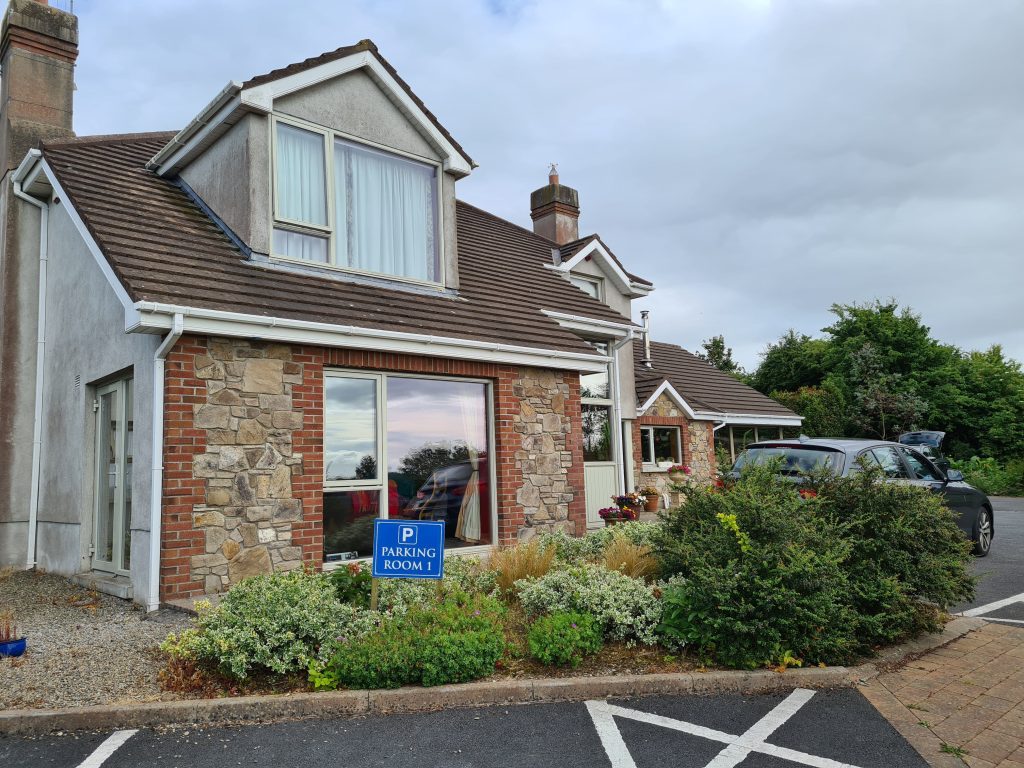 Eastern Ireland
Wicklow
What did we do: We drove to Glendalough Valley and took a walk to the Monastic Site and the scenic Upper lake. There are many child friendly / stroller friendly trails around and our kids had a great time exploring the trails.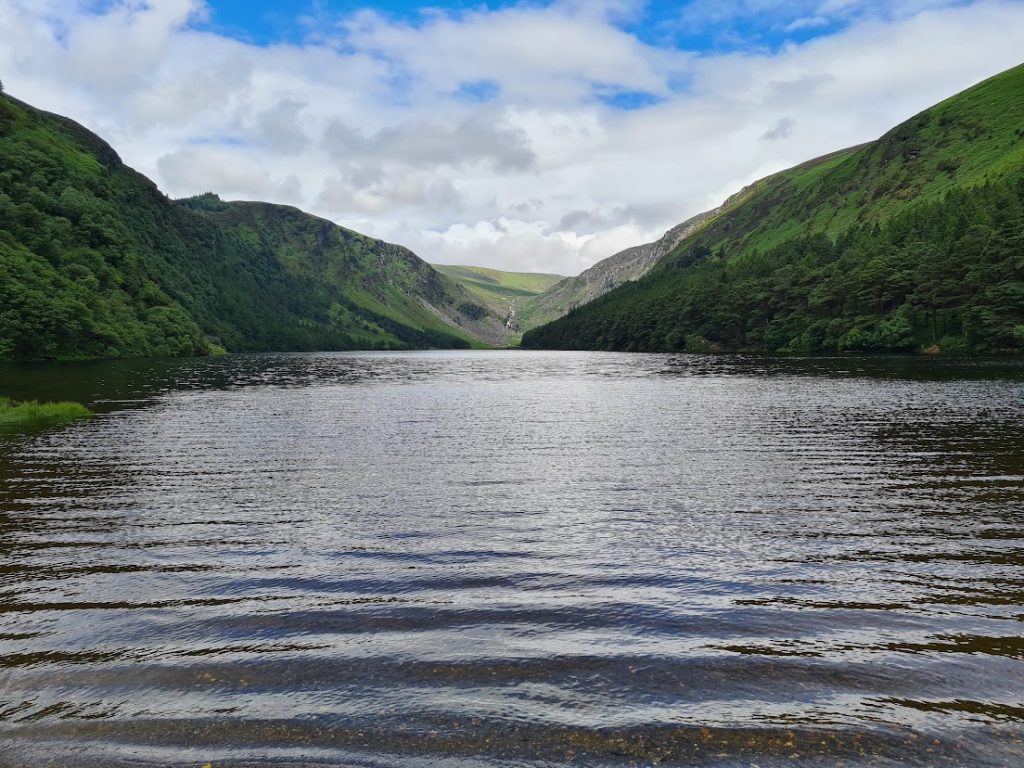 From here, we took the scenic drive through the Wicklow mountains until Sally Gap and drove back to Wicklow not before stopping to enjoy the breathtaking view of Lough Tay.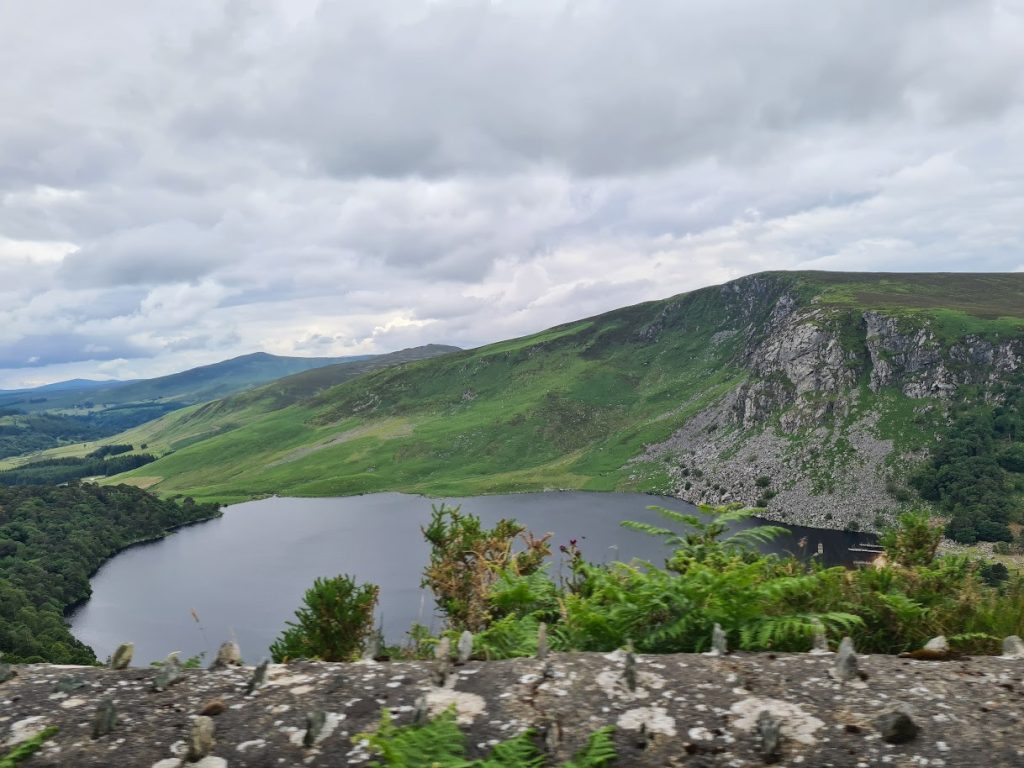 P.S. movie lovers can stop shortly at the P.S. I Love you bridge located in the mountains.
It was raining quite heavily and we decided to let the kids release their energy at Kidzone in Wicklow.
Where did we eat: We ate lunch at The Wicklow Heather Bar & Restaurant, a family owned restaurant very close to the Glendalough valley 
The next day we visited Powerscourt Estate, House and Gardens, another grand mansion with a lot of history and has one of the most beautiful gardens in Ireland! You can spend the whole day exploring the gardens. We drove from here to Bray.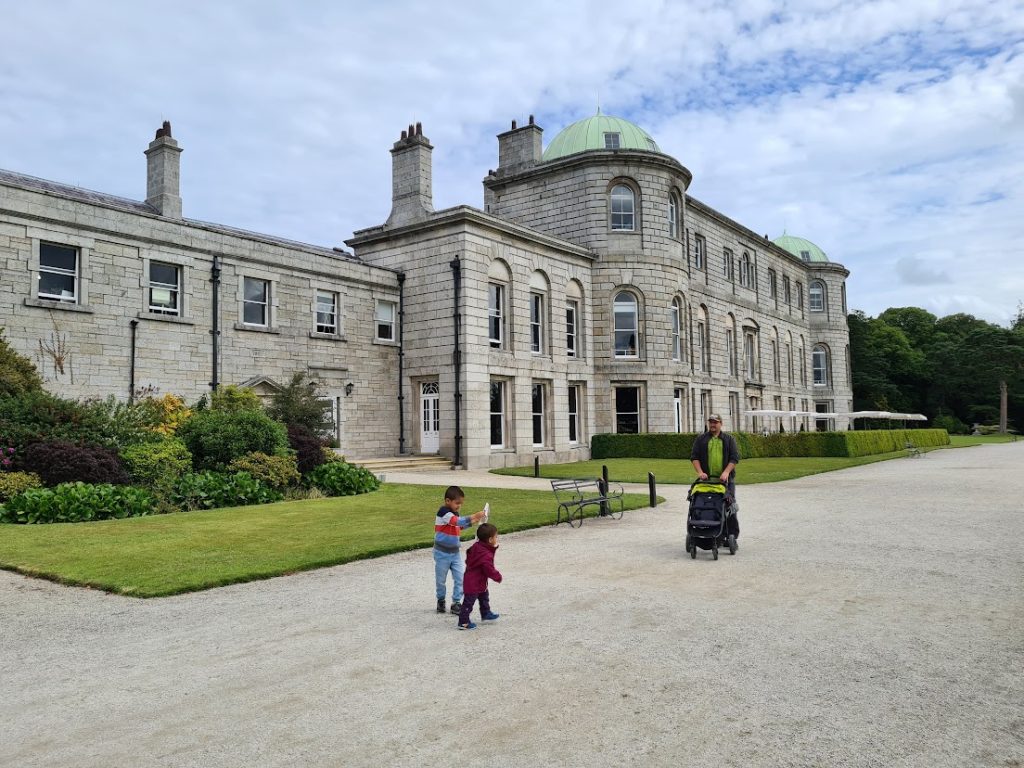 Where did we eat: Unfortunately, we could not find any proper place to eat, so we had to buy pizza from a takeway shop.
Where did we stay: We stayed for the last 3 nights of our vacation in Ireland in Mount Usher View B&B. The room was very big and spacious and the owner was quite sweet and helpful.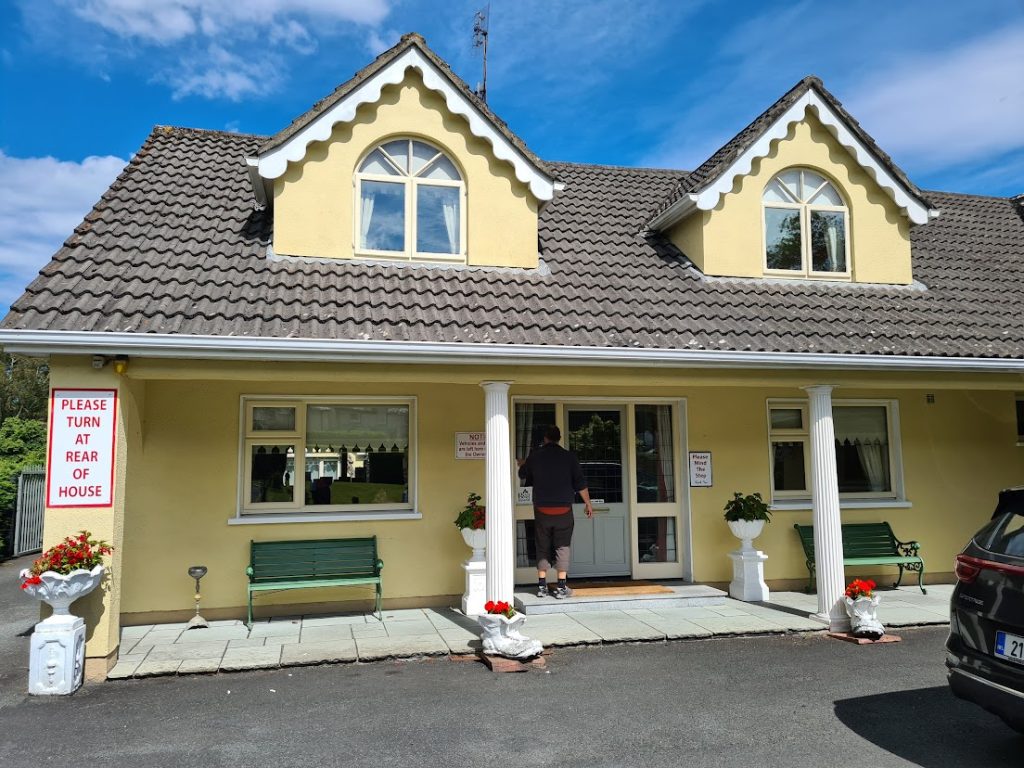 We had one of the best vacations in Ireland. We will for sure come and visit this country again, there are still so much to see!!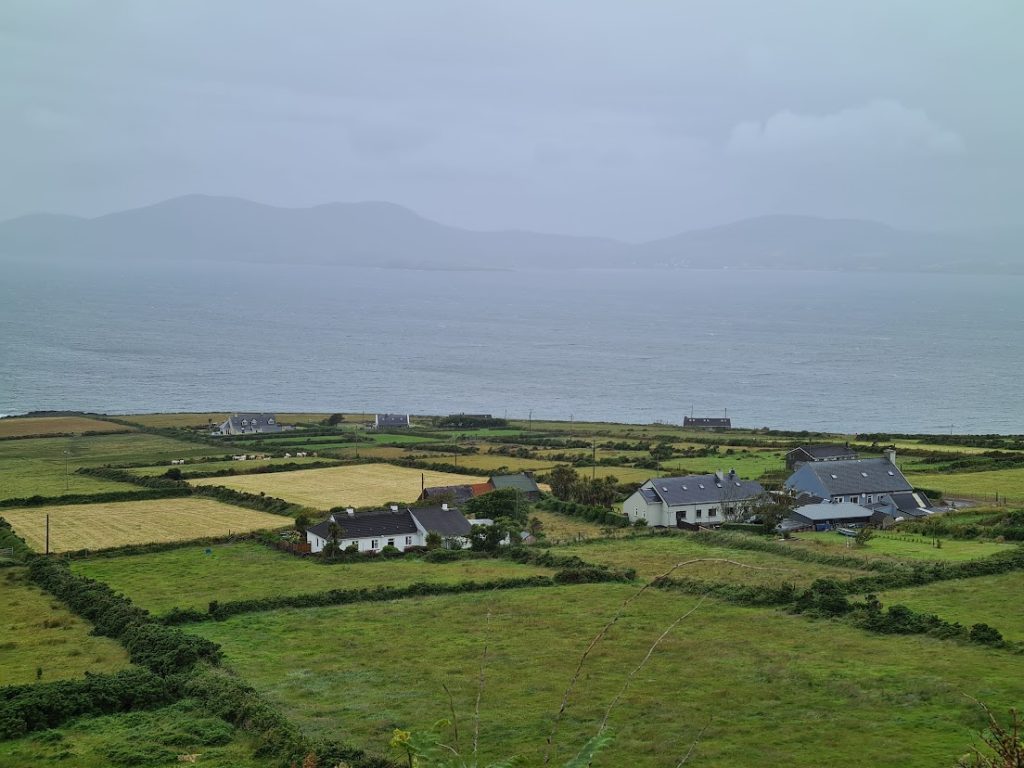 For now, I hope our tips and recommendations will help you for your next vacation!
Do share your thoughts and feedback below or in the contact form.
Happy Reading!