A day at Gäsi beach with kids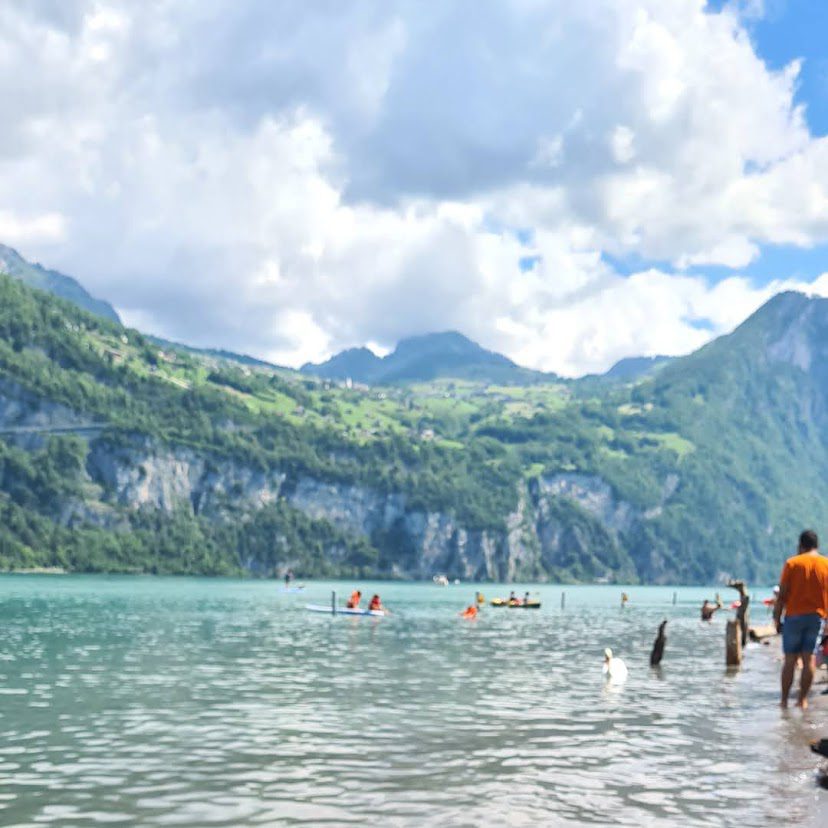 One sunny Sunday morning, On a whim, Mike decided to take us to Gäsi beach. Mike's dad had brought Mike and his sister there when they were young and he has a lot of beautiful memories spent on this beach.  
The sandy beach of Gäsi by the Lake Walen (Walensee) is located in a relaxing and idyllic village of Weesen, in the canton of Glarus. The Walensee which is one of the cleanest lakes in Switzerland is also one of the larger lakes in Switzerland, with about two- thirds of its area in the Canton of St. Gallen and about one-third in the Canton of Glarus.
It was an hour-long drive from our home and we left quite early as we were sure the beach would get crowded; We were right, all the good spots were filled by the time we got there. Somehow we were able to find a place to sit. 
The water was very cold but it was refreshing to just put our feet in and enjoy the view of the mountains and the villages surrounding the lake. We ate strawberries we brought from home and let Neel play in the sand and water.
The beach runs adjacent to a dense forest which has a campsite for tents, caravans and mobile homes. It has all the necessary amenities like WC/ shower, kiosk and restaurant. There are fire pits to bbq, and picnic seating areas too.
There is also a playground right by the restaurant for the young tourists.
We had brought sandwiches from home. While Neel and I ate them, Mike got some fries and drinks from the restaurant. We found a seat by the playground. After lunch, Neel played while I put Nyra to a nap in the stroller.
If you walk further from the campsite (about 40 minutes) you will reach the village Weesen.  It's a beautiful walk with a panoramic view of the lake and the mountains.
It is truly a magical place!
Gäsi Beach is perfect for Swimming, hiking or just to have a picnic with friends or family. Do visit if you can. Even the kids will have a great time!
Some information:
There is a paid parking in front of the campsite, and in case it gets full, there is another one a 10-15min walk from the restaurant. 
Admission to the beach is free of charge.
This whole place is stroller friendly.
Weekends can get fully crowded so better arrive early
You can rent a raft on the beach.