10 Tips For Leaving the House On Time With Little Kids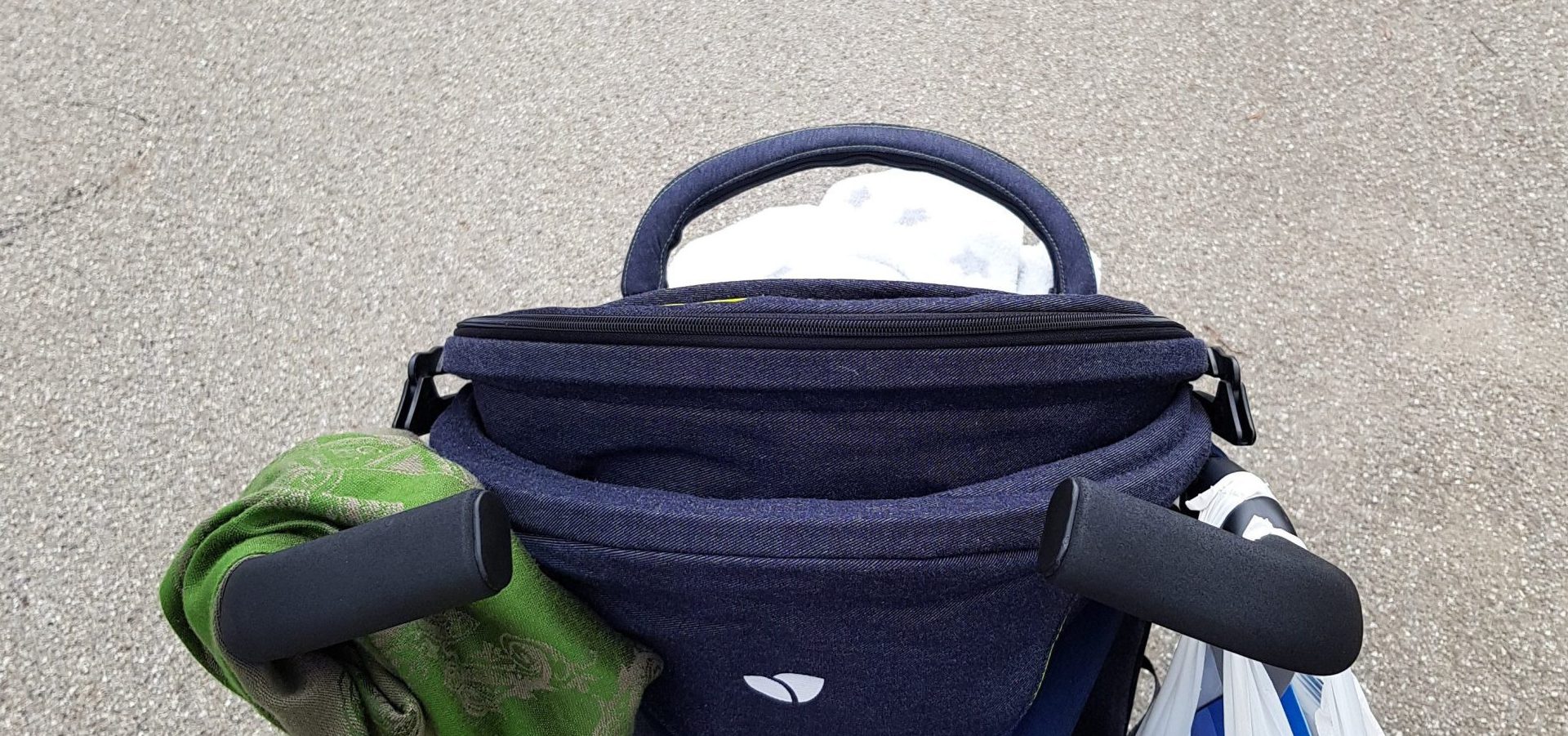 Getting kids out of the house in time can be a struggle, especially when they're small!
Having 2 small kids of my own, I know firsthand just how tough it can be to leave the house on time. When you have babies or small toddlers, you need to get thousands of things done before you leave your house. From changing their diapers to feeding them and filling up the diaper bag, the tasks you need to tackle are so many!!
With young kids, you need to make sure they are not distracted with their toys and they are able to get themselves ready on time without you running behind them!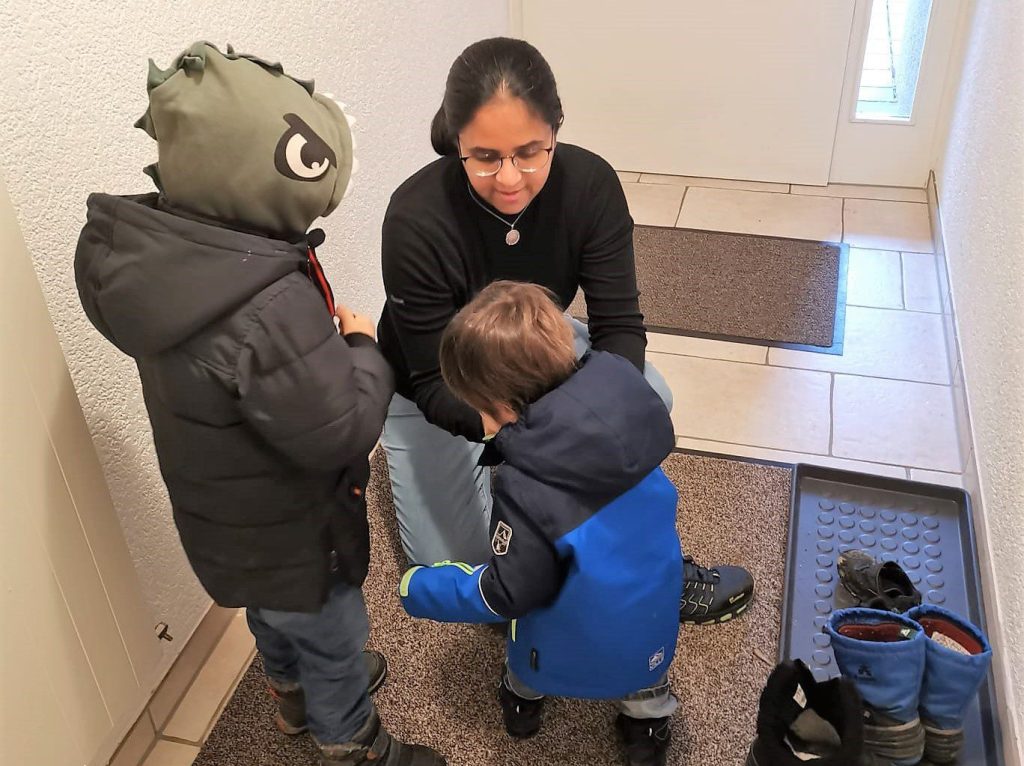 When you are finished with getting your kids ready, more often than not, you forget to get things for yourselves.
But this doesn't have to be a stressful experience. With a few simple strategies and tips, you can be ready ON TIME! Whether you're on your way to school, daycare, work or a playdate, these tips will help you and your kids get out the door on time.
So, let's get started! Let's make it happen. Good luck! You've got this!
Here are 10 tips for getting out the door on time with little kids!
1.Prepare in advance
Getting kids out the door in time is a lot easier when you start preparing in advance! Set all of yours and kids' clothes and shoes out early, so that when it is time to get out, there's one less thing to think about.
You can also make sure kids have their schoolbags and lunchboxes packed and ready to go a night before. If kids are old enough, get them involved in the process by letting them pick out their own outfits for the outing!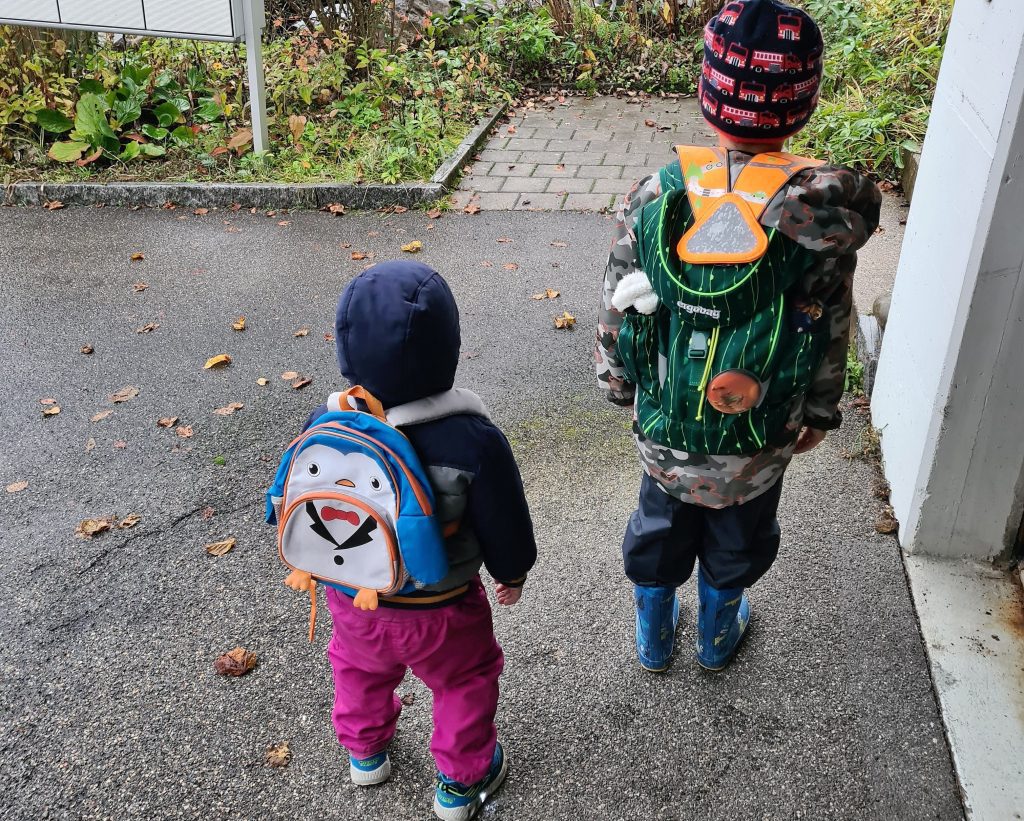 You can also save time by prepping breakfast and snacks for kids before going to bed. Set up a simple grab-and-go breakfast station with kids' favorite snacks and drinks, so that kids can help themselves in the morning.
Starting the day with a plan and some preparation will help you leave the house with your kids on time!
2.Wake Up Early
One of the most effective ways to be on time is to wake up early. We all are early risers (even our little toddler). That way, the whole family has enough time for breakfast, getting dressed and brushing their teeth without feeling rushed or overwhelmed.
If kids are still asleep when you wake up, set an alarm a few minutes before kids usually wake up so that kids are ready and alert in the morning.
Finally, make sure kids know exactly what's expected of them in the morning. That way, they will understand why an early start is important and be more likely to comply.
3.Have a Good Daily Planner
Having a Daily Planner can really help you tackle the tasks for the day. A daily planner can help you and your kids stay organized, remember what tasks need to be done and keep you on track throughout the day.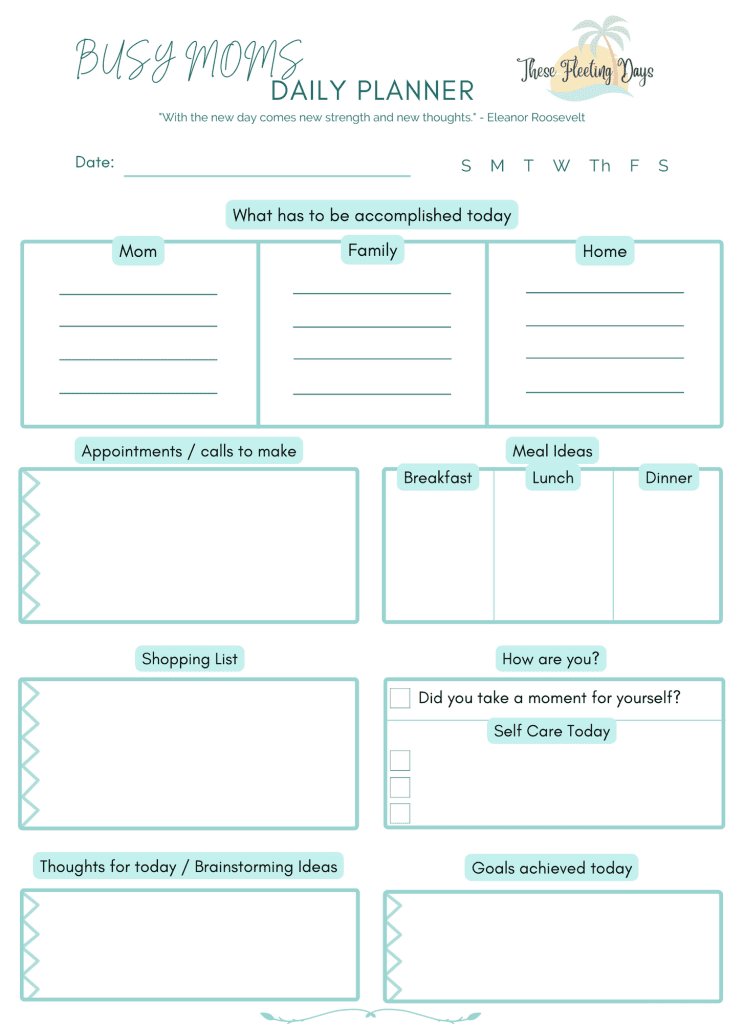 4.Keep Kids Involved in the Routine
Kids feel a sense of accomplishment when they're able to complete tasks on their own, so make sure kids are involved in their own morning routines.
Assign kids simple tasks that they can do independently like brushing teeth, getting dressed and finding shoes or packing their bag.
5.Dress for Success
Don't let kids get sidetracked when it comes to getting dressed. To make sure kids are ready in time, pick out kids' outfits the night before and lay them out. If you have small kids, consider investing in pull-up pants and dresses that slip on easily so kids don't have to struggle with buttons and zippers.
My little one and I have a daily fight on what clothes she shall wear. I am allowed to dress her only with the clothes she likes. I have given her the freedom to choose her clothes as this is not the fight I want to fight.
If kids are old enough, let them pick out their own outfit for the next day. Kids will be more likely to get dressed quickly if they're excited about what they're wearing! You can also make it easier by setting a few simple rules like full-sleeves or thick jeans (especially if the weather is bad).
6.Get Organized
Organize all the things you need early on the night before or early in the morning. This is how I organize everything:
For school, put together all the school supplies in the backpack/ school bags
For daycare, make sure to put all the extra clothes in a separate bag
For Swimming class, make sure to have a separate bag for all the supplies – extra clothes, swimsuits, towels, swimming diaper (for the little one) and extra normal diapers and wet wipes, bottle of water and snacks
For the diaper bag, diapers, wet wipes, extra clothes, water and snacks
For my work, I make sure that my clothes, laptop bag and my handbag are all organized
In case of cold weather, Jackets, sweaters, scarves, caps and gloves are arranged.
Make sure to keep these bags in their dedicated places at home which are easy to remember.
7.Head to the car early by starting to get ready early
In winter, I need atleast 20min to get myself and the kids ready before heading to the car. We need time to bundle up with our sweaters and jackets.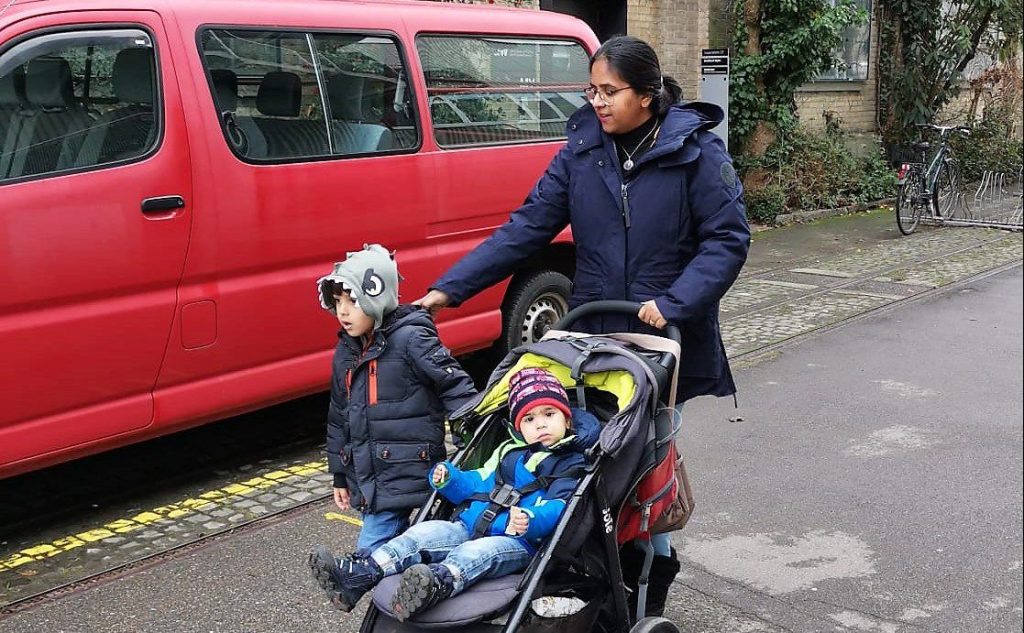 This can be quite stressful. The best solution is to leave a few minutes early just in case. With kids' stuff ready and organized the night before, kids should have plenty of time to get out the door without rushing.
Leaving a few minutes early can reduce last minute stress.
8.Set Realistic Expectations
Sometimes it may take more time than usual to get ready, so it's important to be flexible and set realistic expectations. There will be unexpected bathroom trips, someone is not in a mood to leave the house or too cranky to do anything.
Let kids know that if they don't finish getting ready on time there will be consequences like being late to school or their fun playdates, but also let kids know you understand if things take longer sometimes.
9.Have a Checklist to get things organized
Making a checklist is really helpful if you have too many things in mind. I have created a "Leave the House on Time Checklist" which I stick in a place where I can see before leaving the house. With this checklist, I can make sure the kids are carrying everything they need for the day care / school, I have everything I need for work, Kids are wearing the right clothes according to the weather etc.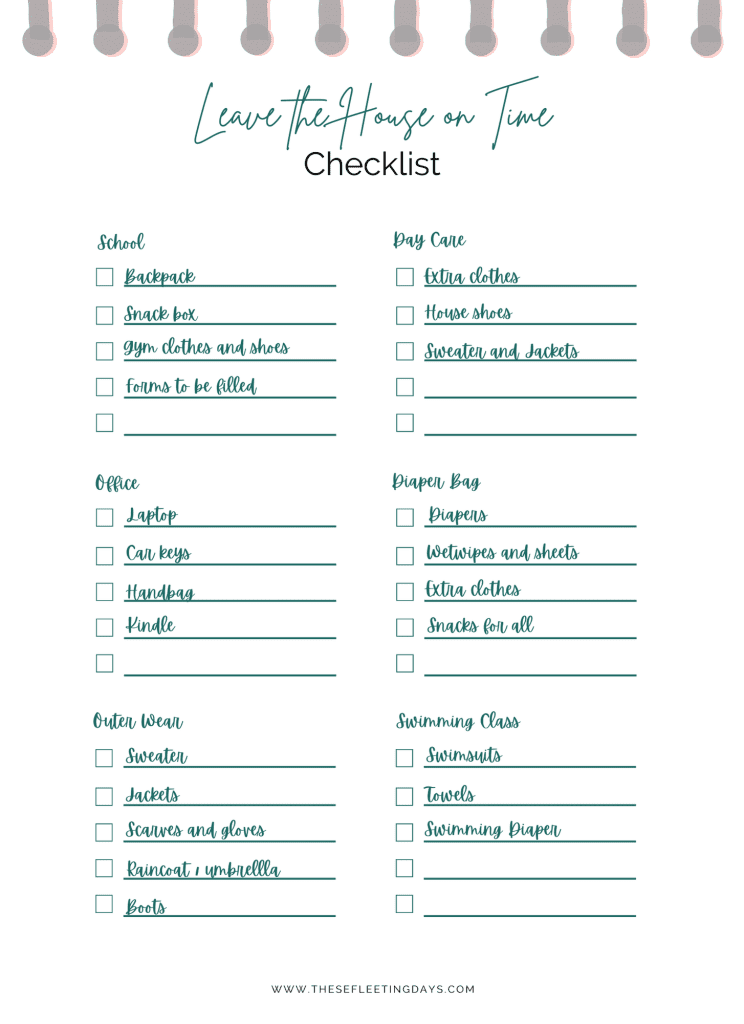 10.Don`t beat yourself up
It can be easy to get frustrated if you are struggling to get the kids ready, but it's important to remember that kids are still learning how to manage their time.
Try not to beat yourself up and instead focus on what you can do differently next time.
I hope these tips really help you like they have helped me.
Making a plan, assigning kids simple tasks to do independently, picking out kids' clothing the night before and prepping breakfast ahead of time are all great strategies for getting kids out the door on time. Plus, having fun with it will make kids more likely to cooperate and enjoy their morning routine.
With kids involved in their own routines and a plan in place, getting kids out the door on time can be much easier. Don't forget to take deep breaths and have patience – you got this!