10 Fun Fall Activities for Kids that will keep them busy while you Work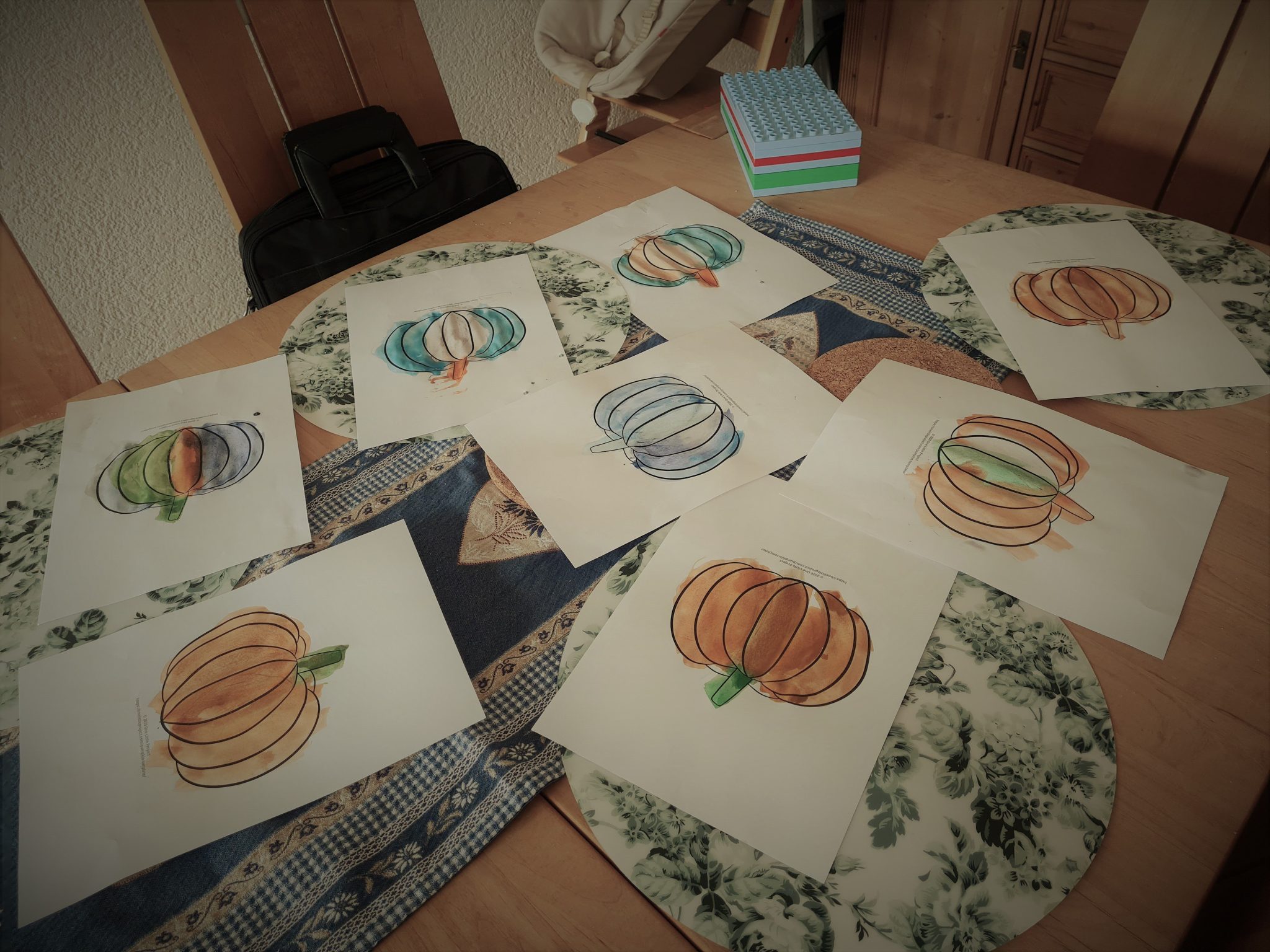 Fall is officially here! The leaves are falling, the weather is cooling off, and the season of pumpkin and halloween is back.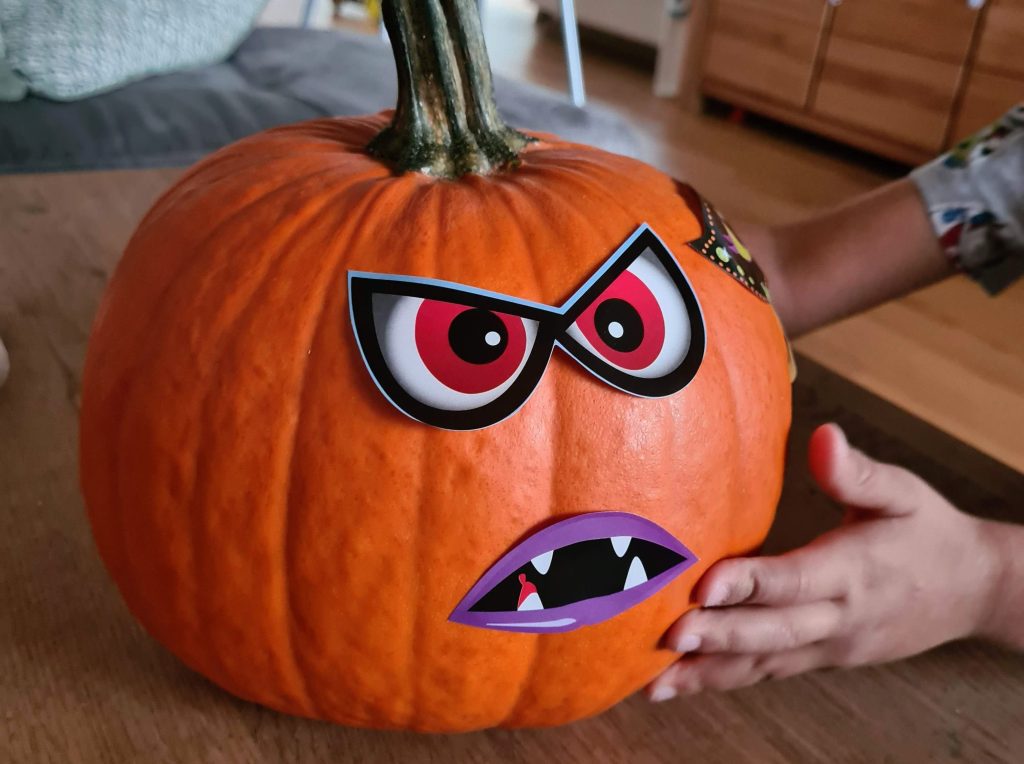 And while this time of year may mean saying goodbye to summer fun, there's no need to be sad. Fall brings out a whole new set of activities to enjoy, many of which are perfect for kids.
As the leaves start to change color and the weather gets cooler, it's time to start thinking about fun fall activities for kids!
So if you're looking for some fun things for your little ones to do this fall while you get to peacefully work from home, look no further. Here are 10 great fall activities to try at home for your kids that will keep them entertained while you do your work.
1. Sticking stickers on the pumpkin
Carving out a pumpkin can be too time consuming and stressful especially if you are busy with work and don`t have much time. And ofcourse it is too dangerous to let your small kids handle the tools themselves. Instead, why not give them stickers and let them decorate a real pumpkin?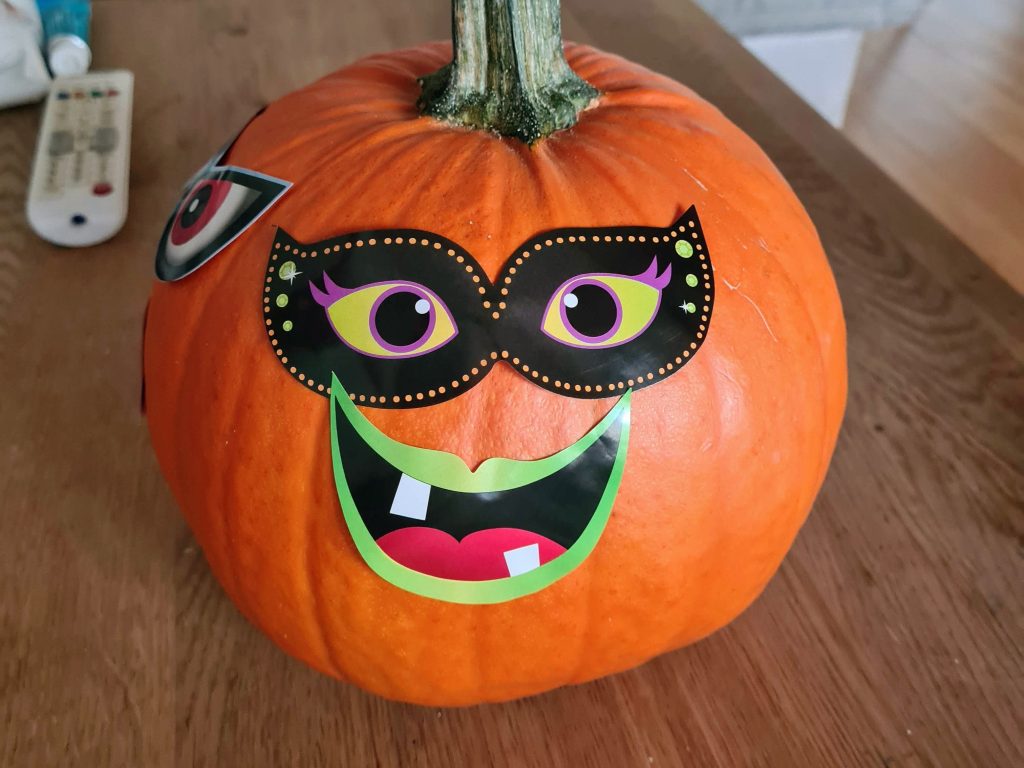 Kids love to decorate pumpkins, whether it's with stickers or coloring them. I bought these special stickers for pumpkins in
Flying Tiger Copenhagen
. They sell some amazing products including these funny stickers. The kids will enjoy sticking them on the pumpkin! Doesn`t it look cute?
2. Coloring on pumpkin
If you don't want to deal with the mess of stickers, another option is to give them coloring markers and let them color on the pumpkin. You can even draw a design on the pumpkin first and then let them color it in. This is a great activity for younger kids who are not old enough to handle carving tools. And it's a lot less messy than carving!
3. Coloring pumpkin template
If you want an easy pumpkin activity, print out a pumpkin template and let the kids color it in. This is a great option for small kids to keep themselves busy especially if you are short on time.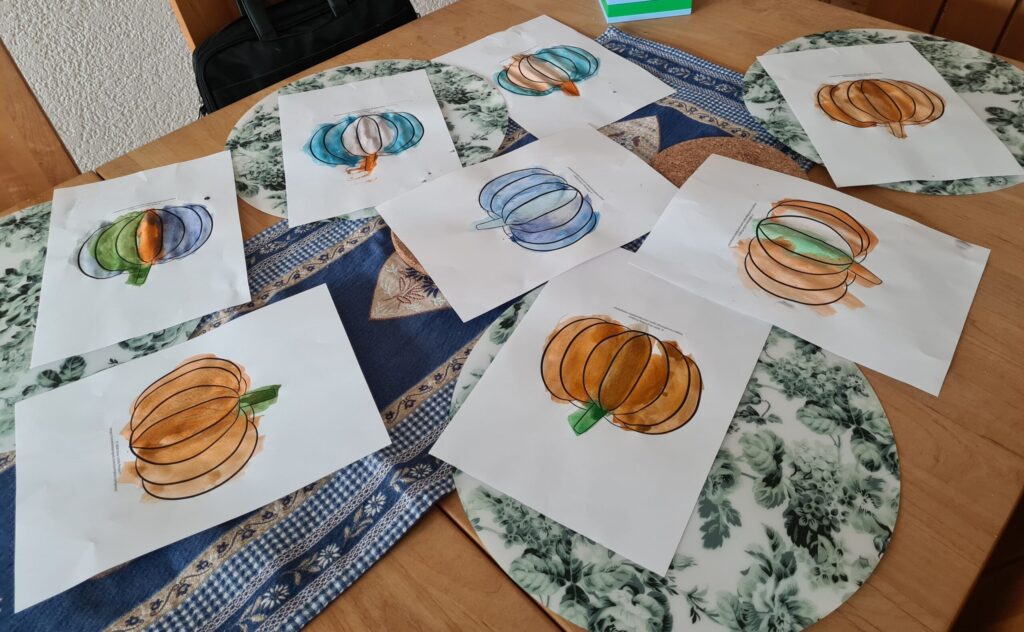 You can find a lot of pumpkin templates online or in coloring books. Just print one out and let the kids have fun coloring it in! We found this template from One Little Project really cool. It was easy to download and get creative!
These are just some fun activities with pumpkin to keep your kids entertained while you work this fall! Why don't we try something different now?
4. Fall leaf paint
One of my favorite fall activities is leaf art! This is a great activity for kids of all ages and it's really easy to do. If you have a garden or lawn with plants and trees, just ask your kids to scan around for fallen leaves or if you have time, take a quick walk around your neighborhood, you will find different kinds of leaves. Just collect some and let the kids paint them however they want.
They can use regular paint or even fingerpaint. Once the leaves are dry, you can hang them up as artwork!
5. Autumn leaf craft
Another fun leaf activity is to make a leaf craft. One easy idea is to glue leaves onto a piece of paper to create a fall scene. Draw a tree by hand on a sheet of paper and ask your kids to stick the fallen/ painted leaves on the sheet using a glue stick. Take your time to teach your little ones to use the glue. It can get sticky and messy but it is fully worth.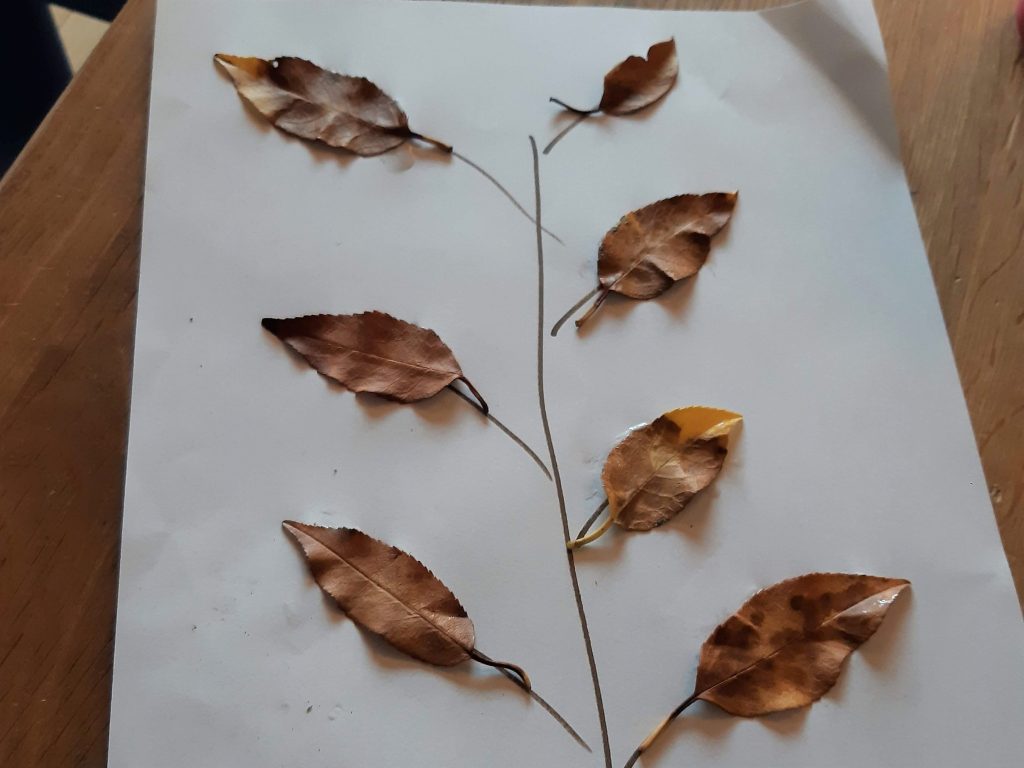 They will spend a considerable amount of time doing this activity.
Kids can also make leaf rubbings by placing a leaf under a piece of paper and rubbing a crayon over it. This is a great way to teach kids about the different textures and shapes of leaves.
There are tons of many different leaf crafts you can do, so just pick one that's appropriate for your child's age and ability level. You can find some great ideas online or in craft books.
6. Fall tree painting using pompoms
For a fun painting activity, try making a fall tree painting using pompoms! This is a great activity for kids of all ages. Just give them some pompoms in different colors and sizes and paint. They can dip the pompoms on the paint and create fall leaves on the hand drawn tree. (our tree in this case also had blue leaves!!)
In order to be able to clean your kids after this activity, I recommend using easily washable finger paint.
7. Autumn tree finger painting
Another fun and easy painting activity is to make a fingerprint tree. Again in this case, I recommend using easily washable fingerpaint. Make a rough handsketch of a tree on a piece of paper. Let your kids dip their fingers in fall paint colors like yellow, orange and red and have them make prints on the tree.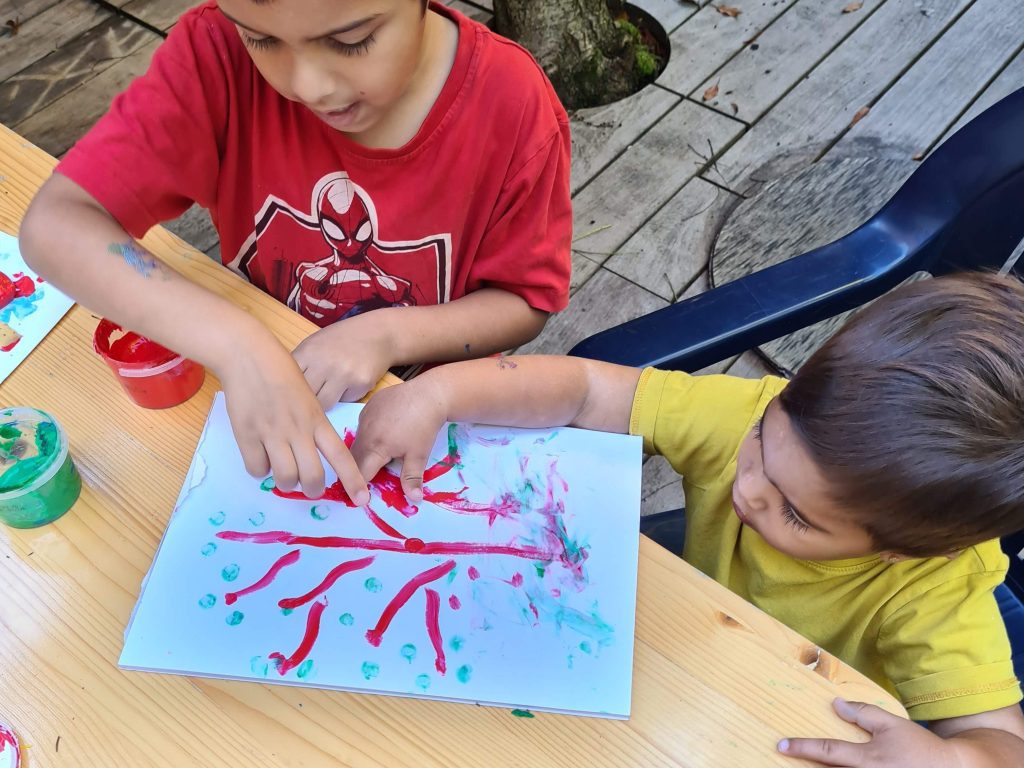 Make sure to keep a cloth nearby to clean up their messy hands.
8. Scarecrow face
Kids can also make a face using fall leaves. Draw a face (A cute scarecrow in our case) on a piece of paper. Give your kids a bunch of colored leaves and let them glue them down on the drawn face however they want.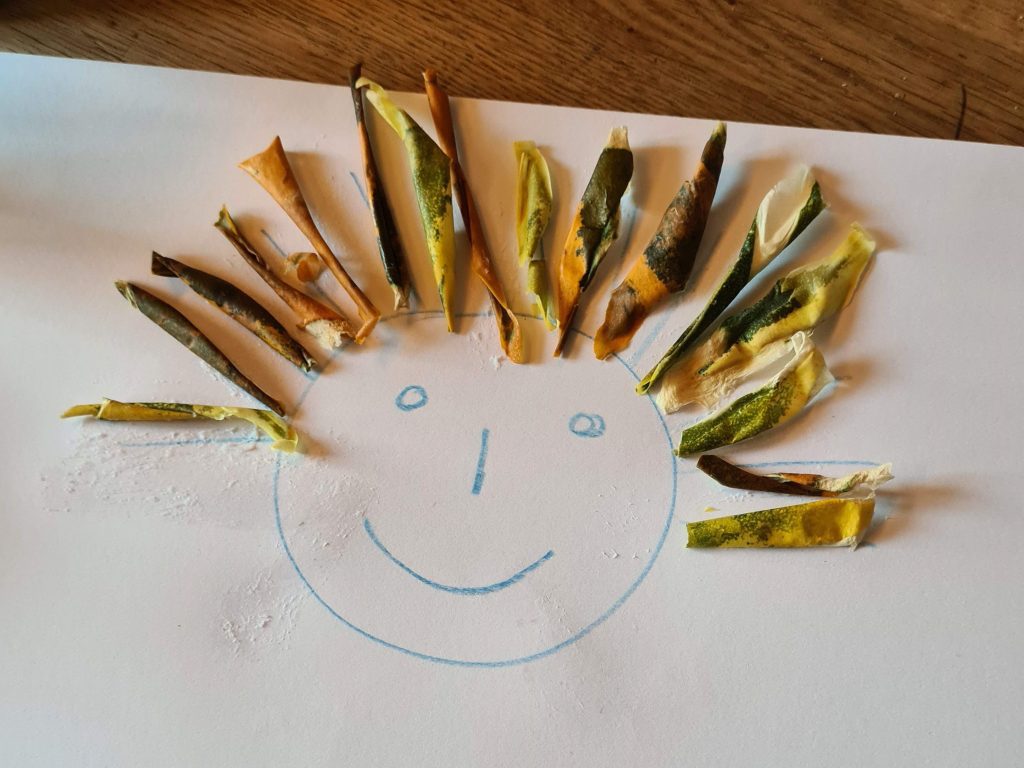 Or they can make patterns with the leaves or just glue them down randomly. This is a great activity for younger kids who are working on their fine motor skills.
9. Fall paperplate wreaths
Kids can try making a fall wreath using leaves, pompoms or even paper! Cut the paper plate in the center (if your kids are older, they can try to do this on their own). Let your kids decide what they want to stick on to their wreaths. It can be fall leaves, pompoms, color papers or even glitters.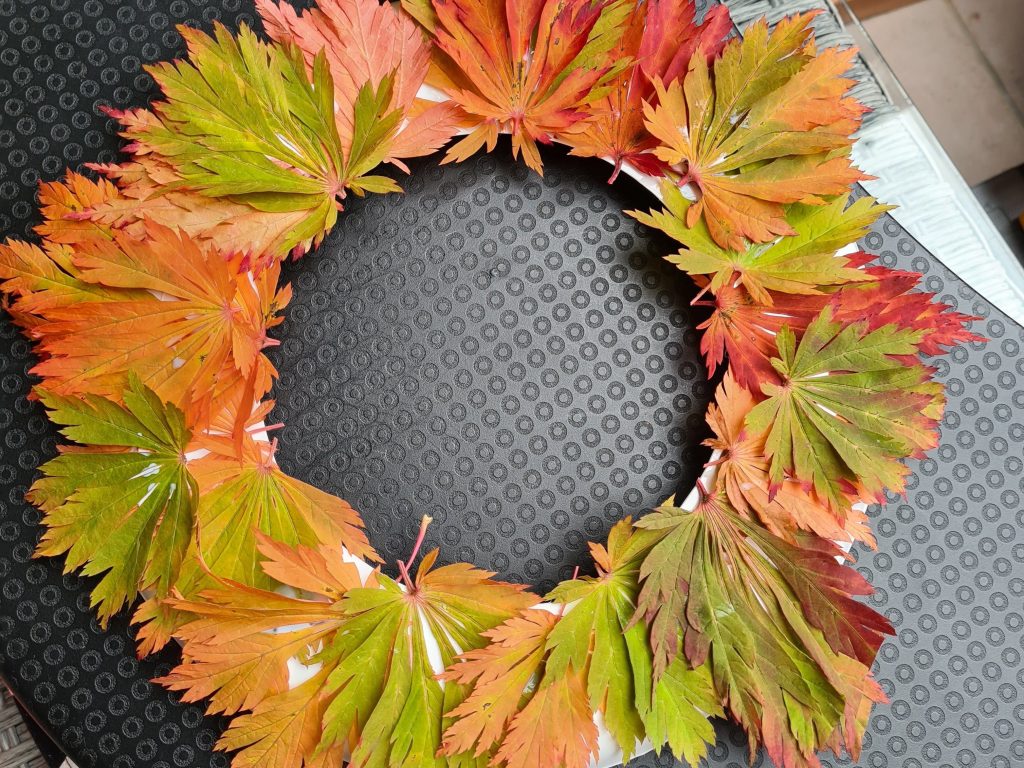 Ofcourse in our case, I helped them as we were doing this for the first time. But they can try doing different wreaths in different patterns and items. You can hang these up as decorations or kids can give them as gifts for their friends.
How can we forget halloween when we talk about fall?!
10. Make halloween theme activities
Make halloween theme activities like coloring bats, ghosts, witches etc. Kids will definitely enjoy making these with their friends.
Kids can try making their own spooky masks for halloween using different materials like paper, pompoms, leaves, glitters and even feathers! Just give them a plain white mask and let them decorate it however they want. It's a great activity for kids of all ages and it's really easy to do.
You can even make a mask template beforehand to make things easier. Cut out different shapes like eyes, nose and mouth from black paper and let your kids stick them on the mask.
They can also color the whole thing in black or any other dark color. Or they can try making a cat mask using black paper, two pompoms for the eyes and some whiskers. There are tons of different ideas for halloween masks, so just let your kids be creative!
Last but not the least, one of my kids` favorite fall activities is cutting and decorating halloween cookies! Kids will love cutting cookies using halloween cookie cutters and help decorating them. Just be sure to supervise younger children while they are using the cookie cutters. Kids can also help mix the ingredients for the dough and they will definitely enjoy eating the cookies afterwards!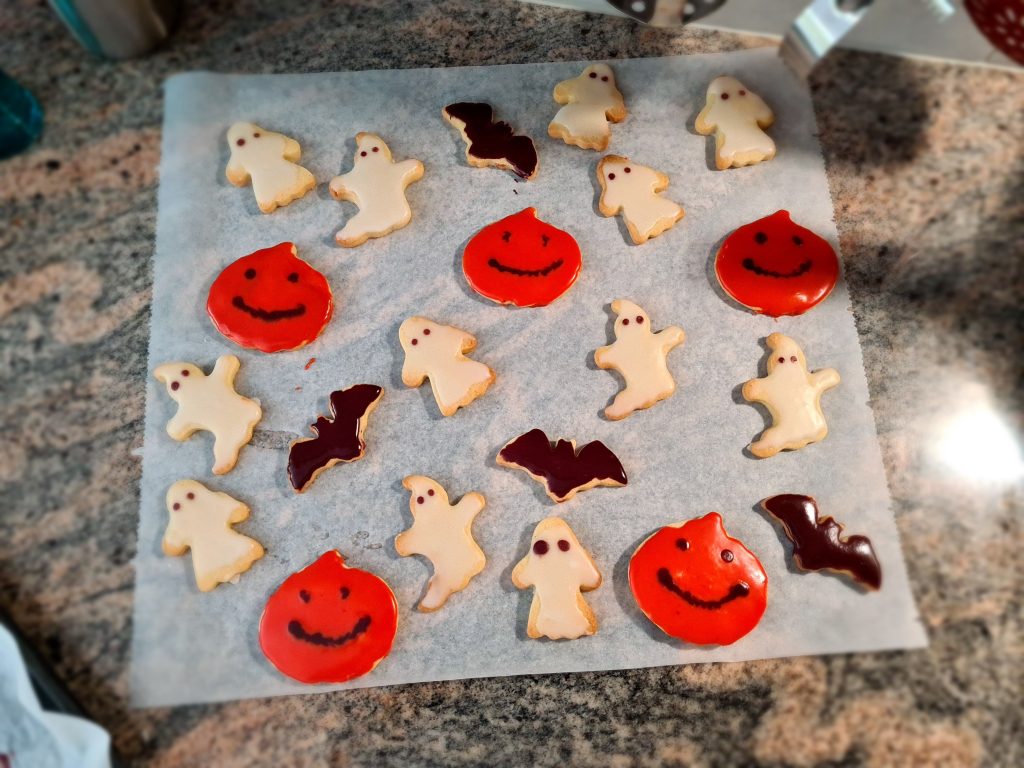 These are just some of our ideas for fall activities for kids.
Some of these activities need your supervision, Some of them can become messy (especially with colors and glue stick). So be prepared for every situation. I usually set everything up for the kids before I get busy with my work. And I am continuously checking on them just to make sure everything is OK and there is no chaos, mess that will end up giving me extra work.
There are many other activities you can let your kids try out this fall, just use your imagination! And most importantly, have fun!
We hope you enjoyed these fun fall activities for kids! We will be coming up with many ideas to keep kids busy and entertained so you can do your work in peace.
What are some of your favorite fall activities? Let us know in the comments below!
For more ideas on activities to keep your kids busy while you work, be sure to check out our other blog posts in https://www.thesefleetingdays.com/category/activities/